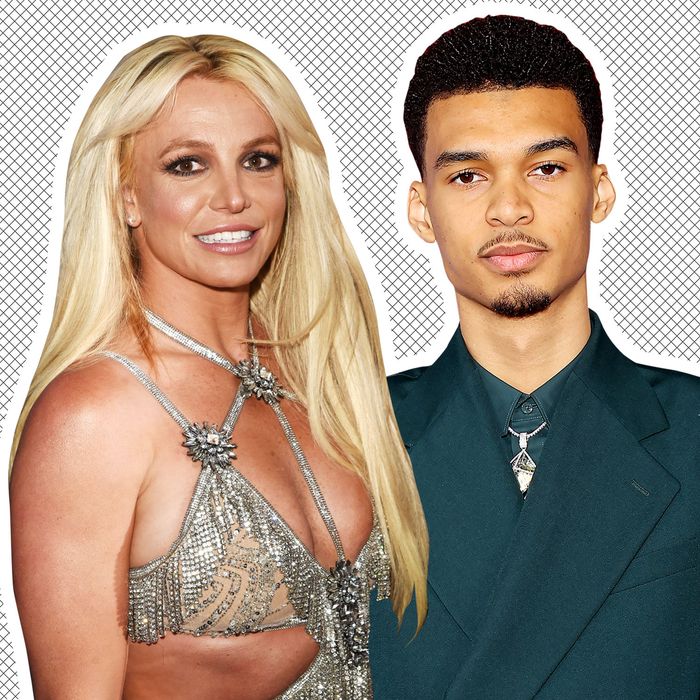 Britney Spears and Victor Wembanyama.
Photo-Illustration: The Cut. Photos: Getty Images
Britney Spears has more to say about that slap. A week after Spears accused an NBA player's security guard of smacking her in Las Vegas, the pop star says she is still waiting on a public apology. In the intervening days, police have claimed Spears hit herself; TMZ has reviewed the footage and ruled in favor of Spears; and Spears herself is sick of hearing people "talking shit" about the incident, she said in an Instagram post on Monday.
To recap: Spears and her husband, Sam Asghari, were reportedly entering Catch at the ARIA Hotel when, she said, she saw Victor Wembanyama for the second time that night. In a Notes app statement posted to Twitter, Spears wrote that she "decided to approach" Wembanyama and "congratulate him on his success" — his team, the San Antonio Spurs, having beaten the Charlotte Hornets earlier in the week. Because the restaurant was loud, Spears says she tapped him on the shoulder and, immediately, "His security then back-handed me in the face without looking back, in front of the crowd. Nearly knocking me down and causing my glasses [to fall] off my face."
TMZ subsequently identified the guard in question as Damian Smith, director of security for the Spurs. Wembanyama came forward with a similar but different account, telling reporters he heard someone calling him, but kept walking because his security instructed him not to stop for anyone. Wembanyama said this person "grabbed me from behind, not on my shoulder" and that his security "pushed her away," though he did not know "with how much force." He said he learned later on that it had been Spears who approached him.
Spears reportedly met with the Las Vegas Metropolitan Police on July 6 and subsequently said she had not received a public apology from Wembanyama, his security, "or their organization." According to TMZ, the security guard apologized to Spears personally after she returned to her table, telling her he hadn't recognized her and saying, "You know how it is when you're being swarmed by fans." And she does: "I get swarmed by people all the time," she wrote in her initial statement. "In fact, that night. I was swarmed by a group of at least 20 fans. My security team didn't hit any of them."
The next day, Rolling Stone reported that authorities decided not to charge Smith. John Santo, the police officer who filed the report, wrote that in reviewing video of the incident, detectives saw Spears going to tap Wembanyama on the shoulder and then "hit herself in the face," after the security guard pushed "her hand off the player without looking." But, meanwhile, TMZ released cell-phone footage of the encounter, declaring that either Smith's "hand struck her face or he made contact with her hand and the force of impact caused her hand to hit her face." In the video, Spears does not appear to grab Wembanyama but to tap his shoulder, as she claimed.
In a video posted to Instagram on Monday, Spears reiterated her side of what happened and addressed the critics, saying she heard a "radio station talking smack and talking shit — that's why I'm addressing it — saying that I deserved to be smacked, security was doing their job, and protecting their client." She added that moments before the incident with Wembanyama, she was "knocked down" by three children who wanted to get a photo with her, but her "security not one time touched them or even came near them."
"Point being," she added, "I didn't appreciate the people saying that I deserved to be hit, because no woman ever deserves to be hit." Spears said she received an apology about 30 minutes after the incident, but has "yet to receive a public apology."
This article has been updated.