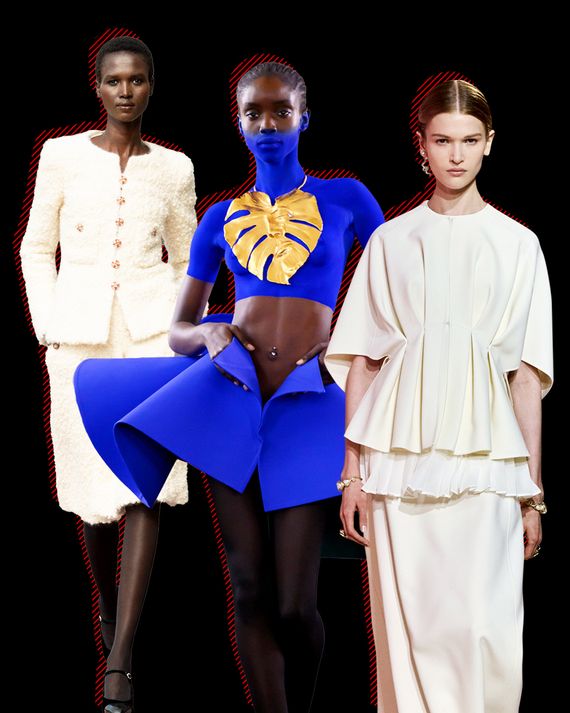 Photo-Illustration: by The Cut; Photos: Courtesy of Chanel, Schiaparelli, Dior
The most successful designers at the moment in France, if not the world, are women: Virginie Viard of Chanel and Maria Grazia Chiuri of Dior. While they are not responsible for every product that comes out of these houses — there are merchandisers and beauty divisions — their relatively unshowy ideas lie behind the soaring revenues, which combined are more than an estimated $20 billion. And, as it happens, both companies are managed by women — Leena Nair, who came to Chanel in 2022 from Unilever, and Delphine Arnault at Dior.
Twenty years ago, John Galliano was causing a mixture of delight and outrage with his Dior shows. He based one on the clochards, or tramps, who historically lived near or along the Seine, and he created couture dresses out of newsprint chiffon. No house would possibly do that now, but at the time Dior was still small and its owner, LVMH, needed Galliano's outrageousness to learn how the fashion game worked.
Today, as France reels from another wave of riots — the latest caused by the shooting of a teenager by police in a Paris suburb — LVMH and its competitors, above all Kering, which owns Gucci and Balenciaga, are far more secure. Indeed, they dominate everything. The once-sedated Rue Saint-Honore, on the Right Bank, has been virtually transformed into a luxury-brand mall from Rue Royale to the Place Vendôme. Chanel owns the vast middle bit, around Rue Cambon.
It's always said that fashion reflects the times, and that's true. But more and more, it reflects the establishment values of big brands.
You can see the difference in the couture clothes at Chanel and Dior — in the subdued, tasteful look of the respectable rich. (I don't know if it's the French bourgeoisie since Chiuri herself is Italian, but it leans in that direction at both houses.) "For me, couture is more about clothes for the clients, and less the red carpet," Chiuri said before her show on Monday. "I think red carpet is another game, especially because of social media. It's performance on the carpet."
At Chanel the following day, I sat near a young woman who was an influencer. She was completely decked out in Chanel. I doubt there was an appendage that didn't sport a product. The chain of her cell-phone case, which she kept raised during the show, was Chanel; even her manicure displayed double C's. And yet, while she had all the bright accessories, her outfit was almost primly modest.
She reflected Viard's point of view — that is, her cheerful tweeds, her embroidered feminine blouses that can verge on old-fashioned and in their own way are eccentric, and her uncomplicated evening clothes that are unmistakably Chanel. Viard opened her show, on a quay of the Seine overlooking the Eiffel Tower and a gritty industrial building opposite, with Caroline de Maigret, her long and loose brown hair spilling over a navy steamer coat. Maigret is the author of the book How to Be Parisian Wherever You Are.
Do people still care about that kind of advice? Ask Emily. Maigret is a world away from Emily in Paris, and so is Viard. While some of Viard's mid-season collections can seem a bit thin and trendy, she's a good sailor when it comes to haute couture. She offered a spectacular dress of small, randomly sized embroidered white camellias on black tulle. Its effect was like crackled paint. And a multitiered dress in black mousseline caught a modern, offhand dress-up attitude.
Chiuri also had a good collection. To be sure, the mostly cream, beige, and black clothes — based loosely on the forms of Roman and Greek antiquity — looked a bit repetitive and sometimes reminded me of Valentino antiquity (she once worked for that brand).
But I also appreciated that Chiuri, in her deliberate choice of neutrals and the streamlined ease of her feminine shapes, takes a point of view and sticks with it. In a way, in the context of fashion and the noise surrounding the industry, this collection looked almost anti-fashion. Other designers will undoubtedly look at some of her austere shapes this season — the notion of a long flowing vest over a matching dress or a semi-sheer blouse with a gentle gather in front — and turn them into something cool.
But what they can't hope to duplicate are the tiny, telling details of haute couture, like the loopy fringe on the sleeves and hem of a creamy, loose-fitting dress, or the embroidery on another dress that is done by removing threads to achieve the design, or the subtle structure of the classic Bar jacket that has everything in it but weight.
Meanwhile, Thom Browne and Daniel Roseberry, the designer of Schiaparelli, were out to give us a big show. Browne took over the Opera Garnier, built during the Second Empire, with all its grandeur; guests entered through a stage door, climbed a long flight of wooden steps, and passed through the wings to the stage, with its sloping floor.
It was thrilling. I felt like belting out a Broadway tune. I thought better and sat down. When the curtain rose, Browne's audience faced about 2,000 cardboard men that looked like the besuited designer. It was a good riff on fame and celebrity dupes and perhaps the fact that Browne, who is American, was staging his first couture show. The cardboard clones ran from the orchestra section all the way to balconies and the boxes.
Browne said the idea for the show came to him while he and his partner, the costume curator Andrew Bolton, were listening to some music. "Fade to Grey," by Visage, came on, and that inspired him to do a collection that was not only in shades of gray (with whites and gold) but was also more contemplative than is usual for Browne. He built a story around the model Alek Wek, who was dressed in plain gray tailoring, with the rest of the cast in spectacular outfits. "She's drowning in her sorrows, because her dream is passing her by," he said. Meanwhile, the other models in their finery are looking at her, wanting to be her.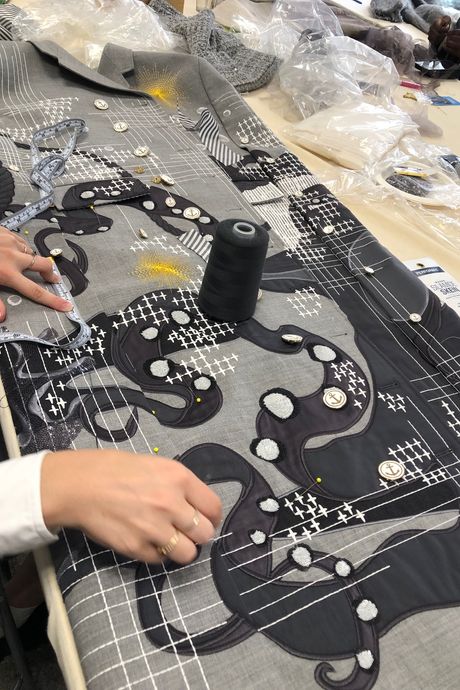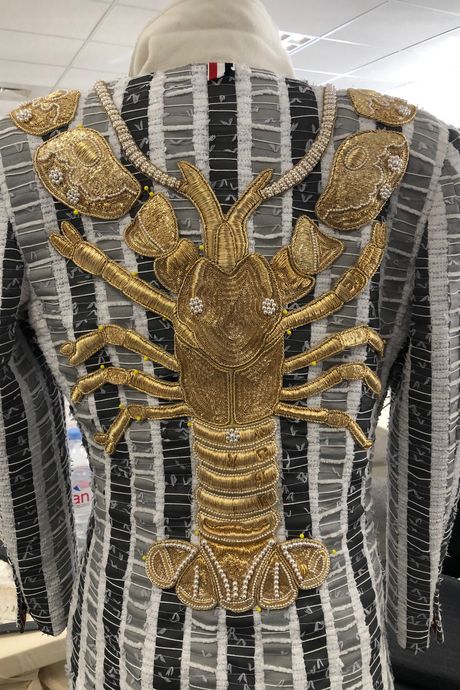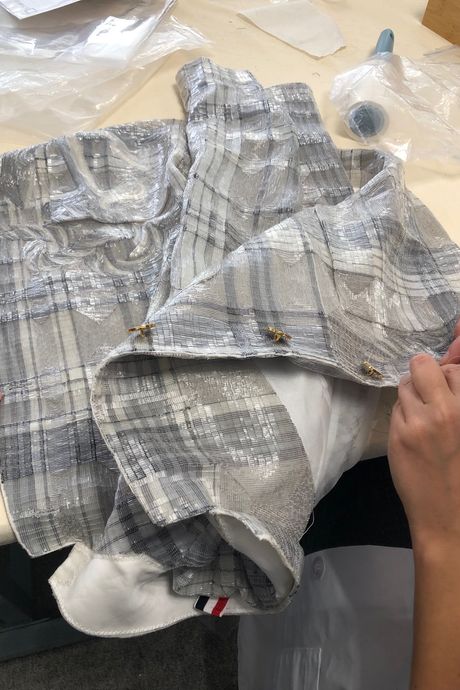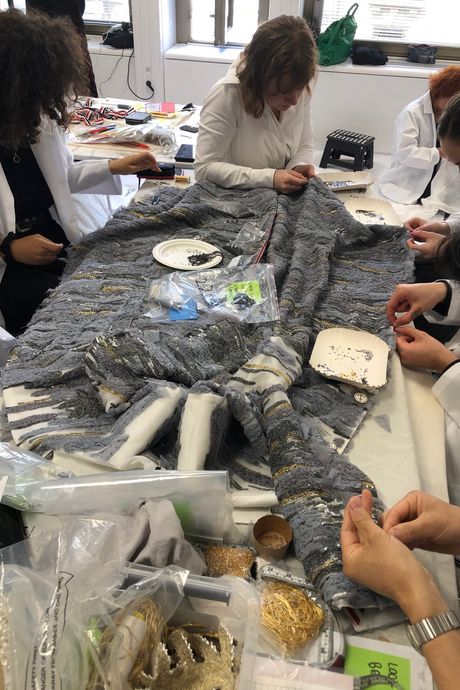 The "grass is always greener" story didn't quite come off on the Opera stage. For one thing, the pacing dragged — several looks felt repetitive — and some models had difficulty trudging up the stage's incline. Still, many of the pieces were exquisite, notably super-lightweight jackets (and matching box-pleated minis) made of patched and embroidered tulle and a coat that looked like fur but was dyed tulle or chiffon.
Browne, who said the company had at least 20 appointments scheduled from private clients, pointed out that one hand-pieced jacket had 300 different shades of gray. "We just took out the Pantone color book," he said with a laugh. Then the dye house got to work.
Roseberry's collection was ambitious on many levels, partly in his desire to experiment with techniques and partly in his quest to shape the modern identity of Schiaparelli.
I had the feeling, however, that he was toggling between explosive, almost sculptural silhouettes — for coats and thick wraps that made me think of Galliano's early years at Dior — and sharp, body-conscious dresses that nicely dealt with corsetry and line. Probably his most accomplished design was a dress that looked like fine paintbrush strokes on the body, each stroke embroidered in sequins. Also dazzling were razorlike skating skirts and shards of mirrored palettes embroidered on knitted suits (or dresses).
But some of the big numbers seemed not fully resolved. Somehow, they remained glorious if slightly awkward objects.