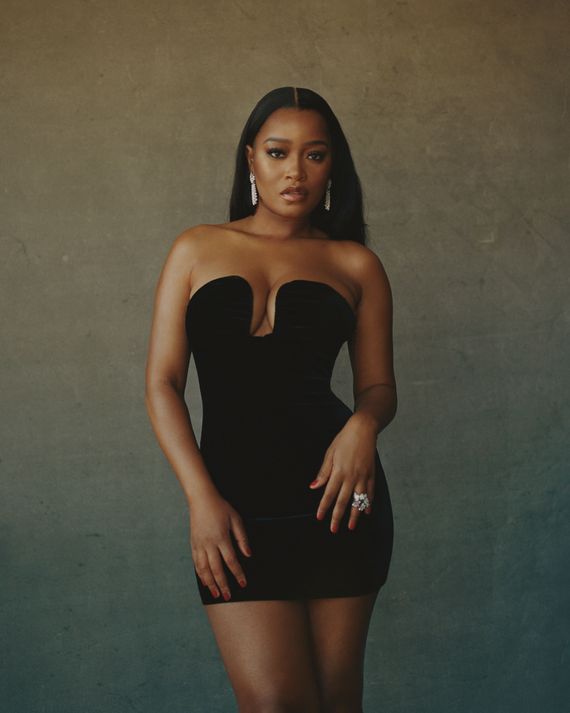 Keke Palmer grips the false lashes on her eyelids with two fingers and slowly peels them off her skin. She's had a long day, and it's nearly 7 p.m.
The sun in the window behind her is blaring over a palm tree without any sign of eventually making its descent somewhere behind the horizon. And yet, Palmer has endured multiple flight delays from Las Vegas to Los Angeles, had a glamorous hours-long photo shoot, found herself at the center of Twitter discourse about her relationship, and still made it home in time to feed her new baby his early-dinner bottle. "Yup, he's asleep," she says, looking over playfully at her 4-month-old son, Leo.
About that discourse: Palmer's motherhood recently became an uninvited topic of conversation online. Last Wednesday, while she was photographed and interviewed for this cover, a video circulated of Palmer, clad in a sheer black dress with a bodysuit underneath, getting serenaded by Usher at one of his Las Vegas residency concerts. Darius Daulton Jackson, the father of her child, saw the video and tweeted his criticisms of Palmer for her outfit choice, later doubling down on his stance when her fans swarmed his replies. While on set and by the time we spoke, Palmer hadn't yet engaged, but internet bystanders rallied around her, forming a sort of virtual shield attempting to protect her and, in turn, shunning him.
"I'll be honest, I think before I even had the baby, I was really actually quite self-conscious," she tells me when I ask how her headspace feels. "After having my baby, I've gotten so much more powerful. We're going to lean into this new body, and I think that is the whole aura of what's happening with me in this big boss era as I come into my 30s, and I have my baby boy, and I'm just continuing to spread my wings as a young woman."
Even though the 29-year-old actor and producer finds herself in an entirely different life stage from me, it's impossible to shake the feeling that we grew up together or that we have some sort of shared history. Not in a traditional sense, of course, considering she's been a movie star since the tender age of 10, but by way of having a front-row seat to her organic matriculation through life, from project to project. She starred as a strong-willed spelling-bee champ in Akeelah and the Bee, a double-Dutch savant on the Disney Channel movie Jump In!, and a teen fashion executive on True Jackson, VP, and many of us who were once precocious little girls watched a young Palmer on the screen with awe as she evolved into the powerhouse we know her as today. By the time she was getting Oscar buzz for roles in more grown-up fare, like Lorene Scafaria's Hustlers (based on a true story originally reported in this magazine) and Jordan Peele's Nope (a New York Times critic's pick that won her widespread acclaim and an invitation to the Academy this summer), we became acquainted with Palmer in her role as a serious, well-adjusted, fully fledged actor. And, of course, along the way was her music career, which she's still working on, anchored by her song "Bottoms Up," a pivotal moment in the Zeitgeist for teenage girls everywhere. (She released a sequel of sorts to the track last year.)
In the same way we've come to know her, she feels as though she's come to know us: "I do feel like America's little sister, little cousin. I feel very much so related to everybody," she tells me. "I'm like that second cousin that you see every two years at the family reunion."
Now, as she branches off into newer, more experimental ventures with KeyTV, an avenue for Palmer to support other young creatives of color, and her podcast, Baby, This Is Keke Palmer, on which she has interviewed guests like Vice-President Kamala Harris (Palmer asked her to clarify both if she does have a silk press and what policies should be developed to deal with the maternal mortality crisis), John Stamos, and fellow child stars Aly and AJ Michalka, Palmer is entering her "big boss era," as she's dubbed it.
Online, Palmer is generally unafraid to discuss potentially taboo topics, like acne and breast milk, while also finding ways to inject humor into whatever she's speaking about. From "Sorry to this man" to "You know it's your girlllll," she has kept the culture quenched with a steady stream of delightful sound bites, which inevitably become endearing memes. Admittedly, as a self-described citizen of the internet, she loves this too: "When people see themselves in me enough to repost a meme or use a GIF, it really humanizes me in a way that I think sometimes feels lost in my life," she says. "So I really do feel appreciative of being a meme."
Relatability and authenticity seem to bolster nearly every sentence Palmer speaks, giving a feeling that her words are unrehearsed, direct lines from her heart. This is perhaps why the public feels so protective over her. It's what keeps her audience engaged, the comments section of her Instagram dynamic, and her podcast's guests eager to bare it all. It's what makes her — though she'd never title herself as such — the internet's sweetheart.
There are a lot of moms hyping you up online right now, defending your integrity. What's something you would say to them?
Do you, new moms. Do you. Girl, if there's one person on this earth that loves you for sure, it's that baby. Be happy, because there's no love like it. Somebody loving you like that, hell, who cares?
You just had a baby, you host a podcast, and you also started a production company called KeyTV. Tell me what that's about.
I came from a very traditional space in entertainment, and it was very hard for me to create my own narrative and help get the work that I ended up getting as I've continued to evolve as a creator. Because of the internet, I was able to produce and create my own content and make a financial career that invests back into itself. It helps to keep the creativity going, especially when you think about brands and sponsorships. Not a lot of Black creatives get those same opportunities. KeyTV is an opportunity; it's a way to bridge the gap and feed more eyes back to the work of BIPOC creators, and using my brand as a launchpad. It is inspired a lot by AwesomenessTV.
Let's talk about Baby, This Is Keke Palmer, your podcast. What made you want to flip the table and start a podcast? Why did you want to be on the other side of an interview? 
I started hosting stuff when I was about 17 or 18. It came from me being a curious person. This was when Twitter started really kind of becoming a thing and you only had so many characters. I wanted a forum where we could discuss the things we're talking about online with one another. That made me want to have my own talk show that I did shortly on BET for a season. From that moment on, I was always looking for an opportunity. I wanted to bridge the gap between millennial and Gen-Z audiences. That's always fun for me.
What excites you about talking to somebody you've never met before?
That everything is going to be a surprise! I genuinely am so jazzed about life at all times. On regular daytime talk television, you have only a few minutes to really talk about a few things. On a podcast, you can go from talking about aliens to talking about all types of weird stuff. Just from the simple fact that a podcast has no limit.
Which guest has surprised you the most?
When we think about the Black Eyed Peas, we think inspired, fun, wholesome but cool, worldly music that makes people feel good. When I was interviewing Will.i.am., it was just so incredible because that's in every aspect of what he does, whether it's in technology or music, because he wants to transfer his mentality.
Who is your dream podcast guest?
I absolutely would love to talk to Taylor Swift. And Nicki Minaj. Both for similar reasons. I would totally do it at the same time because it would be a big boss conversation, Ms. Lady. I think they're both Sagittariuses and I'm a Sag moon. They're not afraid to talk about the business, the music industry, and the things that people don't understand. Nicki Minaj has spoken to the things that she's trying to overcome and how they're able to get in certain rooms or awards or conversations, etc. She's very much so wanting to gun for some old ways of things being done.
And it's the same thing with Taylor Swift when it was coming to owning her masters and just … I've also talked a lot about my experience in the music industry, but I just think it's really cool when you can sit down with your peers and you can discuss the real deal that goes on behind the scenes with the industry.
To hear from us three women would be great. Obviously, I can name a whole list of people that have done similar things. We could talk about Master P., we could talk about Tyler Perry, we could talk about Beyoncé, the list goes on. But those are just two that most recently had spoken about these things. We could have a really good deep conversation and unpacking lyrics because Nicki writes down, and so does Ms. Swift. It's giving astral projection, it's giving lucid dreaming.
So when you're being interviewed now, do you, ahem, judge the interviewer's questions from a different lens?
I don't want to say judge, but I definitely try to figure out where we can go. I'm always willing to go somewhere. When I'm talking to people, I'm obviously giving them the respect of knowing whatever their boundaries are. But when they're answering, I'm thinking, Well, where else would they want this to lead to? Another thing I've learned is that pre-conversations are really awesome because you can talk to that person about where their headspace is, what kind of things are most important to them right now.
Well, then let me backtrack a little bit, because we didn't get to have much of a pre-conversation. What's your mental headspace and what's important to you today?
After having my baby, I've just gotten so much more powerful. I'm just so strengthened in a crazy way. Strutting my stuff, enjoying. I'll be honest, I think before I even had the baby, I was really actually quite self-conscious. In a way that you would expect, considering the kind of work that I do as a public figure. Always trying to be on point with my body and always trying to make sure I'm taking care of this and that. There's a lot of physical attention. Being slim and being fit in a particular way was always something that I was gunning for. After having the baby, my body got so much bigger and I started getting fluff in areas I never had before.
I was trying to work with my trainer, Corey Calliet, and he was just like, "Well, we are never going to try and get your body back to how it was before a baby because you birthed a child." It's like, that's not something to hide, that's something to embrace. We're going to lean into this new body. That is the whole aura of what's happening with me in this big boss era as I come into my 30s and I have my baby boy. I'm just continuing to spread my wings as a young woman. My headspace is just to continue to inspire and encourage myself and anybody else who wants to go down that road with me. Because we're growing and we are changing. It's all about loving who I am and loving what I experienced and what I've gone through that's gotten me here. A lot of gratitude for me.
Obviously I don't know you like that, but when I see you from the outside, you have always seemed like a woman and a girl who's always stood in her own power. Sometimes women are expected to shrink, and I feel like when I see you, I don't see a woman who shrinks.
I think it's important to say that both things can be true, which I'm sure you know. I'm ready to talk to you, you are also very confident, but both things can be true. I speak to my insecurities and it actually makes me feel more confident. Because I'm not trying to hide. When I really talked about my skin issues and stuff like that, it was really for me.
As I confront my issues head-on and I'm like, "Well, I feel terrible about this," or, "This ain't work for me," I turn it into a joke, but I don't ignore it. I try not to hide it. Confident people, it's not that they're not insecure, it's that they just accept the fact that they're going to have some insecurities, work on them when they can, and love themselves. Because at the end of the day, what else are you going to do? Hate yourself for who you're not?
This is a weird question, but what would you say your brain looks like, sounds like, and smells like?
Not Jeffrey Dahmer, girl! The inside of my brain smells like vanilla or something warm and cuddly. It smells like something safe. It's like, Hey, we are here for you. What does it look like? Colorful, shit is like synapses are going, you know what I mean? There are some gray spots. There are definitely some gray spots, but most of all, it's neons, sparkling, it's electric. Almost like when you have a PC gaming computer and all the colors that are going on in there. That's how my brain is. What does it sound like? Shit, Jordin Sparks, "One step at a time, there's no need to rush." I'm always in some type of coming-of-age comedy.
I want to walk inside your brain, that sounds nice. On the flip side, you've got a lot going on in your life. You're acting, you're singing, you have a podcast, you're a new mom, you're keeping the culture consistently quenched with delightful sound bites and memes. How do you stay grounded and at peace?
My family, my friends, my loved ones. Keke Palmer's who I am, but it's almost like Spider-Man. I'm Peter Parker at the end of the day, and at some point, I have to take the suit off. It's still me, I'm still there. It's still Keke and there's no Lauren without Keke. There's no Keke without Lauren. But it's just one aspect of who I am. We all have cultural aspects of ourselves that we sometimes bring out more or less than others.
When it comes to being able to get balance in my life, it's taking off that suit, taking off the Keke Palmer side of myself and putting her to rest. Giving her an opportunity to recharge and relax and also know that the other side of me that maybe isn't that jazzed up all the time, has a place, is needed, is valued, and able to just breathe. It's really awesome.
Do you ever wish that you could just be Lauren or Keke part two, Keke without the visibility?
Sure, sure. Yeah, absolutely. Sometimes I feel like I would love a little bit of more anonymity, or at least a version that wasn't so chaotic. We live in a particular generation where the fame thing is a little bit too much. The way that celebrities are idolized. Popularity to some degree is fine. It's normal. It could be expected, especially if you're a public servant or someone that's a public figure. But now it's the desire and the goal as opposed to being the aftereffect of being good at something or being known for something. It's just being known to be known.
Fame used to be a little bit more mayorlike, and now it's almost gone to some type of godlike vibe. That can be quite dangerous and a lot of pressure. I don't think any human should be that adored. I'm happy when people say that I'm their role model or I inspire them or whatever. I think the basis of anything I'm trying to do is to lead you to you, toward you. You can rock with me. You can buy into my stuff, you can support me. Obviously, that's my career. But never do I ever want somebody to think they need to be like me. If they want to be like me in any regard, hopefully it's to be authentically themselves. Hopefully that is the biggest message that they're receiving.
When you said mayorlike, I pictured you in a little top hat.
Walking around, Mayor Keke, "Hello there. You know it's your girl."
Speaking of "You know it's your girl," which was a viral clip taken from your Met Gala red carpet interview with Megan Thee Stallion, how does it feel to consistently become a meme?
I felt like that was a hit movie. "Sorry to this man," I could not have predicted the "sorry to this man" reaction. It's crazy, but cool and dope at the same time. It's randomized how that happens. But it's a very humbling thing because sometimes as an entertainer, people do not have a safe space for you to be relatable. You probably live a drastically different life than them. But at the end of the day, outside of whatever our daily life activities could be, I'm still going to work. I'm still trying my best, I'm still trying to make it in this workaholic country we're in, we both got 24 hours and we both just trying to get it done.
And so we all are the same. When people see themselves in me enough to repost a meme or use a GIF, it humanizes me in a way that I think sometimes feels lost in my life. I really do feel appreciative of being a meme. Because what they're saying is, She's like me, or they relate to it. It doesn't get any better than that.
You don't try to go viral? It just comes naturally, basically?
The recipe to any virality, I would think, would have to be you being authentically you. I can't replicate it. I know that I love to make people laugh and have fun. The "sorry to this man" meme is me being like, "Yo, let's cut the bullshit. This is all I got." Those are all aspects of me. People who interview me are more in tune with what makes me go viral than I am, because they always try to push certain buttons.
What keeps you authentic when you are in the public eye? Especially when it could be so much easier, and so many others have gone the route of, Here's my public persona and I'm going to do everything and be perfect. What is your motivation to be you?
There is such a thing as privacy. I'm not showing y'all my ass at night. I'm a human being. I have things that make me just a normal person. I'm flawed. I definitely try to put my best foot forward. But again, because I don't like the idealism and I don't like the kind of era that we are in with fame, I definitely self-deprecate, point to my flaws, constantly say I'm not perfect because I really don't want people putting me to this unbelievable standard. I don't live to be a celebrity. I live to do what I love, to share love, to give something positive to the world. Being under a magnifying glass for all of my life, it was kind of a surrender to realizing no matter what I do, it's never going to be enough, so that's okay. Let me at least be me.
Are you really online? Do you consume social media? And if so, what does a late-night scrolling sesh look like for you? For me, I'm doing YouTube deep dives of a couple that cosplays like they live in the 1800s. 
I'm always looking at weird stuff too. I'm looking at TikTok. I can get crossed in a conspiracy theory. I can be looking at some new articles online and just all types of random stuff. I'm definitely 100 percent like an internet person. I guess that's a personality trait. A lot of my friends that I've met, even as kids, were online. Through chat or MySpace. I'll see somebody's page online or I'll check somebody's life out and I'm like, I want that person to be my friend. I feel like online literally gives us the opportunity to see in other people's worlds, to reach things that we otherwise didn't get to reach. I really do use it as a tool and I really respect it. Especially growing up, being in the entertainment industry, being homeschooled, not having a real school, I really was appreciative of online.
Now that you made me think of it, somebody else that I would love to talk to would be Tom from MySpace. What he created really helped my life because I didn't have any other way to be friends. I might be a celebrity, but in my mind, in my world, I felt like an outcast. I turned to the internet where I could create space for me, and build my world and have friends and feel like I was normal. It all feels very full circle, me being a meme queen. The internet is a place that I've always loved and adored and felt like I could be myself, and in a way, that is a space that was not always given to me in real life. That's why we all played The Sims too.
Do you think the human race is better or worse off with social media?
I think it's better, but not when you don't use it right. When I was talking to Will.i.am about it, he was definitely like, "Yo, I would much rather be in a world where there's AI and all this kind of stuff than in a world that it's not." With the internet, the problem is that it's extremely powerful and it can be used in bad ways and people have used it in bad ways, and that's what scares us. But when we use it in good ways, man, we're able to really do some incredible things.
You recently interviewed Vice-President Kamala Harris and asked her about her silk press. You also used the phrase "poop on a stick" in the interview, which knocked me on my knees. What does podcast prep before you start the conversation look like for you?
It's different each time. I have support with my producing team. I always script out the top halves of my show. And then the other halves of them are obviously just conversation, but I have bullet points or CliffsNotes of what I want to discuss and talk to whoever I'm having on with me that may not be the actual interview guest, whether it's my mom or whether it's Darius or whether it's Max. We'll kind of discuss what our POVs are. That way we all know that we have some unique perspective on the topic. When it comes to the interviewee, as much as I have questions that I want to ask them, I also listen and just try to see where their conversation would take us.
Anyone you've been nervous to record with?
I was nervous for Kamala.
Who wouldn't be?
For Madam VP, I was definitely nervous because I wanted to give respect to what she's trying to do and have a conversation about it while at the same time humanizing the conversation because there's a huge disconnect, in my opinion, with our generation in the government. It's beyond just getting people to vote. There's a bigger flaw where we don't believe in the system. It's how to get people to believe that there's a reason to support our public servants and actually believe that they're going to be good at their job or they're going to be worth us listening to. It's about asking important questions, but also, are you a person in there?
We need to see that these people are real. We need to know why they wanted to get into these positions. A lot of this is starting to look like a joke and has been a joke and looks like a reality show and it just seems like a big money grab and it just doesn't seem real. But there's no way to work in any system of anything and be perfectly perfect or do something that's totally agreeable.
The point is to get to a place where we can at least feel like somebody is human and touchable and real, that they can be reached even if they are working within a system that is clearly flawed and corrupt. We need them to speak to that. I was happy when I was talking to Kamala, Madam VP, excuse me, about this topic. She was saying to me that she knows that people don't believe, and that's why she's doing it. She knows what she's working against. I wanted that interview to be something that we felt was real so we can actually be engaged. Because right now, honey, it's giving, like, stale news variety show.
I listened to another episode where you talked about being a child star and you said if you weren't an entertainer, you may have gone into politics. Would you ever go into politics now?
I don't know what role I would play.
President?
Well, let's think about it. What is the president's job, really? Because he can't change no laws for real. I mean, they can, but it's like they really aren't the ones that are doing that work. If the president's job is to be a figurehead, speak to the issues, encourage the people, represent them and create a positive democracy and good morale, then, yeah, I mean, I could. This is the concept of politics I love because it's being a public servant. Child, sign me up. I love being a public servant. I love being serviceable.
I know a lot of people don't think about entertainment as that, but, I mean, I am still doing a service. I'm literally tapping and singing and dancing for you to laugh and enjoy. I'm trying to serve you, for sure. That's something I've already been doing all my life. So in that regard, yes, the part of politics that makes things difficult is feeling like that I believe in what I'm doing and that I can actually believe that I can get something done. If I was going to ever go into politics, it would be because I really believed that I could fix some shit or figure something out. So I think that's what it would really take is for me to feel like I could actually be useful.
Would you consider yourself America's sweetheart?
Girl, that is crazy as hell.
Come on.
If that is what the people think, I'm truly gagged and gooped because, wow. I don't even know what that entails, truly, what that really means. But, by golly, if you all feel like I'm America's sweetheart, I'm fucking here for that shit all day and night. I appreciate it because it feels like a term of endearment. But what do I think? If I were to declare myself, I do feel like America's little sister, little cousin.
I feel very much so related to everybody. I don't even care what background they are, Black, white, otherwise. I feel related to all of the Americans in the Americas. I feel very much so like we grew up together. You know, we went to college together. We went to school together. It feels very familial to me. A lot of the people that I meet, even though I don't know them, they know me. It kind of ends up feeling like I'm that adjacent second cousin that you see every two years at the family reunion.
Like a lot of people in their late 20s, I feel like I grew up with you, and whatever project you were involved with seemed to mirror whatever life stage I was going through at the time. What was child stardom like for you, and what was it like to have so many eyes on you at such a young age?
Honestly speaking, initially it was traumatic when I really experienced it, like after I did True Jackson, VP. And then I got used to it and I tried to kind of control it a little bit more by setting boundaries for myself and being a little bit more realistic about what I needed from the people that would be around me. Fame is a lot. People think that they want it, but it's intense. It could be fun and cool in certain times if it can possibly help you get quicker dinner reservations. But a good job will do that. You know, you don't have to be famous. You just have to network.
I don't know why anybody wants it. It's a lot to have a lot of attention on you all the time. It gives you a lot of anxiety. It's nerve-racking. You're looking over your shoulder all the time. Is somebody going to try and humiliate me or use me for clicks or likes or, you know, whatever? Not everybody can handle it. It's just a dangerous game.
Time for a few rapid-fire questions. Do you think aliens exist?
Yes.
Would you ever explore the deep sea?
No.
What would your last meal be? You can have multiple courses or just one bite of something and then move on. It can be anything. Multiple things.
A charcuterie board. I always needed a charcuterie board. I need to start off with a charcuterie board and a nice tall glass of wine. Then, I'd like to take it to a big pizza. From Little Italy in New York. A particular pizza place called Little Italy's in New York. There's one right across the street from Papaya Dog. It's the sauce that they do that makes it what it is. If this is the last meal, I don't need it to be fancy, I just need it to be good. And, lastly, some snickerdoodle cookies. We got to make it feel like home again.
What do you think happens when we die?
I think we go to nothing. And, I mean that so happily, not in a sad way. I feel like, before we come to our human bodies, we already are in a utopia. The reason why it's a utopia is because it's like everything and nothing at the same time. We're beholden to nothing, we have no attachments, we're completely and utterly free, and we know in whatever this energy space is that we are all interconnected. So there's such a freedom and such a happiness. It's not necessarily we're riding roller coasters and stuff. We don't need those things. The happiness and joy is purely innately within us as a spiritual being.
And then I think we come here and we put this suit on, and the suit is actually what makes life really hard, because what comes with humanity and being a human person, as opposed to being an animal, or a rock, or something like that, is our very heightened consciousness and awareness that is sometimes competitive with our spiritual thing that doesn't actually need words, or language, or actions to just be and understand. And we confuse ourselves when we're down here.
I think, when we die, we realize, Oh my gosh. It wasn't that deep. I was always going to be okay. Everything was always going to be all right. Because, this world, this experience is everything and nothing at the same time. It's so nothingness that it became everything. I think that's odd. But, I mean, I grew up Catholic. I believe in Jesus. I believe in all the shits. But at the same time, I also feel like some things are like a mixture of spirituality and metaphysical stuff. I go down on the loops. But I be in church too. I'm everywhere with it.
If you could live forever, would you?
Absolutely not. No, there's nothing about that that sounds good. No, no, no, no, no, no, no.
That sounds crazy. I want to have a nice, good long life. I don't want to be that grandma that's holding on for dear life and her body falling apart. Let me go looking fine and sexy in my sleep naturally. I don't want my body to be just turned inside out and I'm like, "I'm still here, kids." No. Unplug me if I'm falling apart.
What is the most interesting thing in your bag right now?
The truth is, I only carry around one bag. And it's the mommy bag. And you know what it has in there? My pump, my nipple cream, some contacts, and some prenatal vitamins, post-prenatal lactation supplements.
What is the question that keeps you up at night?
What is this about? I always ask myself, What's the reason? What is the reason for this all?
That's beautiful. Can you spell pulchritude?
Of course I can. P-U-L-C-H-R-I-T-U-D-E. Pulchritude?
What does the future look like? What does it look like five years from now, or even in the next few months?
I'm going to continue to be killing these fashions, honey. Continue to expand. I can't really say exactly what it's going to be, because I feel like I'm even surprised sometimes about where I end up. But definitely more hosting, and acting, and all that stuff. A lot more stuff behind the scenes too. I really do love producing, and I love helping put stuff together and support people. With KeyTV, we made a short film with a kid from L.A. Film School, supported him with a production crew, and collaborated from different perspectives. I was grateful. To be close in age with him was awesome, too. I'm in a unique vantage point to be able to communicate, and talk, and relate, but also have wisdom that is granted only through the experience that I've had.
This interview has been edited and condensed for clarity.
She was born Lauren Keyana Palmer.