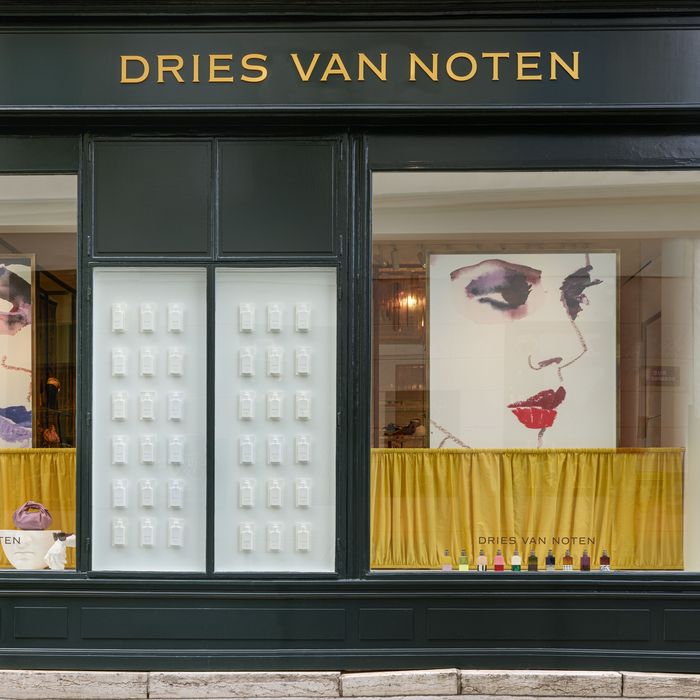 Photo: Courtesy of Dries Van Noten
In 1989, designer Dries Van Noten opened his first boutique in a former gentlemen's clothing shop in his native Antwerp. The five-story building with a distinctively curved front rather like the Flatiron's soon became a fashion landmark — if you made the trek to Antwerp, you had to make a pitstop at Dries. Then in 2009, he took the plunge and opened a shop in Paris, on the Quai Malaquais, an area of the Left Bank known mainly for galleries, antiques dealers, and art-supply stores.
I remember the excitement when he opened that boutique, because one whole section of the main floor resembled a chic living room (a novelty at the time). Plus, the individual aesthetic of Dries now came to Paris, where more could see it. Two years later and only a few doors away, he opened a men's shop, firmly planting his flag in that tiny but popular corner of Paris.
Now, timed to the fall 2023 couture shows, he has opened a jewel box of a perfume shop on the ground floor of an historic building next to his men's store. Art historians will know the location as the former home of Breheret Gallery, which sold early works of Picasso and Chagall, among other artists. When the building came up for sale, Van Noten urged the corporate owners of his brand at Puig to buy it, believing the corner ground-floor retail space was the right match for his burgeoning beauty business. And it definitely completes a Dries story along the Quai Malaquais. With three storefronts, he owns that strip.
With so much standardizing going on in high fashion and retail, it's great to see an individual approach. "We make our [clothing] collections with a sense of freedom, and I also don't want to dictate perfumes," Van Noten said last week, shortly before the site opened to the public. "I want to give people a choice." Launched a year ago, the beauty line consists of 36 shades of lipstick and a dozen scents. Sustainability is a big consideration. "Everything is rechargeable, so you buy one lipstick capsule and refill it," he said. "The perfume bottles are all refillable. The packaging is all done in paper pulp and we don't use glue."
But the surroundings are the thing. The fixtures and glass chandelier feel a bit 1970s Italian, there's a 17th-century Flemish tapestry on the back wall, the floor is comprised of random-size pieces of marble, and the parchment and alabaster details are meant to suggest materials favored by Jean-Michel Frank, who did interiors for Guerlain's perfume shops.
Though the space is compact, it offers a nice element of discovery. There are some small accessories also on sale — Van Noten had drawstring pouches made up from the bolts of fabric he keeps in his studio in Antwerp — and in a dark back room, a kind of cabinet of curiosities, he has pieces from earlier collections on sale. The archive room has a bit of a boudoir vibe, by design. Open a series of bureau drawers and see what you find.
"As we're opening during the couture shows, we focused on pieces from the Lacroix collection," he said, referring to a runway collaboration he did with Christian Lacroix in September 2019. "We had a lot of extra stock from that collection because it was delivered in the middle of the pandemic," he said.
Van Noten says more beauty shops, along similar lines, will be opening in other cities next year.