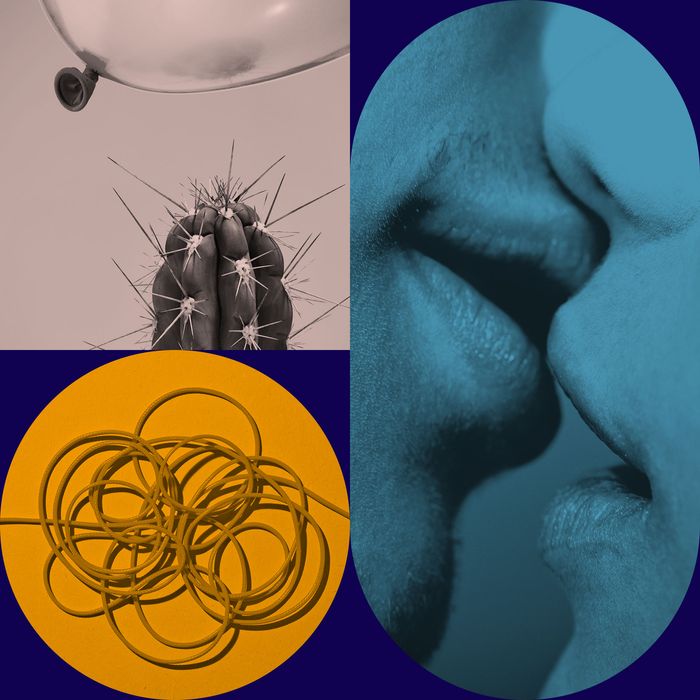 Photo-Illustration: the Cut; Photos Getty Images
Spend enough time with Esther Perel — psychotherapist and host of the podcast Where Should We Begin? — and you'll start to pick up a new lexicon for describing the vastly complicated and always evolving matrix of human emotions. As Perel joins the New York family with her podcast re-launching under the Vox Media Podcast Network, we asked Perel's editor, co-writer, and head of content, Mary Alice Miller for a sampling of such terms, gleaned from Perel's podcasts, books, and many conversations. Miller tells us about six — of both the timely and evergreen variety — to know.
Eroticism
Esther defines eroticism as "not sex, per se, but the qualities of vitality, curiosity, and spontaneity that make you feel alive." The erotic landscape is vastly larger, richer, and more intricate than the physiology of sex or any repertoire of sexual techniques. It's the unexpected-yet-welcome touch on a great first date, running into a dear old friend and absconding together for a drink, traveling to a brand-new place and experiencing it unfold before you. Eroticism is cultivating pleasure for its own sake.
Prolonged Uncertainty
Prolonged uncertainty is the sense that, on top of feeling uncertain, you don't know when your uncertainty will end. For anyone feeling as if we are living through historic disaster after disaster in rapid succession, prolonged uncertainty is likely one of many emotions you're experiencing.
Ambiguous Loss
Coined by author and family-stress researcher Dr. Pauline Boss, ambiguous loss refers to the experience of losing a loved one without a clear sense of why. The phrase is applicable in situations in which you've lost someone mentally but not physically, as with Alzheimer's, or vice versa, as with deployment. Inspired by Boss's work, Perel has used "ambiguous loss" to additionally describe the experience of constantly being next to a partner who pays more attention to their phone than to you. Pandemic lockdown also fostered a sense of ambiguous loss due to the collective loss of normalcy, routines, and shared spaces.
Empathic Distress
If you are not aware and accepting of your own feelings, it may be harder to connect with the feelings of the people around you. You may even shut them down because you don't allow your own. This is called empathic distress.
Tragic Optimism
Viktor Frankl, a Holocaust survivor and psychiatrist from Vienna, described tragic optimism as "the human capacity to creatively turn life's negative aspects into something positive or constructive." Perel invokes this concept when talking about the ability to maintain hope and find meaning in crisis.
Collective Resilience
"Collective trauma requires collective resilience," says trauma psychologist Dr. Jack Saul, who happens to be Perel's husband. In the aftermath of 9/11, Perel and Saul facilitated workshops with their community in lower Manhattan to help navigate the collective trauma induced by the terror attacks. Collective resilience is the process and outcome of Saul's community-based approach to treating trauma and providing clinical services that are both culturally and contextually appropriate. Collective resilience has also been one of Perel's most-used phrases during this era of overlapping crises — from the pandemic to climate crisis to war. "This is a time when many of us who've been raised on the idea of self-reliance and self-control are actually realizing that we are interdependent and in need of support," Perel says. "This is a time for mass mutual reliance."