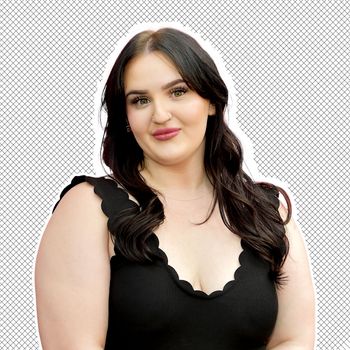 Photo-Illustration: by The Cut; Photo: Getty Images
Beauty influencer Mikayla Nogueira is in the midst of TikTok drama … again. This time, it's surrounding her wedding — yes, there's mess even on her big day. First off, the actual wedding ceremony was beautiful and Nogueira looked stunning. No surprise there since she hired a star-studded glam squad that included Chris Appleton and Mario Dedivanovic — borrowed from Kim Kardashian for a day. The wedding was held at Castle Hill Inn, a notoriously expensive 40-acre estate overlooking the water. But this wasn't just a wedding; it was a whole production.
TikTokers are saying it looked more like a sponsored influencer event instead of an intimate celebration of love shared between Nogueira and her new husband, Cody Hawken. Fans are speculating that Nogueira might have taken advantage of her wedding day by turning it into an opportunity for advertisements. E.l.f. Cosmetics partnered with Nogueira for multiple wedding moments: a Marriage Material lip-kit duo that allegedly sold out in 18 minutes and a gifting booth full of E.l.f. products for her wedding guests to experience. Guests shared that they were also gifted items from other makeup brands, including Charlotte Tilbury and Anastasia Beverly Hills.
Now, besides the spon-con nature of it all, here's where it gets tricky: The guest list included a host of influencers — big names like James Charles and Patrick Starrr, among many more. Every influencer in attendance posted a "get ready with me" video on TikTok before heading to the wedding, which seemed as if they were contracted to do so for a brand deal or something. But this is a wedding we're talking about. And it's probably not a stretch that she took a page out of the Kardashian playbook. (How could we forget Kourtney's Dolce & Gabbana–themed event?)
It gets even more messy, though: Apparently, one of Nogueira's friends from high school is claiming that they received a save-the-date but not a follow-up invitation to the wedding. She claims that she reached out to Nogueira but was left on read. Her friend is speculating that a bunch of Nogueira's friends were uninvited to the wedding so that there could be space to invite influencers, making the wedding appear more like a brand trip than a personal day for friends and family.
Nogueira hasn't responded to any of the drama. Instead, she's sharing wedding clips on social media, such as a recap video that includes branded moments in which she and her husband are featured in an E.l.f. kissing booth. Case in point: Was this a brand deal or wedding? It seems that, in today's world, both can coexist. By all means get your coins, but uninviting real friends for a branded moment with influencers is yikes.