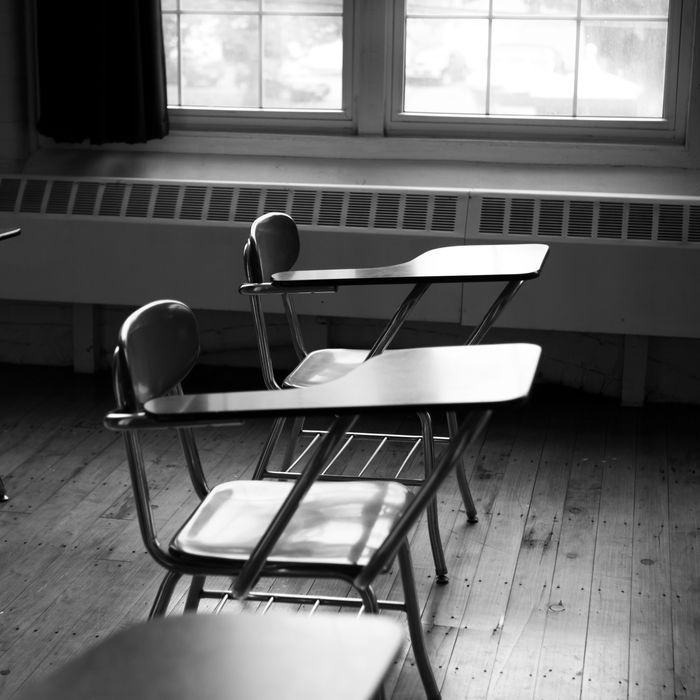 Photo: diane39/Getty Images/iStockphoto
It's a hell of a time to be a teacher in Florida. Amid an alarming sea of Republican-backed changes to school curriculums in the state, its board of education has voted unanimously to approve new standards for African American history classes in public schools. Going forward, middle-schoolers will explore "how slaves developed skills which, in some instances, could be applied for their personal benefit" as one part of the syllabus.
Another update the board considered crucial: High-school lessons about anti-Black violence throughout the 20th century — examples of which include the Atlanta race massacre, the Tulsa massacre, the Rosewood massacre, and the 1920 Ocoee massacre — will apparently cover "acts of violence perpetrated against and by African Americans." The board claimed its retelling would ensure "the darkest parts of our history are addressed," but in every case, these incidents involved white mobs attacking Black communities. The Ocoee massacre, for example, is considered the deadliest instance of Election Day violence in U.S. history, one Florida schools have only been required to teach to students since 2020. It saw white supremacists slaughter an estimated 35 Black people, as well as burn down some 22 homes and multiple churches, in an effort to keep Black Ocoee residents from voting. Speaking at the board meeting, state senator Geraldine Thompson — who, per the Washington Post, helped install the massacre on state lesson plans to begin with — pointed out that the new framing "suggests that the massacre was sparked by violence from African Americans" and thereby blames its victims.
At the same time, the standards are consistent with Florida governor Ron DeSantis's ongoing crusade against factually accurate Black history education in schools. Last year, he introduced a "Stop WOKE Act" that would prevent schools, universities, and private businesses from acknowledging topics, including structural racism and privilege, that may provoke "guilt, anguish, or any form of psychological distress" in some (read: white) students. A federal judge swiftly struck down the law as a violation of the First Amendment, but DeSantis appears to be attempting a comeback, while several state universities have reportedly already modified their critical race theory courses.
In January, DeSantis rejected a request from the College Board to introduce a new AP African American History Studies course, claiming that a litany of curriculum points, including reparations and intersectionality, went against state law. He also took issue with the program's inclusion of the phrase "white supremacist capitalist patriarchy" in bell hooks's writing, its mention of "Black Queer Studies" as a concept, and its support for "ending the war on Black trans, queer, gender nonconforming, and intersex people." In May, he passed legislation banning gender studies and critical race theory degrees and prohibiting Florida universities from using federal or state funds for DEI programs. Last month, he claimed on Fox News that he plans to abolish the U.S. Department of Education if elected president.
In the wake of this latest effort to whitewash American history, dozens of lawmakers, activists, and educators spoke out against the new board of education guidelines. The state's teachers union called the news "a big step backward," asking in a statement, "How can our students ever be equipped for the future if they don't have a full, honest picture of where we've come from?" NAACP president and CEO Derrick Johnson added, "Today's actions by the Florida state government are an attempt to bring our country back to a 19th-century America where Black life was not valued, nor our rights protected."