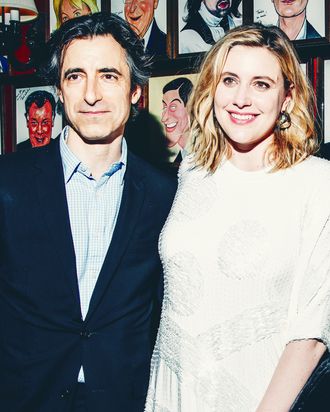 Photo: Nina Westervelt/Variety via Getty Images
Would you believe me if I told you that writer and director Greta Gerwig brought not one but two incredible feats of human creation into the world this year? It's true: Gerwig is currently celebrating the arrival of not just her brainchild, the Barbie movie, but also a real-life human baby, her second child with her partner in writing and life, Noah Baumbach.
In a new interview with Elle U.K., Gerwig revealed that she and Baumbach recently welcomed a new family member, joining their 4-year-old son Harold and Baumbach's 13-year-old son from a previous marriage. The child, who was 4 months old at the time of the interview, is, in Gerwig's words, a "little Schmoo" and also a "wise little baby." I can't imagine two better qualities for a baby to have.
Am I to understand that, while Gerwig's mind was hard at work germinating the Barbie movie, her body was creating a whole-ass newborn child? Are you telling me that Gerwig is the living embodiment of having it all, proof that women can do anything we put our minds to, a walking, talking, birthing manifestation of the feminist Barbie ethos? Congratulations to Gerwig and Baumbach on their two new babies. I can't wait to see visual evidence of them both.