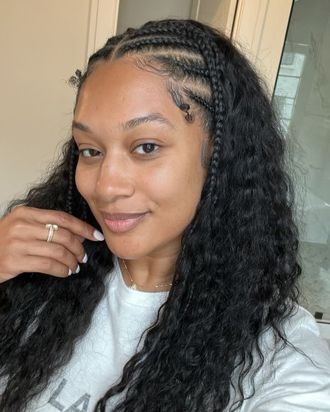 Crystal Renee Hayslett grew up in Martin, Tennessee, a small town where she fell in love with beauty. By third grade, she was doing her own hair, adding beads to the end of her braids because she was tender-headed. And in middle school, she was a pageant girl. When she got her first two pimples, her mom took her to Clinique's mall counter where, as a preteen, her multistep skin-care routine first began.
Now, she isn't getting her makeup done for pageants anymore but for the big screen. The costume designer turned actress has had quite a few career pivots. She worked on Capitol Hill after first graduating from college before taking a leap of faith and moving to Atlanta to pursue music and start her singing career. This move led her to become a costume designer at Tyler Perry Studios, which led her to become Perry's personal stylist for five years before becoming an actress on his hit show Sistas and landing a lead role in the show's spinoff, Zatima. She's also recently starred in her first major feature film, Praise This. "Here I am now, living my dream," Hayslett says to me. In addition to acting, she recently started her very own podcast, Keep It Positive, Sweetie, a safe space for women to heal, grow, and love.
In the middle of it all, she manages to take care of herself, inside and out. A big part of her self-care regimen is skin care. Being on set has taught her a new level of discipline. When it's time for her to leave the set, a makeup artist will offer to wash her face, but she turns it down because she's adamant about doing it herself. "It's a lot of wear and tear," Hayslett says. "When I'm working, I wear makeup for longer hours than I would on a normal day, so I notice my wrinkles appear deeper because I'm tired. My face has more puffiness, and I get more breakouts because of piling on makeup," she says. Here's how she preserves her skin.
Here, Hayslett's routine:
She starts her routine off with Kiehl's foaming cleanser, which removes excess oils from the skin and softens it with apricot kernel oil.
She then gently exfoliates her skin with Tatcha's rice polish. Hayslett says the exfoliant makes her skin feel like a baby's bottom. "Sometimes I use it and my makeup artist is like, "Did you just get a facial?" And I'm like, nope it's my Tatcha rice polish," she says, laughing.
Following her rice polish, she uses Tatcha's silk serum, a lightweight retinol alternative that smooths out her complexion,while helping it appear more plump and firm with the brand's signature silk-protein ingredient.
She takes the next few minutes of her routine to just walk around wearing Peter Thomas Roth's 24K-gold hydra-gel eye patches. Does the 24K gold actually do anything? It does — it gives the under-eye a firmer appearance while the caffeine reduces puffiness. These are her go-to patches when she hasn't gotten her six-to-eight hours of sleep a night. They immediately wake her eyes up.
Once she finishes letting her eye patches work their magic, Hayslett lathers on her moisturizer — Kiehl's squalane-infused facial cream, which softens her skin while giving it an all-day hydration.
The final step in her routine is applying sunscreen. She uses Supergoop's glow screen, a tinted sunscreen that gives the skin a bit of a golden glow. For days she wears makeup, it's the perfect underglow, and for the days she doesn't want to wear makeup, it gives her skin a radiant finish.
At night, she uses Clinique's cleansing balm. The balm-to-oil formula seamlessly melts the entire day off of her face, especially the stubborn eyelash glue, which can be a hassle for her to remove.
Following her balm and some serums from her morning routine, she seals everything in with Sunday Riley's vitamin-C oil blended with turmeric and evening-primrose oil to brighten the complexion and leave her skin glowing throughout the night.
Last, she applies Laneige's cult-favorite lip sleeping mask, the secret to ultranourished lips. She also wears the mask during the day.
On wellness hacks:
"I'm really conscious about the things I eat and my water intake too. On a good day, I try to get a full gallon in." Hayslett drinks hot water with lemons and manuka honey every morning. Why manuka honey? The anti-inflammatory honey is packed with nutrients and has antioxidant benefits and healing properties. For Hayslett, it's her go-to drink every morning. It's warm and kick-starts her digestive system because, for her, skin is also what you put into your body.
On aging:
At 41 years old, Hayslett admits that she would be lying if she didn't look in the mirror and think, Oh, I could just get a neck lift, or I could just get a little Botox here. "I'm just being completely transparent. I would be remiss if I didn't say that I nitpick sometimes on different things that I could do. The first place, for me, that my wrinkles started showing was my neck. You can look at my face, and you can't tell how old I am, but you look at my neck, and the wrinkles are there," she says. Now when she's applying her products, she always applies them to her neck and décolleté area.
On how she decreases stress:
"Working out is very therapeutic for me. I put my headphones in, play my music, and just lose myself in the gym. I also carve out time in the morning for my devotionals, just meditation to be still while taking time to journal. I feel like the mornings set the tone for the day. How you spend those first few hours really can make or break the day. I try to take time to center myself and prepare myself because you never know what's going to come."
On starting her podcast:
Earlier this year, she launched her podcast, something her manager, Dinorah Peña, encouraged her to do. "You have an audience that wants to hear your voice," Peña told her, and she listened. Now she has subscribers waiting to hear her talk about everything from healing to growth on her podcast. "It's a blessing to be able to speak your truth and to let others know that just because you have put me up here [on a pedestal] for whatever reason and you think that my life is just perfect all the time, I'm just like you. Trouble still comes, heartbreak still comes. Issues, lessons, and growing — all that still comes as long as you're living; it's going to keep coming," Hayslett says, and it's become a part of her purpose to help people while healing through her own traumas.