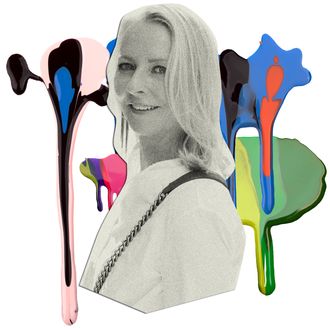 Photo-Illustration: by The Cut; Photo: Tommy Ton
Beauty journalism would not exist without Linda Wells. In 1990, Wells made magazine history when she became the founding editor-in-chief of Allure, Condé Nast's first-ever beauty publication, which quickly became one of the most influential "beauty bibles" in the industry. She got her start in journalism working as an assistant at Vogue, which served as her training grounds for reporting and writing. She also handled very Devil Wears Prada errands for her bosses: "I would walk my boss's dogs, make their wax appointments, and go out in the middle of a blizzard to pick up takeout food. There were certain editors whose mission was to make you cry, you know?" Nonetheless, she learned a lot, and it helped her land a beauty-reporter role at the New York Times. Fast forward to 2015, when, after 25 years at the helm, Wells left Allure to begin a new chapter. She reconnected with her first love, writing, with her very own beauty column here at the Cut. (In one memorable installment, she worked at the Times Square Sephora for a day.) In 2017, she moved to Revlon as chief creative officer, where she launched her own beauty brand, Flesh. She returned to her editorial roots in 2021, joining Graydon Carter's Air Mail as beauty editor. In March of this year, she launched Air Mail Look, a spinoff beauty title. When she's not interviewing brand founders and conceptualizing beauty features for the publication, she's spending time with her two sons in Southampton and traveling the world with loved ones. Here's how she gets it done.
On her morning routine: 
I wake up at 5:30 a.m., which is very alarming to me because I was never ever a morning person. I was always late for school, always in a rush, always in a panic. Before I do anything, I do the New York Times Spelling Bee. I feel like it gets my mind working and prepares me for the day. And then I do Wordle, of course. I'll go through the headlines and quickly get on Slack to answer messages from my global colleagues and get the day rolling. After I get out of bed and do some work, I get on the Peloton. Lately I've gotten really into the instructor Robin Arzón — I love her '90s hip-hop music. She's so motivating. Or I'll do a mini trampoline workout on the Ness in front of my TV. It's absolutely the most ridiculous thing ever, and I'm very grateful no one's around to see it. There's something about all the bouncing that puts me in a great mood. I'm a big cold-shower person now. I'm a real convert to the benefits of cold therapy and everything that it can do for you. Lastly, I have breakfast, which is an egg-white omelet with goat cheese and spinach, and a Grady's cold brew with almond milk and Stevia. That routine makes me feel ready for anything.
On launching Air Mail Look and how the industry has changed: 
Starting this new magazine, there was definitely some stress attached to it. You would think that after all the years I've done this, it would be a little bit like autopilot for me. I'm not really a high-stress person in general. Maybe it's just having learned to manage it for so long. I had babies when I worked at Allure, and that's a lot of work. I got married when I was at Allure. I got divorced when I was at Allure. There were a lot more complications in my life. And I don't have those complications now, which feels fortunate and kind of like a luxury.
I think that the way that Graydon and Alessandra Stanley have married the ease, comfort, speed, and urgency of digital with the visuals, writing, reporting, and checking standards of old media is such a positive move forward. I still think it would be fun to have a physical magazine to hold in your hand every once in a while. There's something very luxurious and intimate about that experience.
On pinch-me moments in her career:  
When Donatella Versace hosted a private Prince concert and invited a small group of us. We were so close it was unbelievable. I couldn't hear for like three days, and it was totally worth it. Or getting to meet Jeff Koons after he did his show at Versailles. It was a dream to be able to get Arthur Miller to write for us, and having lunch with Robert Gottlieb, who told us how he came up with the name Catch-22.
On facing setbacks: 
Getting laid off from the magazine I created, Allure, was tough. And my brand Flesh Beauty not surviving, that was too bad. But I felt in both cases that I didn't want the ending to define the experience, so I just chose to see it as a natural ending. My chemistry is not to dwell too much. When I go through a hard time, I give myself 24 hours of sadness or misery. When things don't work out, I go through a brief mourning period without a lot of blame on myself or anyone else.
On the wildest interview she's ever done: 
When I was an assistant at Vogue in the '80s, I interviewed Max Huber, the man who invented Crème de la Mer. This was before the brand's notoriety or hype. Estée Lauder didn't own the company yet, so no one had ever heard of this thing. He was scheduled to meet with people far senior to me, but no one was in the mood or had the time. So they pushed me out and I interviewed him in the reception waiting area. Our interview was just fantastically bizarre. While I was talking to him, he ate the cream. He put the cream in his eye and it remained there the entire time. And it was just sort of revolting, but also kind of mesmerizing that this man so believed in this cream.
On the ubiquity of celebrity beauty brands: 
I can't say I'm a real fan of most celebrity brands, because I feel like they're just names attached to something to move the merch, and I don't think that that's very inspiring. But there are exceptions. Scarlett Johansson's line seems like an exception, as well as Selena Gomez's Rare Beauty. And Tracee Ellis Ross's Pattern is fantastic. But now it seems like you can't really launch a brand without having a big name attached or a lot of Instagram followers.
On the craziest beauty treatment she's ever tried: 
I remember going to L.A. and having some treatment where they tied towels into knots and soaked them in water and then beat you with them. And I was like, What is this supposed to be doing? I think it was supposed to be for cellulite, which of course it was not. I would always embrace the weird because it makes for a good story.
On the best advice she's ever received:
Alexander Liberman once told me — he was quoting Louis Pasteur —that "Chance favors the prepared mind." I believe in that combination of luck and effort.
On the people who help her get it done: 
Paul Cavaco, who was my work husband and the former creative director of Allure for over 17 years. He would just open my eyes to so many things. He taught me about excellence, fashion, and the art of visuals. I felt so lucky to learn from him. He was always someone I could laugh with, and we would also debate together and get over it. He made coming to work every day so much fun. We traveled together and went to the Met Ball every year together and always had a hilarious time. It was one of those work relationships that became so special.
This interview has been edited and condensed for length and clarity.