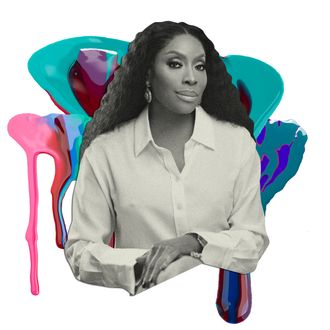 Photo-Illustration: by The Cut; Photo: Felix Crown/Courtesy of Mo Abudu
Mo Abudu has been called many things: "Africa's most successful woman," "one of the most powerful women in global television," "the African Oprah." That last one is particularly fitting and not just because she's a media giant. Like the American mogul, Abudu was something of a late bloomer. She was around 30 years old when she moved back to Nigeria (where her roots are) from England (where she was born and mostly raised) for a new job at ExxonMobil. But it would be another decade before she started her second act.
By 2006, Abudu had established a two-decade-long career in HR and raised two children. But far from slowing down, she doubled down, launching her media career with Inspire Africa, an education-meets-entertainment company. Its first project was Moments With Mo, Africa's first syndicated daily talk show, hosted by Abudu. Guests included Hillary Clinton and Christine Lagarde. In July 2013, she went even bigger, this time launching EbonyLife TV, a Pan-African network dedicated to creating and sharing authentic African stories. "I think when you feel you're ready and prepared for a career change, it's vital to cast away your doubts and just go for it nonetheless," she recently told the Cut. "Now that I'm almost 60, I feel like my career trajectory is only just beginning. I have so much that I still want to accomplish." 
The network quickly became the most watched in Africa and has partnered with Sony, Netflix, AMC, and Idris Elba's Green Door Pictures in recent years. "I've always wanted to share the African experience in a positive light, as I didn't get the chance to see that while growing up," she says. "It's essential that as Africans … if we don't take responsibility to own our narrative, then nobody else will." Abudu lives in Lagos, where her mom and children also reside. Here's how she gets it done.
On her morning routine:
I wake up very early — around 4 or 5 a.m. — because I work with people living in very different time zones from mine. I'm a firm believer in intermittent fasting, so I usually eat around midday, but recently I've started to have a little bowl of cereal for breakfast.
On a typical workday:
My day usually entails making decisions and signing off on scripts and proposals. I don't have a typical nine-to-five schedule, as I work until I feel tired, and then go to bed to continue on the next day. It's like I'm always on the move because I constantly travel between Lagos and London, which, thankfully, both cities share the same time zones.
Most people might not realize this, but a huge part of my day is spent reading through thousands of pages of scripts from creatives and assessing if they would be a good fit for the network. I barely even have time to read for fun anymore or as a guilty pleasure.
On managing stress:
I've made a personal resolution to make sure that I don't stress out over things that I can't control. I just move on to the next. My mom's advice and words of affirmation really help me relax as well. Although she doesn't fully grasp what I do, talking to her about my issues always does the trick. I also find that praying and communicating with God also helps ground me during those times.
On the people who help her get it done:
My family keeps me grounded, and they've provided such a strong support system for me. In a career like mine, I think that's necessary to survive. My mom and children inspire and motivate me to become the best version of myself. Sometimes I'm shocked at how my children are wiser beyond their age.
At work, Michael Williams, the general manager who handles EbonyLife Place, understands my vision and has helped transform it into the iconic location that it is today. It's one of the most coveted places in Lagos for people looking to watch movies, have dinner, or just visit with their family and friends. Even though I'm not always actively on site, I rest assured that he'll do a good job. I also have two assistants. ChiChi is based in Lagos. Tolu, who has been with me for nearly over a decade, works remotely from the United States. Though she still works remotely for me, it's just not quite the same.
On navigating criticism:
I've gotten a lot of belittling comments [disguised] as criticism throughout my career, so most times I just laugh it off. But when I come across valid criticism, I and my team keep it in mind and work hard on resolving it. The most pushback I've gotten is from members of the opposite gender who think I'm too much of an ambitious woman. I've been told I'm too ambitious for my own good, but I've learned to push that aside.
On unwinding at the end of the day:
I usually binge-watch TV and movies while eating dessert. I'm subscribed to all the streaming networks that you can think of, and I'm always updated on the latest releases. I watch TV, not just to relax, but to also get inspired by my peers and see what others are doing.
On celebrating professional wins:
I usually have dinners for the staff who helped me with achieving the win. For every accomplishment they achieve, we make sure to celebrate them.
I've not had the time to sit down and realize how much I've made. There's always another agenda, another project, and another goal I'm chasing after. It's a relentless and tireless journey, and I don't even think that I've "made it," to be honest. Maybe 20 years from now, my answer will change.
On the treat that helps get her through the hard days:
I particularly love eating apple-pie-crumble toppings on days when I feel down. It always cheers up my mood and boosts my energy overall, but I make sure not to eat it frequently to savor the moment.
On struggling with self-doubt:
I'm a fervent Christian, so whenever I want to make a decision and find myself doubtful, I pray to God for guidance. That helps a lot. Other times, I'll have conversations with my children, who I personally think are wise beyond their years, and they help me navigate my feelings.
This interview has been edited and condensed for length and clarity.