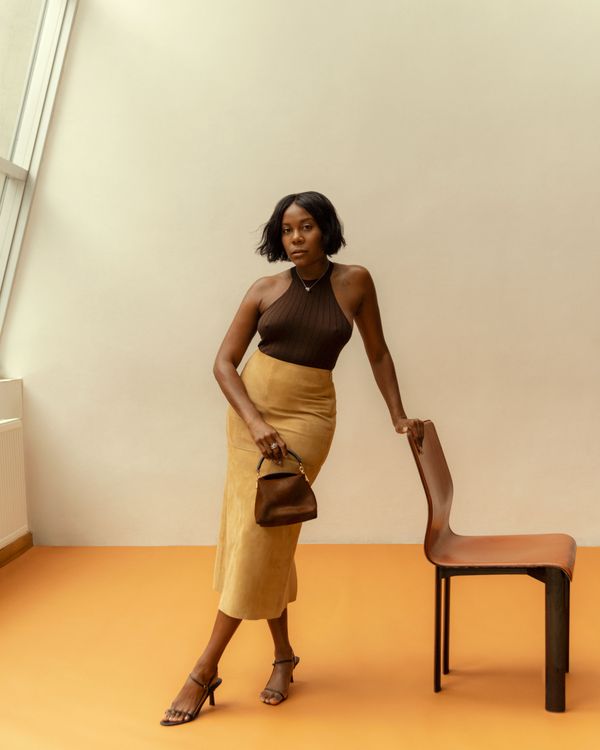 Nothing says quiet luxury like rich fabrics, textures, and tones. This week, the Cut's fashion director, Jessica Willis, tackles the midi skirt (and a suede midi skirt at that). We know what you're thinking. Suede for summer? Yes. Willis's styling of the tonal look and wardrobe essentials will convince you to add one to your cart. As always, she's drawn from her three key style words: timeless, functional, and edgy. Here's the full breakdown.
The Hero Piece: The Midi Skirt
Pencil skirts are something you'd expect to see in the office and really nowhere else. However, like pretty much everything else, Ferragamo has found a way to make the skirt more contemporary with this warm-toned suede. Hitting just at the calf the skirt has some texture and stretch, "so you can move, still get that beautiful shape and you don't feel confined," Willis explains.
Then there's the length: The midi is the perfect medium between floor-grazing maxis and cheeky miniskirts. For the perfect length, Willis recommends a skirt that stops just mid-calf to really balance your proportions.
Mix unexpected textures like suede and cashmere
You don't want your monochrome look to fall flat, Willis explains, so break it up with textures and finishes for a look that has that pop. "I mixed the shine of the pony hair with the matte texture of the suede with a soft mohair cashmere tank."
Lean into the shapes you like on yourself
The tank top in Willis's preferred racerback shape a rich brown shows some skin but it also compliments her skin tone. But do you!
Add a little heel, always
If you want to do a sky-high stiletto you can, but this look is proof that even a shorter heel can make a big difference. The heel helps elongate the leg, giving you and your look a lift. The thin straps "make it more modern and comfortable to walk in," she explains. They're also minimal enough to wear with multiple looks this summer.
Find tones that work together like brown and gold
For example, the gold hardware on the bag also enhances the warm tones in the skirt and adds shine and interest without overpowering the rest of the look. It's subtle. Willis also has a rule against saving bags for special occasions, so she paired this look with a fancy little top handle. "It's tiny, but it's mighty," Willis says, "I can pack so much in here."
Get the look
Here are five more midi skirts to shop to make this look your own.
In a lightweight linen blend and an airy light-blue shade, this midi is great for daytime wear.
This richer burgundy shade offers plenty of opportunities for matching jewel-tone looks. If you don't know what jewel tones are, we got you: purple and green.
Another light linen option: Consider this olive green as good as any neutral.
Wear this low on the waist for a '90s look.
If you can do suede you can do leather, and Khaite's sleek lambskin skirt has a high slit to keep it just as breezy. This is an investment piece, but can be worm winter, summer, and day or night.
For more of the Cut's favorite fashion, beauty, and home finds, sign up for the weekly Cut Shop Newsletter.