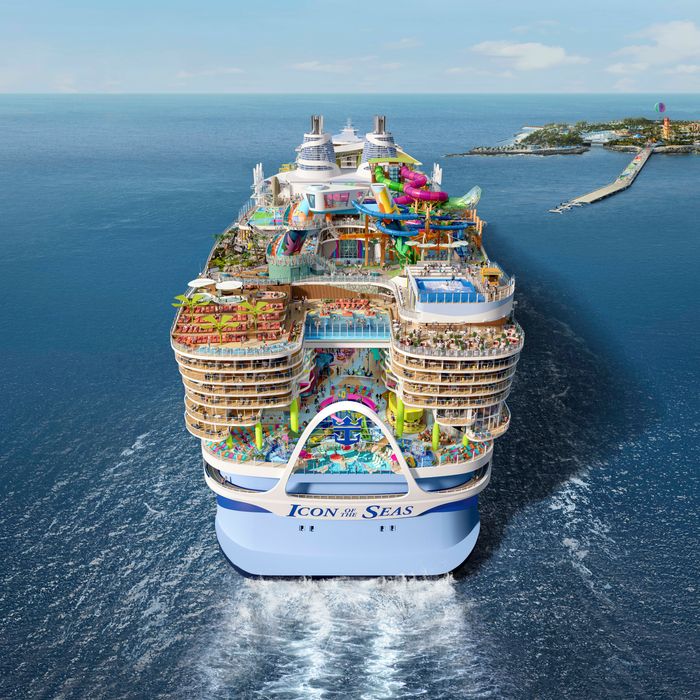 Photo: Royal Caribbean International
There's never been a better time to be a big, huge boat. While Koru, Jeff Bezos's megayacht, is enjoying a lavish European vacation, another "It" girl is gearing up to make her debut: Icon of the Seas, the world's largest ocean liner, is expected to set sail in January 2024. She is great, she is mighty, and she has a bowling alley. Surely this will all go smoothly, yes?
Royal Caribbean, Icon's creator, announced at the end of June that, having received her finishing touches in a Finnish shipyard, this Nordic lady passed her first rounds of sea trials. In some senses, this is shocking. Her height alone (20 decks!) would seem to make her an unlikely candidate for floating. At 1,200 feet long and 250,800 tons, the Icon is the biggest cruise ship on Earth — as many on the internet have calculated, roughly five times the size of the Titanic. Per CNN, she can "comfortably" hold 5,610 passengers and 2,350 crew members — assuming your definition of "comfort" is based on square footage and not, say, exposure to norovirus or crippling fear of sinking.
Why on Earth would the seafaring public need all that boat space? Well, it allows for the execution of dozens of waterborne activities that patrons might normally enjoy on solid land: going to a food court, eating an eight-course meal, playing laser tag, gambling, and, again, bowling. People seem especially amped about an amenity called Category 6, which will be the largest water park at sea. The name is evidently a play on the scale for measuring hurricane wind speed, which actually only goes up to five. No matter: Category 6 hosts six "record-breaking" waterslides — including something called "the Frightening Bolt" — seven pools, and nine whirlpools, so that you can get up close and personal with some H2O while floating 150 feet above the ocean.
I know what you are thinking: Don't cruise ships often become breeding grounds for illness, misfortune, and general calamity? Aren't super-sized boats, even ones not carrying thousands of unsuspecting tourists, particularly prone to crisis? Is it maybe a little ominous that online admirers are calculating her bulk in terms of that other celebrated giant of the sea that sank 100-plus years ago? And didn't a submarine touring the wreckage of said behemoth recently implode, reminding us all that, even a century later, human hubris is no match for the deep?
Nevertheless, the Icon and her six waterslides are plowing on undeterred, their slime-green pillars bravely piercing the aquatic ether. To her credit, she apparently traveled "hundreds of miles" during her first sea trials, passing with flying colors on her "main engines, hull, brake systems, steering, noise, and vibration levels." The Titanic passed her sea trials, too, but that is neither here nor there. Clear sky, full boat, can't lose.