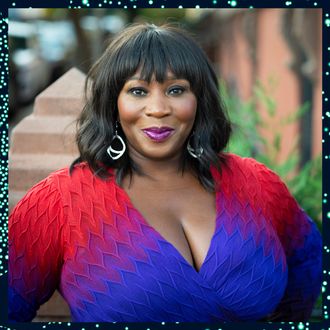 Bevy Smith knows a thing or two about making big transitions. In 2005, she left her career as a successful fashion advertising executive (at places like Rolling Stone and Vibe) to pursue her dream of appearing in front of the camera. The change left her temporarily low on cash. "I had to go from black cars to a bus," she tells Cut editor-in-chief Lindsay Peoples on this week's episode of the In Her Shoes podcast. But the decision paved the way for her to become the "accidental entrepreneur" she is today. She went on to become the co-host of Bravo's talk show Fashion Queens, hosted Page Six TV, and started her own daily radio show, Bevelations, on Sirius XM. "When I first started in fashion, I definitely felt I needed to become this thing because I was working in all white spaces," she says. It wasn't until she struck out on her own that she was able to show up as her true self. "Once I stopped having the personas, it was very easy because now I just show up as me," she says.
As she chronicles in her 2021 memoir, also called Bevelations, her eternal optimism is what set her on the path to achieving fulfillment in life. Lucky for us, Smith divulged some of her wisdom and dropped a Bevelation mid-podcast: Give a note, take a note. "To compare is to despair," she says, but "sometimes you just can't fucking help it." "When you see someone doing something or having something that you wish," she says, instead of internalizing it and filling up with jealousy, you leave them a compliment. The journey to a fulfilling life is a long one, but Smith takes it in and writes it down for us.
To hear more about how Smith transitioned from executive to entrepreneur, listen below, and subscribe for free on Apple Podcasts or wherever you listen.