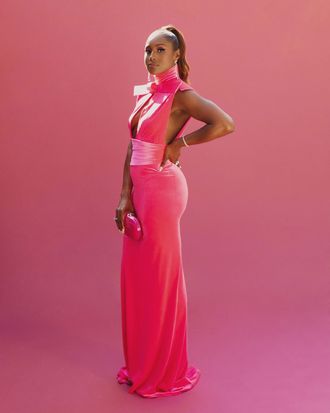 Issa Rae is back from Barbie Land, last night's Los Angeles premiere of the film we've been waiting on for what feels like all year long. In Barbie, Rae plays President Barbie, and last night she dressed the part, wearing a floor-length pink gown (of course) that grazed the also pink (of course, again) carpet. For someone who hates pink, Rae was a vision in the color.
Her look was spearheaded by her stylist, Wouri Vice, who tells the Cut the look took a little inspiration from "our favorite FLOTUS, Michelle Obama and all the great moments she had." The Marc Bouwer velvet gown had structured shoulders with an oversize bow on her neck, all of the details were meant to highlight Barbie throughout the years while highlighting Rae in her presidential glory. Vice tells the Cut they went back and forth between a sequined fabric (which, come on, absolutely screams Barbie!) or the velvet, and ultimately the richness and chicness of the velvet won. Which, fair. The sharp shoulders of the gown were juxtaposed with the femininity of the keyhole cutout, the details showed a strong leader who is fully immersed in her Barbie World.
The gown was accessorized with Rae's mini fuschia clutch (holding her gum, Fitbit, lipstick and gloss, and her phone), bejeweled hot pink Voyetté shoes, her long nails with a hint of pink, and Chopard jewels, because every Barbie needs something sparkly. Her makeup was an ode to the classic Barbie doll, her makeup artist Joanna Simkin told InStyle, the bold pink cut crease eye complemented her monochrome look. Even the edge brush her hair stylist, Felicia Leatherwood, used to lay the edges of her high (very Barbie-like) ponytail was pink. Would we expect anything less than these details from Madame President? Definitely not. The Cut caught up with Rae the morning after the film's big night; below, our conversation.
The high ponytail, the pink, the bow — you were a true Barbie last night. What Barbie were you channeling? 
I was trying to channel a presidential Barbie and worked with Wouri to like set the tone for that. For him, I know it was more of an inspiration of Barbie throughout the decades. There were little pieces of the dress that represented the different looks for Barbie over the years. It just made me feel like President Barbie on the carpet. The pink and the velvet almost gave it a change of royalty that I love. 
Were you wearing a fragrance that channeled Presidential Barbie, too? What's her fragrance? 
Normally I wear Chanel No. 5, but last night I wore Chanel Mademoiselle on the carpet because it's pink. It was so stupid, I was like, Let me just dive all into the pink and smell pinkish, too.
You've said you wish you would've stolen stuff from President Barbie's oval office. What was in there that had you saying, yeah I need this? 
I'm such an organization nerd and I love office supplies so there were Barbie letterheads, stamps, official Barbie stationery that I wanted, Barbie Post-its, even the constitution of President Barbie's party rules, some of which Greta and I had discussed in our initial meeting. I have to get that off soon, I will for sure have to double back. I could have taken it honestly and no one would've noticed.
That is such a Capricorn thing to swoon over stationary and Post-its. 
It is and honestly, I'm not ashamed. It was just cool, it looked nice.
What are your top three Barbie Land rules? 
Definitely dance parties every 90 minutes. They don't have to be choreographed and that's a personal rule for me because it's hard for me to follow choreography. Go to the beach, beach tanning for me, just laying out in the sun every day is a must. And then girls' nights every night.
That sounds like the ideal life. 
That's the life I'm trying to aspire to. That's my retirement life.
What were your most fond Barbie memories growing up? 
Telling stories with my Barbies, honestly. I used to get them into so much mess and I was creating my own little soap operas — I was having the Barbies sleep around. Honestly, I think Barbies were the early makings of some of the Insecure storylines. I didn't know at the time, but they helped me to develop that.
What would you tell an insecure Barbie? 
Just suck it up because all Barbies are perfect so now get it together and just look around.
If you could live anywhere in Barbie Land for the rest of your life where would it be?
I'm just going to take the entire set. But, the Barbie beach was honestly such a solace for me in real life because we shot Barbie in London in the spring. It was just foggy and rainy as hell all the damn time, so walking onto that stage, it was a sunny, bright, beautiful beach and the lights felt like the sun, it was warm and I was just sitting in the lawn chair. We shot that "Hi, Barbie" scene over four days. It was crazy. Literally just us saying "Hi, Barbie" to each other took four days because of all the perspectives. Greta really wanted to make it initially like comically long and it didn't end up as long, but for me it was like, fine, I'll sit in this lawn chair and say "Hi Barbie." I love that set and I love the beach, so it was fitting.
Saying "Hi, Barbie" over and over for four days? Ninety-six hours?! 
It was insane. After the fourth day I was like, Greta, I know you got this.
This interview has been edited for length and clarity.