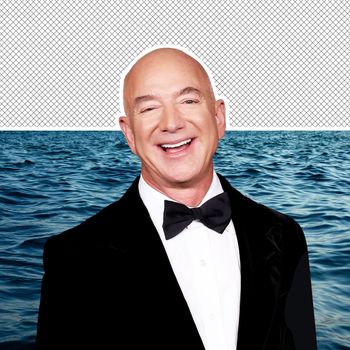 Photo-Illustration: by The Cut; Photos: Getty Images
Perhaps reading the room, Jeff Bezos and his alive girl, Lauren Sanchez, appear to have abandoned life on solid ground, choosing instead to cruise the high seas for all eternity. Now that Bezos's gargantuan yacht, Koru, is up and running, these two have really taken to life onboard, where they can lounge, get engaged, and take horny photos in peace. Every so often, an update on their nautical antics bobs to the surface, the latest courtesy of Sanchez herself: a shockingly pleasant image of her betrothed, emerging from the depths like a glistening, Billabong-loving merman. Clearly, Bezos has been taking posing notes from Sanchez:
"Is it just me, or is it hot outside?" Sanchez wrote in the caption, tossing in a sun emoji, heart emoji, and another sun emoji for good measure. A cute if unsubtle way to tell us she finds her fiancé sexy, sure, but also an unfortunate reminder that much of our planet is currently suffering from record-shattering heat waves, specifically because of the climate crisis. Many Mediterranean countries — some of them in Koru's current vicinity — are currently battling devastating wildfires. While Sanchez may only be feeling the heat of her husband-to-be's radiant pheromones, the rest of us are experiencing the hottest month in 120,000 years.
For some, though, the crushing reality of global warming is nothing compared to the powerful allure of Bezos's palm-tree swim trunks and well-toned pecs. Kris Jenner tossed several flame emoji into the comments section, while Mark Zuckerberg took a break from his MMA training to dub his fellow billionaire "the OG [muscle emoji]." Shiver me timbers!