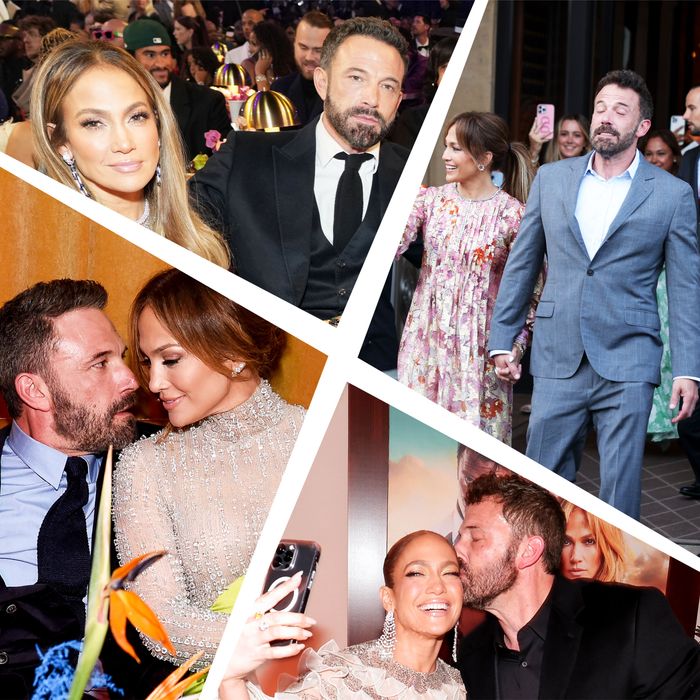 Photo-Illustration: by The Cut; Photos: Getty Images
Jennifer Lopez and Ben Affleck have been living happily ever after — in the real world and also in Lopez's On the JLo email newsletter — for a whole year. To celebrate their paper anniversary, let's look back on the magic that was the Bennifer wedding year.
But First, the Proposal
Affleck proposed marriage to Lopez for the second time last April, approximately two months after she premiered the criminally underrated romantic comedy literally titled Marry Me. Some of us thought it would have been smart for Affleck to pop the question before Lopez had to walk down multiple red carpets, often wearing white, promoting a movie about a large-scale engagement, but we were not polled by Affleck for our opinions. And so it happened in April. According to J.Lo, that was fine.
"Saturday night while at my favorite place on earth (in the bubble bath), my beautiful love got on one knee and proposed," Lopez wrote … in her On the JLo newsletter announcement (of course). "I was taken totally off guard and just looked in his eyes smiling and crying at the same time trying hard to get my head around the fact that after 20 years this was happening all over again, I was quite literally speechless and he said, 'is that a yes?' I said YES of course that's a YES."
At least Affleck did a good job with the ring: It's an 8.5-karat ultrarare natural green diamond estimated to be worth between $5 and $10 million. Previously, Affleck proposed with a $2.5 million pink Harry Winston diamond, so this is an upgrade. And green is Lopez's lucky color (so she has said in her newsletter, which we are taking as gospel now).
The Vegas Wedding
This particular wedding came as a genuine surprise to Bennifer fans. The expectations were big, huge, J.Lo-singing–"Let's Get Loud"–at-the-inauguration-level insanity. Yes, Lopez had already been married three times previously, and yes, this was technically the second time she and Affleck were planning a wedding, and sure, they were both about 50 years old, but this occasion was not supposed to be some small backyard gathering with close friends and family. This was a coronation or a Macy's Thanksgiving Day parade.
Nonetheless, the couple officially tied the knot in a low-key ceremony at the famed Little White Wedding Chapel just after midnight on July 17. J.Lo announced it — again, where else — in her newsletter, which I hope she figures out how to monetize at some point. "We did it," she wrote. "Love is beautiful. Love is kind. And it turns out love is patient. Twenty years patient." Amen.
According to Lopez, the couple "wore a dress from an old movie and a jacket from Ben's closet." She signed her missive, which contained several exhortations about the importance of love, with her new legal name: Mrs. Jennifer Lynn Affleck. A year later that hasn't really caught on, but God bless.
Shortly after the wedding, Bennifer departed — with a few of their children in tow — for a honeymoon in Paris that appeared to be at least partially sponsored by Reformation. They were trailed by the paparazzi every day, which J.Lo seemed to enjoy more than her husband. One day, Affleck fell fully asleep, mouth open, on a romantic river cruise. And at Lopez's birthday dinner on the 24th, the paps caught him sobbing into her arms for reasons that remain unknown. Perhaps he was stressed about wedding No. 2.
The Georgia Wedding
Here's where things started to come off the rails. Public crying aside, Bennifer got a wave of great press in the weeks following their Vegas wedding. But then, it leaked that they were having another celebration, and the tabloid coverage started to get a bit more critical. TMZ reported that Affleck and Lopez were planning a traditional three-day extravaganza for friends and family at Affleck's "imitation plantation" house in Riceboro, Georgia. This was reportedly the proposed location for their first (canceled) wedding back in 2003. An idea that should have been left in the past in my opinion.
Affleck first bought the property in 2002 and has been trying to sell it unsuccessfully for the last several years. It is not an actual plantation, but the main dwelling on the property is an imitation plantation house that is referred to as "the Big House" in real-estate marketing materials. Despite this unsavory inspiration, Lopez and Affleck carried on planning their big wedding here with help from J.Lo's longtime manager, Benny Medina.
The couple walked down the aisle for a second time on August 20, and what an aisle it was: According to overhead footage from TMZ, it was approximately 90 million feet long. Lopez wore Ralph Lauren, Affleck wore a tux, and all the rest of the guests wore white, like a Kardashian wedding. And about those guests: There were surprisingly few celebrities in attendance. Affleck's brother Casey Affleck was conspicuously absent, as was Lopez's purported best friend, Leah Remini. Big names that did attend were Matt Damon, Jimmy Kimmel, and uh, Kevin Smith. Famous podcaster Jay Shetty officiated. And J.Lo performed a new song she wrote especially for Affleck at the reception! The guests who bothered to show up left with some Etsy-style straw tote bags emblazoned with the initials "J.B."
The whole thing was very meaningful, Lopez shared later in her newsletter. "Some old wounds were healed that day and the weight of the past finally lifted off our shoulders. Full-circle — and not at all the way we planned it. Better," she wrote.
After the nuptials, Affleck and Lopez embarked on a second honeymoon (!), this one to Lake Como and Milan. Based on paparazzi photos, it looks like they mostly went shopping.
Happily Ever After
In the year since their first wedding, Lopez and Affleck have focused on reminding the public (and perhaps, themselves) that they are married. Last fall, Lopez posted photos of herself wearing a "Mrs." necklace and told reporters that Affleck had the phrase "Not going anywhere" engraved inside her engagement ring. This is reportedly how Affleck signed his emails when they first reconnected as a couple; Lopez has since recorded a song titled "not.going.anywhere" for her new album expected to come out sometime this year.
They had a bit of a dip at the Grammys in February: Affleck went viral for looking bored at the awards show, while Lopez looked annoyed. But for Valentine's Day, Lopez revealed that the couple got their names tattooed on each other's bodies, so everything was okay! And during Affleck's press tour for Air, he repeatedly told interviewers that his wife was "brilliant" and "the most gorgeous woman in the world." 
Then, for Father's Day, Lopez posted this:
Last night, the couple showed up to noted paparazzi hot spot Giorgio Baldi in Santa Monica to begin their anniversary celebrations. Lopez wore white.
Affleck's Georgia property, unfortunately, remains unsold. Perhaps that's okay, though: Affleck and Lopez just bought a $60 million mansion together in Beverly Hills, where they will have enough space to celebrate their first anniversary in style. Here's hoping they renew their vows there and J.Lo sends a newsletter about it.
See you next year for the cotton (?) anniversary — or in four weeks for Bennifer's second one-year wedding anniversary.