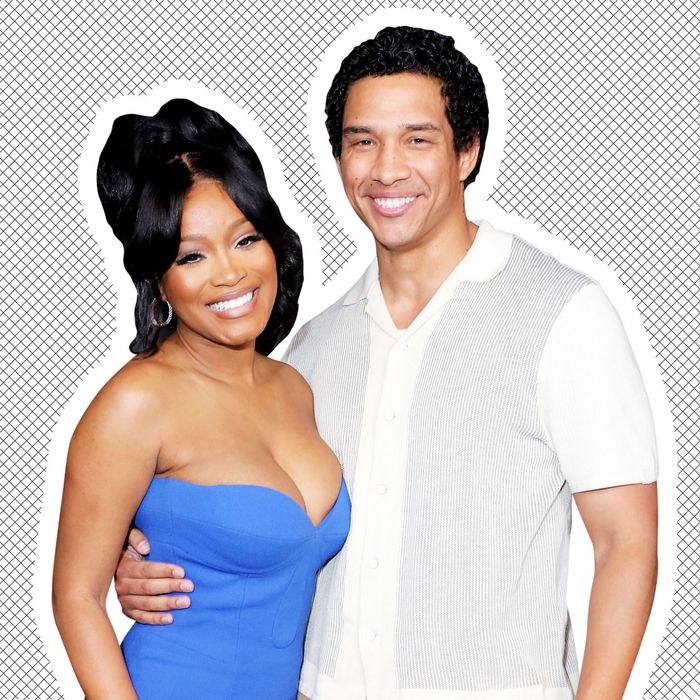 Photo-Illustration: The Cut. Photo: Rebecca Sapp/Getty Images
Even though no one asked for his opinion, Darius Jackson has some style notes for girlfriend Keke Palmer, and he decided to share them with her and the world on Wednesday. After Palmer — who gave birth to the couple's son earlier this year — enjoyed a serenade from Usher at the singer's Las Vegas residency, Jackson hopped on Twitter not to celebrate the moment, but to publicly judge her for her choice of clothes.
"It's the outfit tho .. you a mom," he wrote, retweeting a video of Usher singing "There Goes My Baby." The scandalous look in question? A long-sleeved, ankle-length, sheer black dress with a bodysuit underneath — a popular trend right now, by the way. Jackson's suggestion seemed to be that Palmer, and perhaps all mothers, should dress modestly, an idea that isn't going over well online.
The backlash was swift. Some of Palmer's fans said Jackson should have kept his comments private, while many argued that he shouldn't have made them at all. Some tried to remind Jackson that in 2023 women can wear whatever they want when they want, but instead of apologizing, walking back his remarks, or just ignoring the feedback all together, Jackson doubled down. "We live in a generation where a man of the family doesn't want the wife & mother to his kids to showcase booty cheeks to please others & he gets told how much of a hater he is," he wrote, touting his own "standards & morals." Evidently these allow him to insult his girlfriend online, though the exact parameters aren't clear. Jackson deleted his Instagram and Twitter accounts on Thursday morning, but was back on social media by the end of the day.
On Twitter, he fired off a couple of tweets that seemed to reference the controversy. He shared a clip from the music video for Kanye West's "Forever," highlighting the lyrics: "Chasin' the stardom will turn you to a maniac / All the way in Hollywood and I can't even act / They pull the cameras out and goddamn, he snap / I used to want this thing forever, y'all can have it back." Then, Jackson thanked Elon Musk for "controlling them notifications" and making it possible for him to ignore all the shade being thrown at him. He also responded to a tweet about his Twitter exit amidst the shitstorm, writing, "Y'all thought." He appears to have deleted all photos of Palmer from his Instagram, per "Page Six."
Although Palmer hasn't explicitly addressed Jackson's comments, she did post to her Instagram after the concert, saying she wished she had taken more pictures of the evening. In a somewhat cryptic update on Friday, she posted a TikTok of herself dancing and lip-syncing to a clip from one of her own interviews: "You ain't stoppin' what's goin' on with me sweetheart, so if you gon' act up, I'm 'bout to link up." And — maybe relatedly or maybe not — Palmer is now selling a crewneck that reads "I'm a motha" on her website. We love a businesswoman.
This post has been updated.