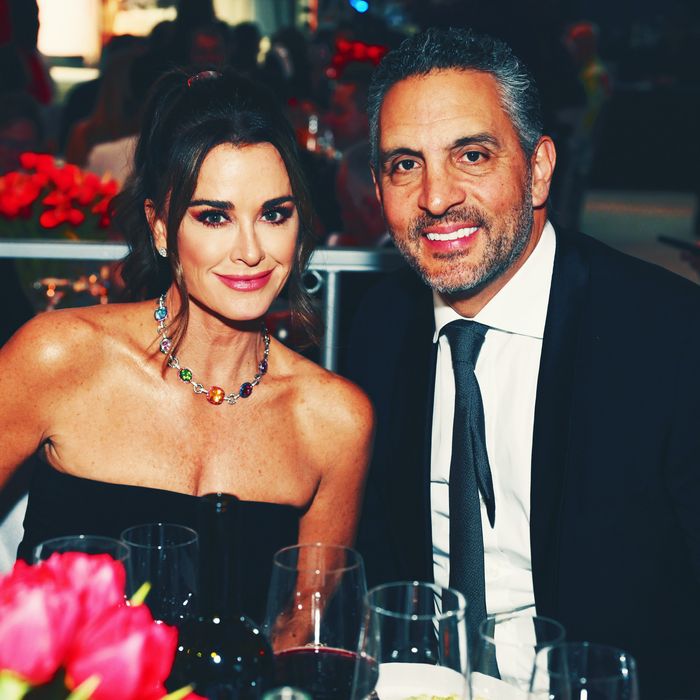 Photo: Michael Kovac/Getty Images
The Bravoverse is once again in a state of utter chaos. Four months after Ariana Madix and Tom Sandoval's breakup became international news and turned viewers' lives upside down, it was reported over the weekend that Real Housewives of Beverly Hills OG Kyle Richards and her husband of 27 years, Mauricio Umansky, had separated in early July. The couple has not directly confirmed the news, but the idea alone plunged Housewives fans into despair.
First came the People exclusive — saying the two had been "separated for a while now but are still living under the same roof," according to "a source close to the pair" — and then the couple posted a joint statement to both their Instagram accounts. "Any claims regarding us divorcing are untrue," it reads. "However, yes, we have had a rough year. The most challenging one of our marriage."
In the Bravoverse, when a breakup happens, fans tend to initially assume that someone must have cheated. That was, after all, the case with Lenny Hochstein and Lisa on Real Housewives of Miami, Juan Dixon and Robyn on Real Housewives of Potomac, and Kelsey Grammer and Camille on Real Housewives of Beverly Hills, so who can blame us? While infidelity rumors about Richards and Umansky have been circulating online, the couple's statement shut them down. "We both love and respect each other tremendously," they wrote. "There has been no wrongdoing on anyone's part." They also asked their followers to avoid speculating about the separation: "Please do not create false stories to fit a further salacious narrative."
Richards is the longest-starring member of the RHOBH cast and also Kathy Hilton's younger sister. Umansky, meanwhile, is the star of his own Netflix series, Selling Beverly Hills, which follows his real-estate company's employees as they sell luxury real estate in the area. They met in 1994, got married in January 1996, and share three daughters: Alexia, Sophia, and Portia. (Richards has a daughter, Farrah, from her first marriage.) As their relationship has played out on television these past 13 years, they have consistently stood out as one of the most mutually supportive, solid couples in the franchise. When Richards has drama with her sisters and other housewives, Umansky almost always takes her side, occasionally getting pulled into the fray himself. When Richards said she believed that her then-close friend Lisa Vanderpump leaked stories about the cast to tabloids, Umansky said he "100 percent" agreed with his wife's suspicions; when Richards refused to cheers her castmates at the end of a recent reunion, he backed her decision. Their relationship has been described by fans and other housewives as "wholesome" and "goals."
When they celebrated their 25th wedding anniversary in 2021, Richards told Bravo Insider that she viewed her marriage as one of her "biggest accomplishments." In the same interview, Umansky added that their marriage felt natural and easy. "I definitely intend to spend the rest of my life with her, so hopefully it'll be at least another 25 years, and maybe another 50."
According to People's source, the couple "remain amicable as they figure out what's next for them and their family." One day after they issued their statement, Umansky posted several photos of himself with Richards, their daughters, Portia and Alexia, and Alexia's boyfriend, Jake Zingerman, at a Fourth of July parade somewhere not in Beverly Hills.
In the weeks since the split made headlines, fans once again began to spiral after paparazzi photographed Richards without her wedding ring. But according to Richards, there's no ominous reason for its absence. "I didn't have my ring on because I lift weights, and it will bend the ring, ruin the ring, and it hurts," she explained during an Amazon Live. "So, I take the ring off when I'm lifting weights." On the day in question, she said, she paused her workout abruptly to take Portia to school. "I jumped in the car," she continued, "and we were running to grab muffins and coffee she wanted to bring for her teacher in the morning, and paparazzi saw me without a ring."
News of the supposed separation broke after RHOBH wrapped filming its 13th season, but Deadline eased fans' concerns when it reported that Bravo sent cameras back in to film the cast's reaction to the separation. Meanwhile, loyal RHOBH viewers have been poring over old episodes of the show for signs of the couple's impending separation, but only one person purports to have found any evidence: medium Allison Dubois, who predicted in the show's first season that Umansky would "never emotionally fulfill" Richards and that their marriage wouldn't last. At the time, Richards brushed it off, but over the weekend, Dubois (of course) chimed in on Instagram: "I guess I'm the only one who 'saw' this coming," she wrote. Kyle and Mo, if you happen to be reading this, we're rooting for you.
This article has been updated.