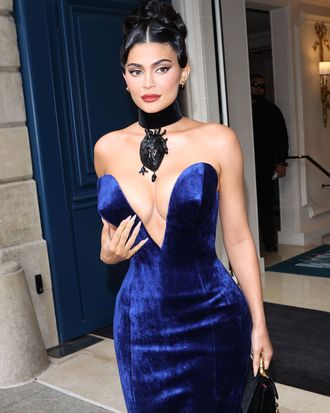 At least once a season there is a The Kardashians (née Keeping Up With the Kardashians) plot line that goes a little something like this: deny having done any major plastic surgery, but admit to one or two minor enhancements, like filler, every so often.
The latest version of this narrative debuted on the Hulu series's season finale this week with Kylie Jenner, 25, opening up about a surgery she's never discussed: a boob job before her first pregnancy. In a conversation with her best friend, Stassie Karanikolaou, Jenner claims she regrets getting her boobs done before giving birth to her daughter, Stormi Webster, 5. "I had beautiful breasts …natural tits, just gorgeous. Perfect size, perfect everything," Jenner says, before saying she wishes she just never got them done. For years, when fans commented on her having a boob job she would blame it on PMS or praise her Victoria's Secret bombshell bra. So why be honest about them now? In her conversation, she expressed regret and said that, as a mother, she would be "heartbroken" if Stormi wanted to get cosmetic surgery at 19 years old.
It should come as no surprise to regular viewers that this is where Jenner's storyline lands. Earlier in the season she claimed that a big "misconception" people have about her is that she's had "so much surgery on [her] face." It's "only" lip filler, she says. She wasn't "this insecure child," she says in the episode. She was the "most confident" in fact.
"All of us just need to have a bigger conversation about the beauty standards that we are setting," Jenner says to her sisters in that same episode. Good start, but when?
What about the decades of harmful beauty standards that Jenner's heavily edited and altered image has promoted to other young women? The truth is that Jenner's conversation with Karanikolaou is important because more and more plastic surgery is being promoted and marketed to young girls. And someone with Jenner's influence saying, Hey, this wasn't some permanent feel-good fix, and I wish I hadn't done it when I was so young, is probably a good thing. After all, Jenner isn't entirely to blame. There is social media like TikTok and Instagram and all the same societal beauty standards that perhaps pushed Jenner to seek out the surgery in the first place. But Jenner still isn't taking real accountability here.
Gen Z is growing up in an era where Jenner and her sisters have transformed beauty standards, while also being targeted on social media to tweak their bodies and target antiaging at extremely young ages (like 14 years old.) In our opinion, Jenner's admission years later isn't enough. Instead of making it a plotline to have people tune in, she should be having honest conversations and actively working to revert the standards she's pushed (and profited off of) for years. If we're going to have a big conversation then let's really have it and take it there. It is what Jenner owes to young women.