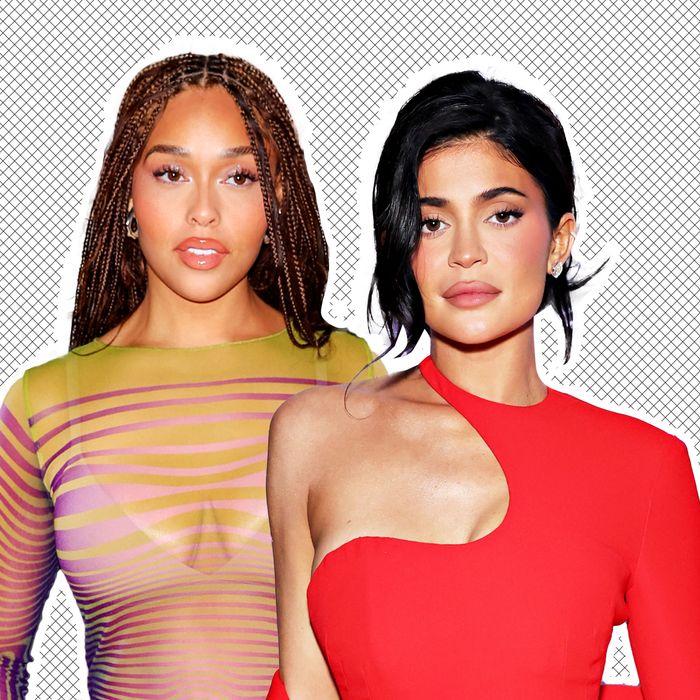 Photo-Illustration: by The Cut; Photos: Getty Images
Four years is the time it takes most people to get through medical school, the average lifespan of a hummingbird, and the age at which a typical human child develops fine motor skills. If you're a Kardashian-Jenner, and if a certain set of paparazzi pics are anything to go on, it may also be the appropriate span of time to stay estranged from your best friend after she hooks up with your half-sister's boyfriend. On Saturday night, photographers snapped Jordyn Woods and Kylie Jenner getting dinner at an L.A. sushi restaurant, marking the first time they've been spotted in public together since the great Tristan Thompson debacle of 2019. And we all know there is nothing like raw toro to bring peace to a blood feud between influencers.
Jordyn, who is technically a model, is much better known as a fixture in the Kardashian circle, where she lingered for nearly a decade. She originally met Kylie through the Smith family — as in, Will, Jada, Willow, and Jaden — when both were preteens, and went on to make countless appearances on their E! show, star on a short-lived Kylie-centric spinoff, and model for a handful of the family businesses. She was even living in Kylie's guest house in 2019, when, following tabloid reports that she and Tristan had hooked up at a Drake concert after-party, Jordyn admitted to kissing the NBA player in a Red Table Talk interview. "On the way out, he did kiss me," she said, denying rumors she'd given him a lap dance. "No passion, no nothing, on the way out. He just kissed me. Like a kiss on the lips, no tongue kiss, no making out, nothing." Given that Tristan was (we think) Khloé's partner at the time, and that they'd recently had a kid together, the Kardashian wrath machine kicked into overdrive. Jordyn's subsequent fallout with the entire Kardashian clan was swift and very, very public, and though they ultimately turned down the heat on Jordyn, she and Kylie reportedly parted ways as a result. Certain members of the family, meanwhile, still show up with homemade signs at Tristan's basketball games.
But it looks like things might finally be thawing. Even Khloé — who has since endured yet another cycle of reuniting with and then being cheated on by the father of her children — is putting forgiving energy into the world: Just after Jordyn and Kylie were seen together, she posted an Instagram Story about "remaining kind in cruel situations." And speaking of acts of kindness, People now reports that it may have been Jordyn who brought about this détente in the first place: According to the magazine's source, she and Kylie have been hanging out in private for about a year now, after Jordyn reached out to Kylie "to apologize for how everything went down and let her know that she loves her." Okay!
This post has been updated.