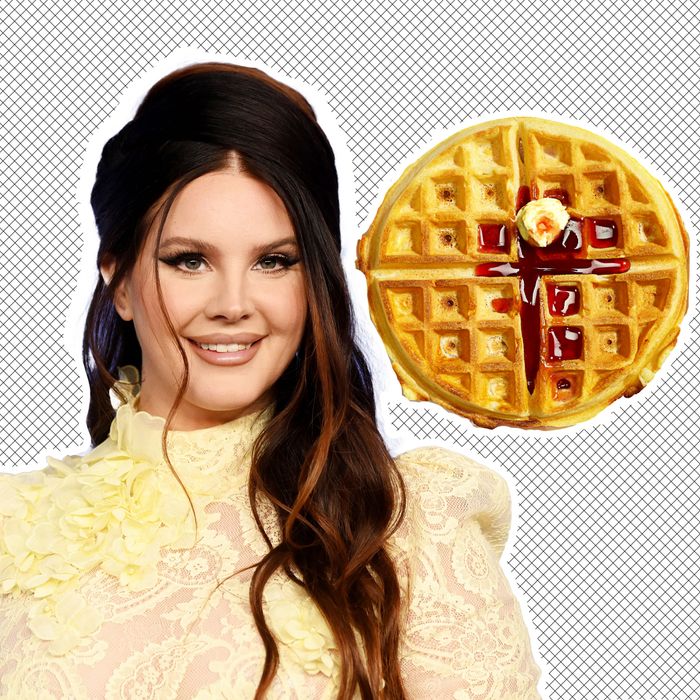 Photo-Illustration: by The Cut; Photos: Getty Images
It is none of my business what Lana Del Rey does with her time, just as it is none of my business to decipher what on earth her lyrics mean. She can troll her ex via billboard, wear a Shein dress on the red carpet, or get engaged to a rando, for all I care — this is merely Lana being Lana. Still, I am having trouble interpreting one of her recent antics: Lana was spotted this week working a shift at a Waffle House in full uniform — name tag and all — in Florence, Alabama. How did we get here? Or, more specifically, how did she get there? No, really, can you tell me?
As some superfans have noted, Lana mentions Florence — population: about 40,000 — in her song "Paris, Texas," an ode to American towns named after European cities. (Also mentioned on the track: Venice, California, one of Lana's favorite places to sing about.) Lana has been bopping around Alabama for at least a couple days — she was spotted signing a fan's arm in downtown Florence earlier in the week, and one fan encountered her in a nail salon at a mall in Birmingham, which is about two hours from Florence. Local papers say she hasn't been to any major recording studios in the area, so it seems unlikely that she's making new music there. She could be in the research phase, though, absorbing ambience for her next exercise in angst-drenched Americana.
Except: Why a Waffle House? Does Lana go nuts for breakfast food? Does she like her eggs scrambled or sunny-side up? Is she, a lover of all things auditory, drawn to the mellifluous clinks and sleepy chatter of Waffle Houses nationwide? Is she going Method for an acting pivot? Filming an orange-juice commercial? As with all things Lana, the possibilities are endless.
Of course, the most boring explanations have already made the rounds on fan forums: Either this is a publicity stunt to promote the album on which "Paris, Texas" appears (Did You Know That There's a Tunnel Under Ocean Blvd), or Lana is shooting a music video. While one of these may well end up being true, I personally hope she is simply honoring one of her geographical muses by serving its residents breakfast on a lazy Friday morning. Do Coney Island next!