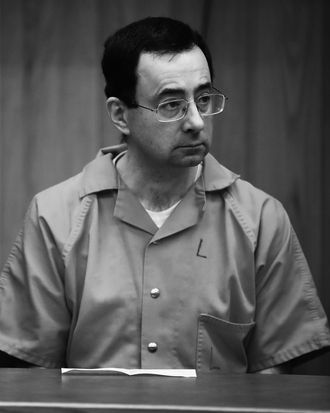 Photo: Scott Olson/Getty Images
On Sunday afternoon, Larry Nassar was stabbed multiple times in prison, according to the Associated Press. Formerly the doctor for USA Gymnastics, Nassar is currently serving a 40-to-175-year sentence in Florida for a suite of sex crimes against hundreds of young athletes. Speaking to NBC, a union rep for employees of the Federal Correctional Complex Coleman said that Nassar was stabbed in the neck, back, and repeatedly in the chest, collapsing one of his lungs.
The Florida Board of Prisons confirmed the incident to USA Today, adding that Nassar was in stable condition after emergency onsite medical attention, followed by treatment at a local hospital.
In 2018, Nassar pleaded guilty to state and federal charges of criminal sexual conduct and child pornography, having been accused of using his position — with USA Gymnastics and at Michigan State University, where he practiced sports medicine — to abuse hundreds of gymnasts under his care. More than 150 victims read impact statements at his sentencing hearing, including Team USA Olympians Aly Raisman and McKayla Maroney. (Others, including Simone Biles and Gabby Douglas, have also spoken out.)
The judge in the case obligated Nassar to sit in court and listen to all of them, telling him: "Sir, you do not deserve to walk outside of a prison ever again." A few months into his sentence, Nassar's attorney complained in court documents that her client had been attacked by another inmate. The details of this latest altercation aren't immediately clear, but we will update as we know more.