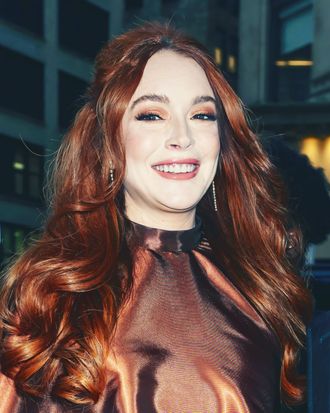 Photo: Gilbert Carrasquillo/GC Images
Lindsay Lohan is officially a mom: The actress and her husband, Bader Shammas, recently welcomed a baby boy named Luai — an Arabic name that means "shield" or "protector." They have not yet disclosed his birth date, but "the family is over the moon in love," a rep for Lohan told People. 
Lohan revealed that she was pregnant in March, posting a photo of a baby onesie to Instagram with the words, "coming soon …" scrolled across it. She captioned the photo, "We are blessed and excited."
In June, she told Allure that she has always been maternal and couldn't "wait to see what the feeling is and what it's like to just be a mom." She also told the publication that she'd gotten some advice about motherhood from her onscreen Freaky Friday mom, Jamie Lee Curtis. "She was like, 'You just bring the baby with you and everything will be fine.'"
Speaking of Lee Curtis, the actor celebrated the news with a throwback photo.  "My movie daughter just made me a movie grandmother," she captioned the post. Congrats all around.