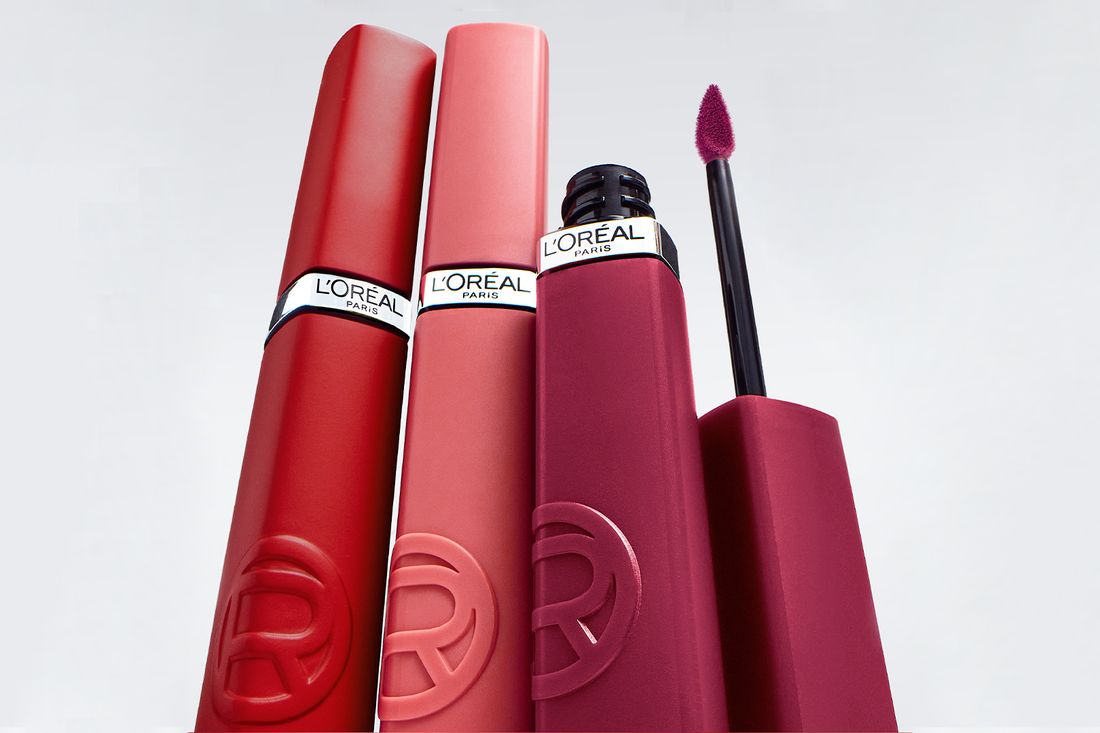 The allure of long-wearing liquid lipsticks can be enticing, but the sandpaper texture that most formulas dry down to is trouble in every sense of the word. It's uncomfortable on your lips, (don't even think about rubbing them together), it looks crackly in photos, and it emphasizes every little line on your lips when you're up close.
Since Instagram's liquid lipstick hyper fixation of 2015, all things glossy, hydrating, and luminous have dominated lipstick trends and new product launches. Dare I say we were scarred; the comfort of a gloss has reigned since, but you can't deny that it lasts for an hour (at most) and fades with no trace. I was a devout liquid lipstick girly in college, and when I reflect back on pictures, I cringe when I see my crusty lips. I may have sworn off them since, but when the L'Oréal Paris Infallible Matte Resistance Liquid Lipstick came across my desk, it got me thinking that maybe, just maybe, they deserve a second chance. After all, I'm a beauty editor and discovering new products is a major part of my job. Plus, it's summer and I'm sick of lipstick smudging all over my Aperol spritz glass, so, I decided to try it out. Turns out, with the proper prep, my lips don't feel dry when I wear it, and I can count on it for hours of wear. As a liquid lipstick hater, this is pretty major.
The hyaluronic acid-infused formula is a major reason why I consider this liquid lipstick to be different from the ones I've tried in the past. L'Oréal Paris claims that this liquid lipstick has a powdery-matte finish and a nourishing formula with hyaluronic acid that makes for lightweight, comfortable, and long-lasting lip color. I can confirm the powdery finish is slightly blurring and it allows you to rub your lips together. It's a weird quirk on my part, but it's something I associate with comfort, and I look for it in every lipstick I wear.
Once the liquid lipstick dries, it's nearly transfer-proof, but I like to blot it with a tissue to make sure. I've found that this works really well, and I can even enjoy my Aperol spritz without rings of pink lipstick around the top of my glass. I can get a solid four to six hours of wear from this liquid lipstick. It promises 16 hours, but truthfully, I'll never need lipstick to last that long, and I don't mind reapplying it once or twice. The color payoff is amazing — you don't need much product to get full coverage, and the pointed doe-foot applicator is ideal for lining your lips.
3 Tips to Keep Liquid Lipstick From Drying Out Your Lips
I want to talk about the importance of prepping my lips before I apply any type of lipstick or gloss. Prepping helps to add hydration, and this can lead to smoother application and more comfortable lipstick wear. A liquid lipstick will never have the sheeny comfort of a lip gloss, but it does have long-wearing abilities that make it worthwhile. Here are some tried-and-true things I do before applying my liquid lipstick that help it wear more comfortably.
Exfoliate
I don't make the rules: A flaky base is going to look flaky if you layer anything on top of it, and that goes for your lips or your complexion. This means the only fix for chapped, flaky lips is exfoliation. Use a lip scrub if you're fancy, or the corner of a damp washcloth to buff away any signs of flakes, dryness, and dullness. Be gentle, but intentional; the goal is to create a smooth, shiny base without causing irritation.
Follow Up With a Hydrating Lip Balm
Once your lips are exfoliated (and slightly damp), make sure you quickly follow up with a hydrating lip balm or lip mask to lock in moisture. It's imperative to apply your moisturizer onto damp skin post-shower, for the sake of sealing in moisture, and the same applies here.
Layer on Petroleum Jelly
Finally, apply a layer of petroleum jelly or the like to lock in the moisture from your lip balm. You want your lips to be ultra-hydrated before you apply your liquid and matte lipsticks for the most comfortable wear. I like to think of it as a skin-care routine for my lips because they deserve love, too.
Do this, and then apply your makeup so the lip balm and petroleum jelly have time sink into the skin. You don't want to apply your liquid lipstick over lip balm or else it'll slip and slide — I say that from past experience.
I'd say I judge liquid lipstick harsher than other lip products because I'm generally not a fan, but this formula does a lot for me. It has a creamy, whipped texture that feels soft on the lips and results in extreme pigment. I like to apply it in a single, light layer, and that allows me to get multiple hours of wear while keeping my lips feeling fresh, lightweight, and velvety. The shade range is broad enough to suit my many moods: Red when I feel fiery, pink when I need something wearable and can't make a decision, and berry when I need to step out of my comfort zone. As a past liquid lipstick hater, I say try it out; L'Oréal Paris has introduced us to a new era of liquid lipstick, and I think you'll be happily surprised with it.
This advertising content was produced in collaboration between Vox Creative and our sponsor, without involvement from Vox Media editorial staff.