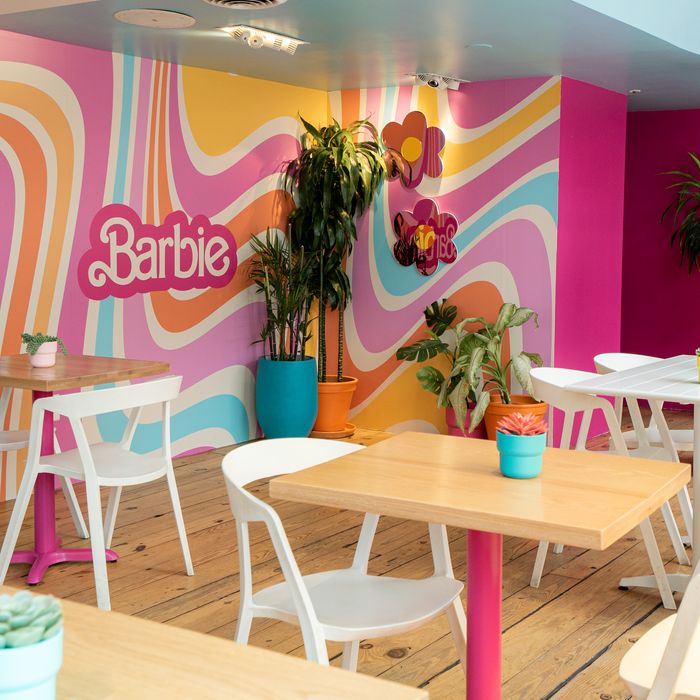 Photo: Malibu Barbie Cafe/Bucket Listers
Perhaps we were expecting too much from the Malibu Barbie Café. When my two sisters and I visited the New York location, located at 19 Fulton Street in the Seaport, on a steamy 90-degree day last week, we were imagining walking into something like a life-size version of the Dream House we fought over as children. And we had certain benchmarks in mind: We were not strangers to doll-themed dining, and we had paid way more money than seemed reasonable for this "immersive dining experience" in advance.
I was hoping for, at the very least, an evening to rival a trip we made to the American Girl Café last year, which featured actual dolls in high chairs at our table, free stickers, and really strong cocktails. I had so much fun I almost bought a doll on the way out. When we left the Malibu Barbie Café, however, I didn't feel like buying anything, even though there were $25 Barbie bucket hats for sale. No stickers.
The Malibu Barbie Café, which has one other pop-up location in Chicago, is strictly reservation-only, and booking a time slot around peak Barbie madness was tricky. We could only get a table for three during the last seating on a Thursday night, which cost us $44 each — an incredible sum we paid online before ever walking through the door. The Malibu Barbie Café officially opened in New York on May 17, and will remain so through the premiere of Greta Gerwig's magnum opus this weekend and all the way until September 15. It is officially operated by Bucket Listers, an "experience" company that also offers tickets to events like "drunk yoga" and yacht cruises in cities across the country.
When we arrived at 8:15 p.m. for our reservation, the café was full. Most of the other patrons were women, and some of them were children. Roughly 80 percent of guests were wearing pink, and 110 percent were taking pictures. No one was looking at the menu given that the advanced reservation price includes an entrée ordered at the time of booking. (That, and "full access to the Malibu Barbie Café experience.") Bridget and I chose the Live Your Dream Grilled Cheese, while Maddie chanced it with the vegan option, the Gold Coast CALI-flower Bowl. The menu also includes Make Waves Avocado Toast and Pacific Paradise Rainbow Pancakes — the Malibu Barbie Café is an all-day beach party.
The "experience" part of the Malibu Barbie Café consists of a variety of Instagram photo setups placed around the restaurant, including an "iconic life-size Barbie Box" (hot-pink cardboard box) and a "Malibu beach scene" (two hot-pink beach chairs sitting in a pile of sand in the corner). This was not exactly the Barbie Land so meticulously imagined and realized in Gerwig's film.
We were led up a set of rainbow-painted stairs emblazoned with phrases like "TODAY IS THE DAY" and "SOO-CAL" to our table on the second floor, which was nestled in between a surfboard-photo setup and a display of pink-and-white beach balls. "The experience is to just sort of be surrounded by plastic," Maddie observed.
What did we want out of this evening? Something fun! Maybe a Waiter Ken on roller skates or Pop Star Barbie performance at the beach scene. What we got was "The Sweet Escape," by Gwen Stefani, playing on the stereo system and grilled cheese, delivered quickly by a quiet waitress not on roller skates, that was wholly and completely fine. It came with fries or salad. I am currently six months pregnant, so I ordered a Shore Thing Pink Lemonade and encouraged Maddie and Bridget to try the $16 cocktails — for the experience. Bridget's Groovy Arnold Palmer "definitely had alcohol in it," she reported, and Maddie's 219Cosmo contained tiny flecks of glitter, which was perhaps the highlight of the evening. Why 219? we wondered. It turns out that is the official Pantone number associated with the color "Barbie pink." The Malibu Barbie Café taught us a fact!
As we chatted about our jobs and partners and a family trip to Pittsburgh the following weekend, we watched a group of moms and young daughters take turns posing for iPhone photos on the hot-pink surfboard. They looked tired. Would I bring my future daughter here one day, should Mattel get its way and launch a million Barbie sequels and Bucket Listers still exist as an experience company and get the contract to pop up another Malibu Barbie Café location? I can't predict the future, but I hope for something different.
Before we left, I visited the ladies' room, which had all the charm of a Penn Station toilet, plus — finally! — stickers. The mirrors were decorated with the phrases "CONFIDENCE is the best accessory" and "Feel the Kenergy." Both soap dispensers were broken; one was missing a top, and the other was lying in pieces in the sink, as if someone had felt too much Kenergy and smashed it violently. I kept this information to myself as I paid the check for our drinks and dessert (one Anything Is Possible Sundae split three ways). The grand total for the evening came to $227.96.