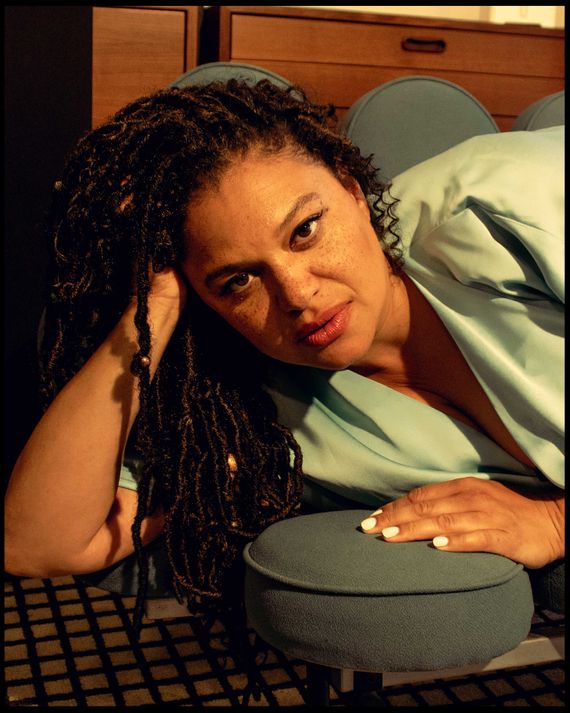 "This is where I did a lot of growing up," says Michelle Buteau, nestled in the corner of a Soho restaurant. Her eyes drift toward the window, and she sighs dreamily. "Every block got a memory." The restaurant is nearly empty, and Buteau's ebullience can't be ignored. The wait staff dotes on the comedian as if they were all old friends, and she orders her usual: fried chicken, honey-butter biscuits, and coleslaw. For someone about to release a new Netflix series, she is remarkably calm. Whether she finds herself in a stylish neighborhood or on set for her show Survival of the Thickest, she is always aware of her surroundings, but rarely is she self-conscious about where she has ended up. "If I had stayed in Jersey City or Florida," Buteau imagines, "I would definitely be in an unhappy marriage in an apartment with beige carpet and white lines and big nights out at the Cheesecake Factory, no shade. I'm glad I wanted bigger and better for myself."
Buteau grew up in New Jersey, the only child of a Haitian father and a Jamaican mother. They set high expectations for their child. "My uncle's the archbishop of Jamaica. It is a very Catholic family. There was no monkey business going on," she explains. In her house, "anything from being loud to missing church to getting pregnant in high school" would have been considered dishonorable to her family. "Don't eff up, get your education, don't embarrass us. That was sort of the mantra growing up," she says. But the rules and regulations didn't cultivate a sense of heightened discomfort and awkwardness in her. In fact, it did the opposite. Even if her outer world didn't support her goals of finding self-love, she says she felt grounded in her own beauty and power on the inside. "Nothing ever fit," she tells me. "I knew it wasn't my fault, and I knew deep down inside I was beautiful. But it never felt together."
Buteau grew up wanting to be a designer despite not really knowing how to build her wardrobe. "I didn't know how to go to a vintage store to put shit together because that stuff didn't even fit and anything that was my size smelled like 1967," she says. Now, at 45, she points out that her then-inability to put together a good look had more to do with a deeper sadness she felt about her image. She recalls going to Macy's and having to shop in the "ladies" section rather than buying the "junior" clothes. Dressing rooms remained a trigger for a long time.
When she moved to Miami to study television production at Florida International University, one of her professors went so far as to tell her in front of the entire class that she was simply too fat to be on television. "I was embarrassed," Buteau says. "But I was also like, He's doing me a favor 'cause I don't see anyone like me on TV." (It was the mid-'90s.) Instead, she took a job behind the scenes as an editor at Fox local news. Her newsroom colleagues — many of whom she keeps in touch with to this day — were the first people to comment on Buteau's natural comedic flair. When she would travel to New York and watch stand-up shows, something clicked. "I was like Oh, I don't know if this is for me. But then I remember thinking, I would've said it like this. I was editing sets in my mind," she recalls. "At the end of the show, I'm like, I could have done this better."
And so she did: In 2017, Esquire listed her as one of its top-ten comedians to watch. She stole scenes in rom-coms like Always Be My Maybe with Ali Wong and Marry Me with Jennifer Lopez; starred in television shows, including reboots of First Wives Club and Tales of a City; and launched a podcast called Adulting with her co-host, Jordan Carlos. When she published her debut personal-essay collection, Survival of the Thickest, in 2020, her team was mainly focused on getting the book on the New York Times best-seller list. But Buteau pushed back. "I care about figuring out what I want to say," she says, "and will I be proud of this shit ten, 15, or 20 years from now?" Executives at Netflix got their hands on the book, and when they told Buteau they would like to adapt it into a series, she jokingly agreed that they should, not thinking it would actually happen.
About an hour into our conversation, the restaurant starts to fill up. "She's gonna eat chicken with her hands, everybody!" Buteau announces to the crowd as she puts down her knife and fork and looks around at everyone and no one in particular. She can't help but let a few rapid-fire quips crackle into a conversation with anyone in her midst, giving the waiter a playful "niche roast" about the number of pens in his pocket. In this moment, I recognize Buteau's buoyant energy as being similar to the animated spirit of the wisecracking Mavis Beaumont, the character she plays on Survival of the Thickest.
On the series, named after Buteau's essay collection, Mavis Beaumont is a plus-size stylist attempting to rebuild her life after her long-term boyfriend cheated on her. With her best friend, Khalil (Tone Bell), an artist with commitment issues, and Marley (Tasha Smith), a divorcée discovering her queerness, Mavis finds herself in all kinds of New York shenanigans, like getting her gum stuck in a man's pubes during oral sex or having to dress a wealthy client for her ex-husband's funeral (which is unbeknownst to her at the time of the assignment). The show, to be released on Netflix July 13, explores issues of racism and fatphobia in the fashion industry, the expectations of marriage and motherhood for women in their late 30s, and the stakes of choosing oneself in love, life, and career.
Espousing a message of self-acceptance, Survival of the Thickest arrives at a time in pop culture when achieving thinness seems to be a goal more people are openly setting for themselves in Hollywood and beyond. There was a time, the series creator admits, when she used to date people based on her size: "I was like, How could I get a really good catch if I have a gut? I dieted, I didn't eat. I couldn't even have an orgasm." But Mavis Beaumont will not be ridiculed or made to feel she's not deserving of romance. She doesn't jump through hoops trying new weight-loss tactics, nor is she a charity case. In this sense, she's a lot like the actress who plays her, who now, after embarking on her own journey to self-acceptance, refuses to shrink or pipe down for anyone.
While members of the Writers Guild of America have been on strike for several weeks, you can spot Buteau on picket lines here in the States and abroad in Amsterdam (where her husband is from) alongside her young twin children. Friends of hers often have to work three jobs to make ends meet, and as she and her colleagues fight for fair wages and health insurance, she admits she's nervous about the show's reception, both in the press and by her peers, and worries that people may not tune in. "It's good ol' word of mouth these days. If I just send a three-eyed raven to somebody's house like, 'Watch the show, watch the show,'" she says, trailing off. "There are morning shows, but people have a very interesting relationship with streaming services now."
It really would be a shame if people didn't tune in to Buteau's show. Survival of the Thickest is a love letter to anyone who has been told their body type deems them unworthy of love and sex, and if not for Buteau's charisma at its center, the message could have come across as insincere. Her natural penchant for comic timing is in full force, which I'm reminded of when she gives me a final piece of advice before the end of our lunch. "Get yourself friends that support you," she says, before throwing what could have become a too-earnest sentiment back to another knowing wisecrack, a typical Buteau-ism: "My friends are like a well-made bra: uplifting and supportive."