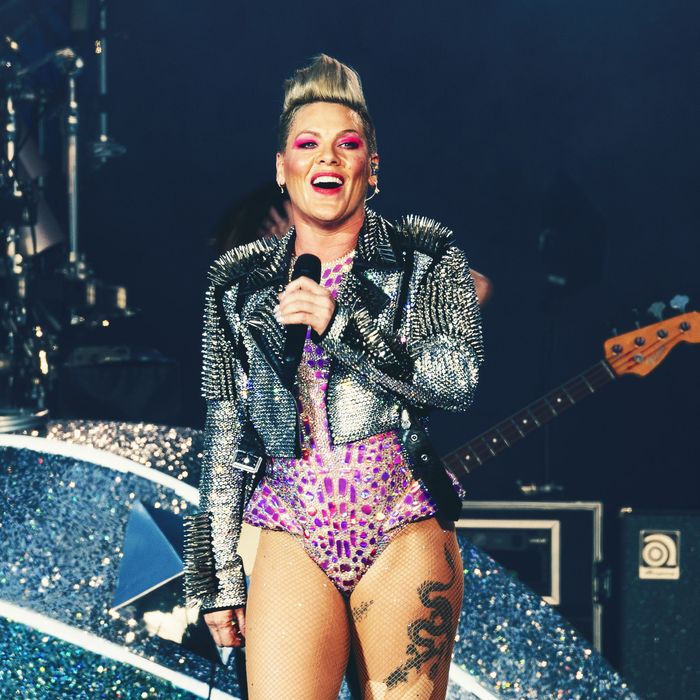 Photo: Burak Cingi/Redferns/Getty Images
I regret to inform you of this unsavory vibe shift, but something feral has been happening at concerts. Between the exorbitant cost of tickets and the increasingly vague guidelines of the social contract, one would think you'd simply pop an edible and enjoy the atmosphere, but apparently not. When it comes to live music, things have been getting freaky.
Last month, for example, a fan interrupted P!nk's show at BST Hyde Park in London, tossing a sandwich bag full of ambiguous powder onstage while she was performing "Just Like a Pill." In a video posted to Twitter capturing the incident, the singer pauses to pick up the bag, holding it by the corner. "Is this your mom?" she can be heard asking the bag thrower, who, off-camera, seems to confirm the worst. "I don't know how I feel about this," P!nk replies, gingerly setting this stranger's mother's ashes down behind an amp.
I know how I feel about it, though: Pelting a person with a Ziploc of human remains falls firmly outside acceptable concertgoing decorum. For anyone who is confused by these parameters, we humbly submit a brief etiquette guide:
• Do not throw phones, or any other projectiles, at the performer. We feel this one deserves emphasis after someone hurled their cell at Bebe Rexha during a Manhattan concert in June, leaving the singer with stitches. (According to police, the alleged assailant was overheard saying he thought the shtick "would be funny.") On top of that, country singer Kelsea Ballerini paused a recent show in Idaho after someone threw an object — possibly a bracelet, according to some fans — at her face. "Don't throw things, you know?" Ballerini told the audience upon returning to the stage. If only it stopped there, but, alas, someone threw a vagina-shaped sex toy at Lil Nas X during his Lollapalooza set in Sweden last weekend, prompting the singer to ask the crowd, "Who threw they pussy onstage?" And TMZ reports that Drake was hit on the wrist by a cell phone in Chicago this week, merely one night into his It's All a Blur tour. Thankfully, he wasn't injured and "just watched" the phone land on the ground while carrying on with his Ginuwine cover. A coolheaded approach to an unhinged act of violence, but think twice before you try that shit with Adele — she'll kill you!
• You are allowed a quota of one "MOTHER!" screech only. Use it wisely, or better yet, not at all.
• Do not kiss the performers. This happened to Alicia Keys during one of her 2022 shows — a fan grabbed her whole face and planted a big gross one on her cheek. She didn't seem to like it, and neither do we!
• The same goes for performers kissing concertgoers. Namely, Matty Healy — sorry, buddy, but this is a two-way street!
• Do not, under any circumstance, slap or otherwise assault the performer or fellow-concert goers. Ava Max said an audience member in Los Angeles recently slapped her so hard during a show that he "scratched the inside" of her eye. Where is this bloodlust coming from?
• It is okay, however, to politely hand performers a wrapped wheel of Brie, though, such as the concertgoer who offered one to P!nk during a performance of "F**kin' Perfect" at one of her BST Hyde Park shows in London last month. "What the fuck?" P!nk mouths in a TikTok video taken of the exchange after she spots the wheel — reportedly a Brie de Meaux — in the crowd. "I wanna kiss you on the mouth," she says, dropping to her knees. P!nk then secures the cheese and thanks the fan. No actual mouth-kissing took place.
We hope this has answered your questions.
This article has been updated.