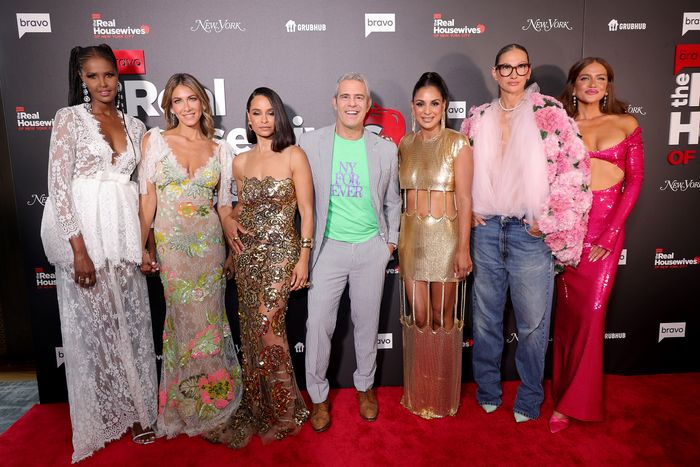 Photo: Michael Loccisano/Getty Images
Last night, in 30 Rock's Rainbow Room, high above the rest of the city, the brand-new cast of The Real Housewives of New York City gathered to celebrate the show's much-hyped 14th season. The veteran Bravo series' "new era" premieres this Sunday, two years after the previous season's protracted death. "Reinventing RHONY, wow, how do you do that, how do you do that?" asked Andy Cohen to the crowd (press, random models, Bravo publicists). "The answer seemed simple," Cohen continued. "Just find a new group of women, no biggie. And guess what? We found the right group of women!"
All of these women (except former J.Crew executive Jenna Lyons, who is wearing big jeans) are dressed in glittery gowns. And Brynn Whitfield, who seems more excited to be here than anyone in the room, is the standout: She's wearing a spectacular, tummy-baring gown comprised entirely of hot-pink sequins. Who made this thing? "Laquan Smith," she squeals. "Represent Queens, baby!" (She is from Indiana.) I ask her about her tagline — "I love to laugh, but make me mad, and I'll date your dad."
"Oh, that," she says. "It's something I said on a date, like, years ago." Is she dating any dads this season? "No! I'm single. Do you know of anybody?"
Back on stage, Cohen begins to introduce the wives — Ubah Hassan, Sai De Silva, Erin Lichy, Jessel Taank, Lyons, and Whitfield — one by one. Whitfield gets the biggest cheer. Once they're all lined up, the DJ blasts "Empire State of Mind," and the wives, arms linked, sing along while posing for photos. Again, Whitfield is the most enthusiastic, rapping along to pretty much all of Jay-Z's lyrics. I ask De Silva about her tagline — "In New York, there are a lot of bad apples, but I'm the baddest of the bunch." I wonder what she means by that, if it has anything to do with her behavior on the show? She looks at me like I'm an idiot. "It's because I'm hot," she offers.
Taank, the very first Indian RHONY castmate, is sweating. Earlier, I'd seen her emerge from a side room with a team of people fanning her and feeding her water. "Page Six" later reported that she had been vomiting ("It seemed to be just liquid and was absorbed into the carpet pretty quickly," wrote the tabloid.) What's her dynamic in the group? "I think I'm a bit of a diva," she says. "A little bit high-strung." (The summary for episode three notes that the women will be "grilling Jessel over her incessant complaining.")
After the photo shoot, the wives disperse as waiters shuttle sliders into the VIP section, which is full of older people, including Tony Danza, who has been perched on a high stool for the last hour, watching the proceedings with placid amusement. I sneak in and approach Cohen, congratulating him on Vanderpump Rules' first Emmy nominations. I wonder, was there anything missing from the last RHONY season that he's trying to fix with this season? "No," he says. "We're just trying to make a new show." So then, what's so special about this group of women; how would he characterize them? "Well," he says reluctantly. "Young … friends … funny … They're good."
The Real Housewives of New York City season 14 premieres on Bravo — and will be streaming on Peacock — Sunday, July 16.