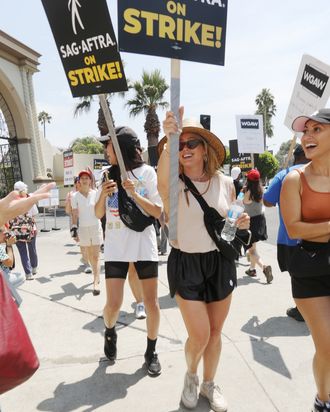 Lizzie McGuire wants fair wages!
Photo: jfizzy/Star Max/GC Images
Well, we're all about to have a lot of time on our hands. The 160,000 members of SAG-AFTRA, the actors union, are on strike after contract negotiations with major studios and streamers about compensation, residuals, and protection against artificial intelligence broke down. As the vote played out, the cast of Oppenheimer walked out of the movie's London premiere in solidarity. With screenwriters already picketing, it's hard to see how any projects can press on filming, and it's looking like the entire industry has come to a standstill for the first time since 1980.
The conflict began earlier this summer, when nearly 98 percent of the union voted to authorize a strike ahead of their contract expiration. On June 7, it sat down to start negotiating a new deal with the Alliance of Motion Picture and Television Producers (AMPTP), a trade association that represents Paramount, Sony, Universal, Disney, Warner Bros., ABC, NBC, Fox, Netflix, Apple TV+, and Amazon, among others. According to the New York Times, SAG-AFTRA presented the AMPTP with a 48-page proposal that focused mainly on higher pay, better residuals for movies and shows on streaming services, and assurances that their jobs would not be taken over by AI.
Negotiations dragged on for weeks, with both parties digging in their heels. Major Hollywood talent threw their support behind SAG-AFTRA's negotiators — Tom Cruise reportedly Zoomed into one session to back the guild's position on AI and advocate for stunt actors (though some witnesses claim he also asked union reps to let actors promote their movies during the strike). In late June, over 1,000 performers signed a letter to guild leadership saying they were "prepared to strike" amid the ongoing talks. Before the contract expired on June 30, SAG-AFTRA and the AMPTP agreed to extend negotiations until July 12, at which point they still hadn't reached an agreement and reportedly brought in a federal mediator. The expiration date came and went, and on July 13, SAG-AFTRA's national board gathered at its Los Angeles headquarters, voting unanimously to strike.
SAG-AFTRA president Fran Drescher announced the strike in a very actorly speech, proclaiming, "Wake up and smell the coffee! We demand respect! You cannot exist without us!" She added that Hollywood studios "plead poverty, that they're losing money left and right, while giving hundreds and millions of dollars to their CEOs. It is disgusting. Shame on them. They stand at the wrong side of history at this very moment. We stand in solidarity."
The strike started at midnight July 14, and actors have put all work on pause, including promotion of their new and upcoming projects. Per the guild's stipulations, almost all performance and promotion engagements are essentially off-limits: acting, singing, dancing, stunts, voice acting and narration, rehearsing, stand-in or background work, auditioning, and even more niche jobs like "puppeteering" and "piloting on-camera aircraft." SAG-AFTRA has, however, issued waivers to some indie studios that aren't part of AMPTP, such as A24, to continue filming certain projects. It has also shared guidelines for influencer members, who can keep doing brand partnerships. The picketers joined members of the Writers Guild of America, who've been on strike for more than two months now over similar contract concerns: the threat of AI, better compensation, and more safeguards to prevent studios from underpaying their workers.
It's looking like studios will need to feel a lot of pressure to come anywhere close to meeting actors' and writers' demands. Disney CEO Bob Iger called the SAG-AFTRA strike "very disturbing" and deemed the union's demands "not realistic." In a statement released just before the SAG-AFTRA strike decision, the AMPTP claimed that it had offered negotiators "historic pay and residual increases, substantially higher caps on pension and health contributions, audition protections, shortened series option periods, and a groundbreaking AI proposal that protects actors' digital likenesses." Responding to that statement, SAG's chief negotiator, Duncan Crabtree-Ireland, told reporters that the "groundbreaking" AI proposal would have paid background actors for one day of work, scanned their faces, and then let the company "own that scan, their image, their likeness and to be able to use it for the rest of eternity in any project they want with no consent and no compensation." Hmm, I think I see why the union didn't go for it?
Before the strike began, the SAG-AFTRA Foundation reportedly wrote 2,700 of the union's highest-paid members, asking them to help support their lower-earning colleagues during the work stoppage. In an interview with Variety, foundation president Courtney B. Vance and executive director Cyd Wilson emphasized that the majority of SAG's members are not huge-name actors with massive incomes; they're people working multiple jobs to float a film career who now find themselves missing a sizable chunk of their income for the foreseeable future. Vance and Wilson are therefore soliciting contributions to the Emergency Financial Assistance Program and say Dwayne "The Rock" Johnson has already donated a generous seven figures.
Perhaps unsurprisingly, the union's stunt actors have delivered some of the boldest statements of all, with stunt coordinator and Harrison Ford double Mike Massa lighting himself on fire at a July 24 rally. "We are tired of being burned by the AMPTP," read the caption on a post of the footage. "The AMPTP is opposed to us sharing the rewards of a successful show because we don't bear any of the risks. Excuse me? Tell that to my friend John who lost his life working on one of your TV shows," stunt actor Elena Sanchez added, per Entertainment Weekly. "Tell that to any of us in this room who have literally broken bones and bled for you."
Depending on how long the strike lasts, we may be short on movies and TV this fall. Not to worry, though — there's plenty to watch on the picket line:
This article has been updated.