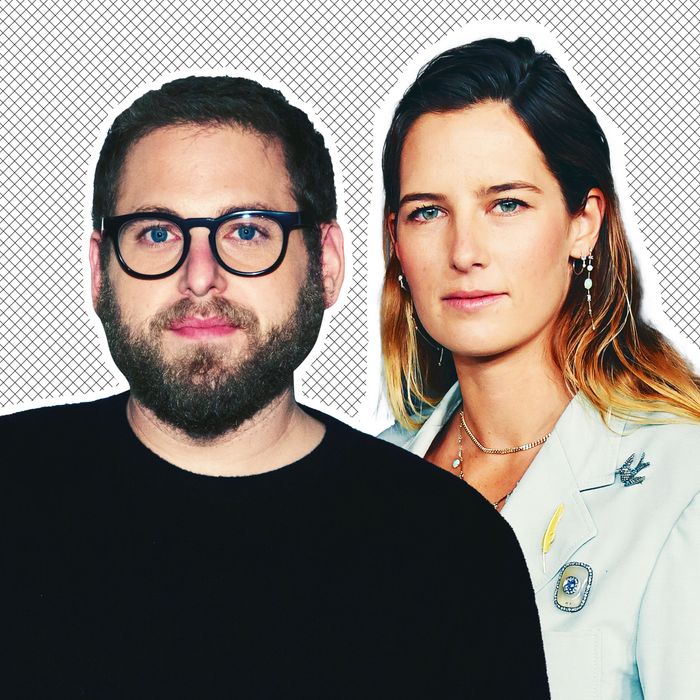 Photo-Illustration: by The Cut; Photos: Getty Images
It's been a wild week in bad male opinions. First, Keke Palmer's boyfriend, Darius Jackson, publicly criticized her for wearing a sheer black dress to an Usher concert after welcoming their child. Then, Jonah Hill's ex-girlfriend Sarah Brady came forward with equally disappointing revelations of her own. On Friday, Brady posted a spate of Instagram Stories that seemed to show Hill policing what she wore, what she shared on social media, her behavior around other men and women, and her professional commitments. "This is a warning to all girls," she wrote in one slide. "If your partner is talking to you like this make an exit plan."
"Someone being an emotionally abusive partner doesn't mean they're a terrible person (often stems from their own trauma)," she continued in another. "And at the same time it doesn't mean it's ok."
The Cut has reached out to both Hill and Brady for comment. We will update if we hear back.
Brady and Hill started dating sometime in 2021, when she was 24 and he was 37. It's unclear when they parted ways — in February 2022, they dedicated Valentine's Day posts to each other — but Hill was first spotted with his new girlfriend, Olivia Millar, in September. (They welcomed a child around May.) Brady said little about the split until last week, when she suddenly started posting screenshots to her Stories.
Without explicitly naming Hill, the surf instructor characterized an ex as a controlling and "narcissistic misogynist," who issued ultimatums under the guise of defending his "boundaries." Screenshots of the texts she shared show a contact saved as "Jonah" requesting that she not surf with men, post photos — including professional photos — of herself in bathing suits or maintain friendships with "women who are in unstable places." Other texts seem to show him asking her to take down certain pictures and videos, including one of her "ass in a thong," as the sender put it. Still other screenshots appeared to show Brady DM-ing someone to complain that Hill's issues with her public surfing appearances "ruined my work day producing a shoot," and claiming he had her "turn down jobs for other brands." (Later stories suggest Hill supported her financially while she passed on these opportunities.) In a comment on one of her screenshots, she wrote that Hill asked her not to spend time with "any friend of mine that he hadn't personally approved of."
"I too struggle with mental health but I do not use it to control ppl like he did to me," Brady wrote amid her screenshots. "It's been a year of healing and growth with the help of loved ones and doctors to get back to living my life without guilt, shame and self-judgment. And I'm sure there's still more healing from this abuse ahead of me."
The allegations set off a firestorm online with plenty of observers describing the alleged texts as textbook examples of emotional abuse. Comparisons to Palmer's boyfriend abounded — another man attempting to dictate what a woman can and can't do with her body. Other people accused Hill of weaponizing terms typically used in therapy to mask controlling behavior, pointing out that mental-health professionals typically use the word "boundary" to refer to one's own actions, not other people's.
Elsewhere, certain big-name bystanders jumped to Hill's defense, including Meghan McCain, Candace Owens and Devin Booker, who posted a photo of Hill in a Phoenix Suns jersey with a saluting emoji. TV critic Emily Nussbaum criticized the choice to make private texts with a former partner public, though she didn't name Brady specifically.
As if anticipating criticism about the timing of her posts, Brady added a series of voice notes explaining that she waited to air the allegations until after Millar gave birth, out of concern that added stress might impact her pregnancy. Brady also said she was hoping that Millar "would receive some of these screenshots through friends who would make an effort to protect her." She has been reposting reactions (including ones that reference Palmer), TikTok analyses of her Instagram Story, and more screenshots of her own texts and DMs. Another spate of Stories posted on Monday suggest she and Hill stayed in touch until the beginning of his current relationship, offering each other what she called in a text "partner-level emotional support" and sexting even as he started dating someone new.
In the wake of Brady's posts, another woman came forward with concerning allegations against Hill. Alexa Nikolas, who co-starred in Zoey 101 when she was 12, wrote on Twitter that Hill once "slammed me to the door and shoved his tongue down my throat" outside a party when she was 16 and Hill was 24. "This type of predatory behavior was hyper normalized when I was a kid," she wrote. "I'm proud to see women standing up to abusive men now." The Cut has contacted Nikolas for comment. For his part, Hill denies Nikolas' claims via his lawyer, calling them a "complete fabrication," to the Cut.
Hill, meanwhile, has been on a promotional hiatus since this past August, when he announced that he would not be doing press for his forthcoming documentary — Stutz, in which he and his therapist explore his mental health and which Brady urged her followers to boycott — owing to worsening anxiety attacks. He also deleted his Instagram account and has not yet commented on Brady's Instagram Stories. In another screenshot, Brady responded to a DM asking if she expects Hill to respond to her allegations. "I don't wanna talk to him," she wrote. "He scares me. I just hope all this information reaches the people in his life who need it the most."
This article has been updated.