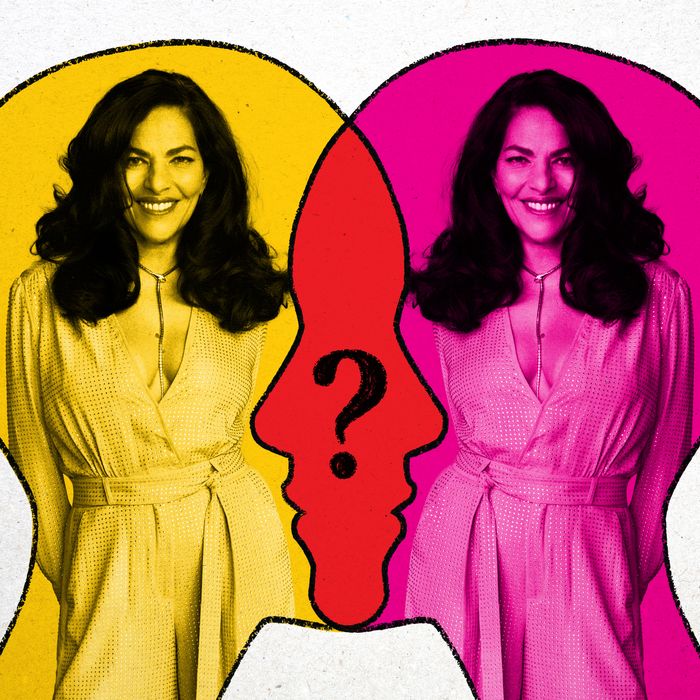 Photo-Illustration: by The Cut; Photo: Jason Bell for Max
When Sarita Choudhury first watched Sex and the City, she felt comforted by seeing all of the characters' minor humiliations play out onscreen. "You know when you think something is only happening to you, and you're a little embarrassed by it?" she says now. "I'd always be like, Oh, if it can happen to Carrie, I'm fine!"
Technically speaking, the same cannot be said of Seema Patel, the chain-smoking, animal-print-loving real-estate agent Choudhury plays on And Just Like That …, the SATC reboot. Seema's antics tend to skew more upper crust than those of her predecessors — staging multimillion-dollar apartments, ditching a date for the Met Gala, losing her Birkin to a street thief. Still, Seema's role in the chaotic And Just Like That … experience is about more than just injecting a little glamour into the series. You don't even have to take home a guy who uses a penis pump to empathize with her.
Going into season two, Choudhury says, "I knew Seema was gonna be up to no good." In the first half of the season, Seema has been given space to shine away from Carrie's side, and her plotlines offer some of the most vintage SATC moments: the aforementioned penis pump, for example, and an extremely Samantha feud with her hairstylist over her taste in men. Seema knows what she likes, and she's not interested in making concessions. Neither, for that matter, is Choudhury.
It's been so much fun seeing more of Seema's dating life this season. What do you think her romantic history is like?
I think there was one heartbreak that kind of created Seema, and since then she's been chasing that original love. Her desire to be in a stable relationship is very real. When you have experienced true love, you know what it looks and feels like, so when it doesn't come close, you get out and try again. What I love about Seema is that when the red flags come up, instead of thinking, Oh, I'll give him another chance, she's out. She's going to the Met ball. I don't know if it's brave, but she moves quickly to another scenario to keep trying.
She was also involved in the second Birkin-centric plot of the SATC universe. What's the most you would pay for a bag?
You're so asking the wrong person. People make fun of me because if you give me a tote bag, I'll just use that until I can't find it. I'm so easy with handbags. My love is in boots, shoes, and leather. Which is why I loved doing that scene with the Birkin — she's so upset, and as an actor, I really had to think about that! Right now, I'm carrying a bag I bought in India for maybe $12. It's hand-stitched, and it's the first time anyone's commented on my bag.
What's one rule that governs how you get dressed?
I like a very specific kind of jeans, the Levi's they used to make that are really heavy. I grew up mostly in Rome, which influenced me in terms of my go-to outfit: the jeans, a crisp white men's shirt, and maybe a good brogue. I love to add something feminine, like a bow in my hair or around my neck. I don't like things too fitted, but I'll wear a skirt just below the knee. For events, I like something very elegant about it. Not too showy but sensual.
You're going out and you can wear only one makeup product: What are you putting on?
A slick of liquid black eyeliner on the top eyelid, with a little extension. That's all I wear anyway. I don't know how to put on foundation without making it cakey. I'm trying! I keep watching tutorials, but it's impossible.
We know Seema's dating red flags — what's one of your own?
I'm very sensitive to people who are entangled with their past relationships. I can't. I like things to be clean.
Is it okay to ghost someone?
No. Whenever I have the temptation to do that, I always think how I would feel. It's so unbearable when it happens to you, you know?
What's your No. 1 rule for getting over a breakup?
I think I literally break every rule and embarrass myself. I do everything wrong. I'm the person who will play the song they gave me on repeat. You do that kind of ridiculous behavior for two weeks and then something clicks and you just stop, and exactly at that point, the other person starts opening up again. And you don't care. You're done. So, messy for two weeks, and then clean.
What's a rule for helping a friend through a breakup?
I'm harder on my friends than I am on myself. They can talk about the person for that first week as much as they want, cry, I'll listen. A week is okay because I really believe people can change their minds. But once I know the guy's not coming back and they've cried every tear they can, I become a little harsh. It gets repetitive, and it's hard to be their therapist. I'm pretty loving, but I'm dry in my delivery. It's just about rebuilding them. I don't make them do meditation or yoga or all that, but maybe make them a good cocktail? Dance? Anything fun.
In honor of Seema: What is your No. 1 cigarette rule?
I grew up in Italy, so there are no rules. Do it anywhere you want. I don't care if someone smokes in my face.
How about real estate — what's your must-have in an apartment or house?
Big windows. I never have curtains. Everyone is, like, How can you not have curtains? Why are you so upset?!
What's the key to a successful dinner party?
I can't cook for more than, like, four people, so I keep it to four so I can socialize while I'm cooking. I like the food hot when it comes to the table. And I love a really good pét-nat or Champagne, but if you can't afford Champagne, I love a really crisp cava — not prosecco, which I hate.
What's the best way to decline an invitation to something you don't want to go to?
I used to get stressed about letting people down, but my new thing is: Tell people you're doing something exciting. As an actor, you often don't know your schedule, so friends you rely on so much when you're not working suddenly don't get to see you. It gets tiring to be like, "Babe, I don't know, I'll text you tomorrow," and then you forget to text and they feel worse. So now I'm just like, "Oh my God, I'm loving shooting, I'm having the best time, I can't wait to see you when we finish." I don't really answer their question; I just talk about what I'm doing. That says I'm thinking of them but I'm having fun. It doesn't have to be doom and gloom. And somehow that makes them happy, I think.
What's your biggest rule for gift giving?
Never give candles. Everyone does that, and I don't understand it. I'm always shocked by the candle situation. Don't give things you see in hotels. Give something personal and something you would really like yourself.
Do you buy off gift registries?
I don't. I like risky gifts. Buy your best friend a negligee! You don't know if it will even fit her, but it's something you think she may not buy for herself. Something that's whimsical and beautiful.
If you're going to a party where you don't know anyone, what's your strategy?
When I was a smoker, I'd go to the window. Smoking's easy because you always find another smoker and they're willing to talk. But now, I always go to the kitchen. Someone's in there preparing something or trying to do something, and I pretend to help and strike up a conversation.
What's your No. 1 rule for making new friends?
I made a new friend about six months ago, and we got close because she didn't text that much. We're so similar — it would be like, "Hey, running for coffee, wanna meet in ten minutes?" It was never "What are you doing on Thursday?" I don't work that way. I always know if I'm free right now as opposed to tomorrow. So spontaneity for sure, and I think the rule is not to be overbearing. And low commitment — I love that.
Do you have a go-to drink at movie premieres?
Most of them serve prosecco, so no. Sometimes, I'll ask them to make me a pure Cosmo: vodka, a little cranberry, and I ask them to squeeze a lime in it.
Very Sex and the City! What's your stance on saving seats?
You can do it for one seat but not more than one.
What's your texting style?
I usually do short texts. I started doing voice notes, and now I hate them. Obviously, it's easier than texting when I'm on the move, but I realized I don't like receiving them. They're so long! So I stopped myself from doing those.
What's one rule you learned while watching the original Sex and the City?
Whenever Carrie went through something, she just went home and called one of the girls and they'd have to come over. That's a rule I have now: If I'm going through something, don't go home alone. Find your friends. They're gonna make you laugh and somehow it will be less painful.
For more, join us for And Just Like That Club …, our subscriber-exclusive newsletter dissecting and obsessing over all the minutiae of the new season. Existing subscribers can visit this page to sign up. If you're not a subscriber yet, click here to get started.