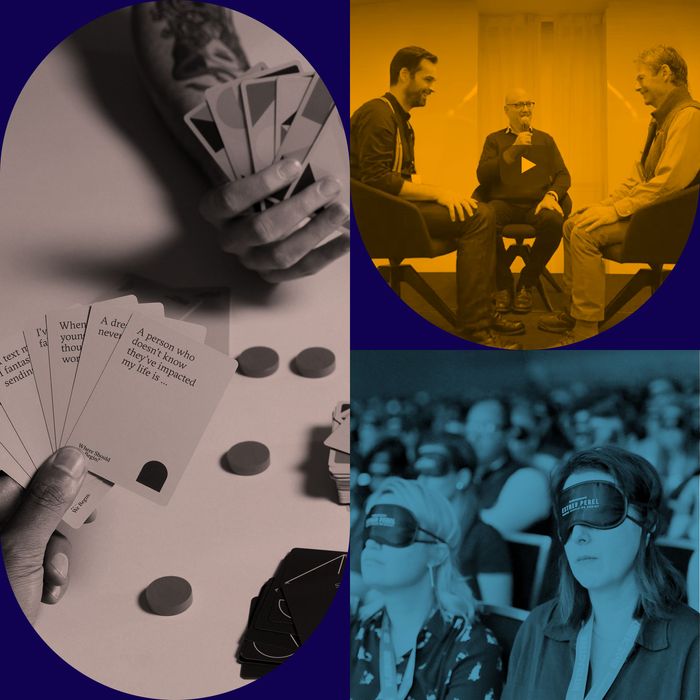 Photo-Illustration: by The Cut; Photos: Getty Images, Harper Collins, Retailers
Where Should We Begin? is probably the purest distillation of Esther Perel's approach as a psychotherapist: two people sitting in a room, spilling their guts out in couples counseling. But if listening in on couples excavating their inner lives and deepest conflicts isn't your thing, there are many other ways to dive into her work — books, videos, more podcasts, even a card game — all of which will get you examining your own approach to interpersonal relationships in all their complexity. (Or maybe you've already listened to all the available episodes of Where Should We Begin?, now part of the Vox Media Podcast Network and the extended New York universe, and want to keep traversing Esther world. In which case, do you.) Here's a guide to the rest of Perel's canon.
For more on desire and other intimate relationships, try …
Reading Perel's two books, Mating in Captivity: Unlocking Erotic Intelligence (2006) and The State of Affairs: Rethinking Infidelity (2017). Mating in Captivity is a deep dive into contemporary relationships and offers insight and advice on sustaining desire. The State of Affairs, published the same year she kicked off her main podcast, digs into why people cheat — and how to rethink what infidelity means in relationships.
If you're not already one of the 20 million people who have viewed it so far, you can get Perel's first book in digest form by watching "The Secret to Desire in a Long-Term Relationship," the 2013 TED Talk that made her a household name. Perel followed up that talk with another one at TED in 2015 called "Rethinking Infidelity," which contained many of the same ideas as her second book. Both of these talks live on Perel's YouTube channel, where you can also watch her SXSW keynotes; one-on-one interviews with fellow professionals like Dr. Margie Nichols, a psychologist and sex therapist; and more.
For those who really want to work on their own relationships, Perel has an online learning resource. Designed for couples who want to recapture their erotic connection, the Rekindling Desire program ($199) provides 24 videos and 15 accompanying exercises covering five topics: "Understanding Eroticism," "Sexual Communication," "Obstacles to Desire," "Breaking Routine," and "Sex After Kids." Couples can go through the course at home at their own pace, and the onetime fee gives you permanent access.
For more on non-romantic personal dynamics …
Listen to How's Work?, a whole other podcast series devoted to exploring the ways our relationships affect how we behave in the office, on which Perel mediates issues between co-workers.
Or listen to her special-topic Esther Calling series, in which she works with individuals dealing with more one-sided relationship issues — like a woman who feels she's losing her best friend or a man in his 40s who has never been in a long-term relationship. (You can find these episodes in the main feed for Where Should We Begin?)
For more on the practice of therapy …
Sign up for Sessions, an online training platform for Perel's colleagues and fellow professionals to share ideas and resources — kind of like an online clinical-adviser community. With a membership (from $70 a month), professionals can access interviews between Perel and other voices in the clinical field of relationships. Perel also hosts an annual conference, Sessions Live, where experts gather to discuss the latest ideas in relational therapy. Membership grants access to the live sessions, an archive of past interviews, and the opportunity to gain continuing-education credits (for an additional fee).
For just a little of everything …
Get yourself on the mailing list for Perel's monthly newsletter, Letters From Esther. These dispatches are a lower-lift way to get a regular dose of her perspective. In each issue, Perel offers personal reflections on relationship topics — a recent one was about cultivating chosen families — along with some light coaching for readers working on their own relationships at home. As an online supplement, Perel maintains a blog where she archives her newsletters and shares collections of advice-driven articles organized by topics like "Conflict and Repair," "Infidelity," and "Play."
And finally, play a round or two of her card game: In 2021, Perel released the intimacy-themed Where Should We Begin — A Game of Stories, designed to foster curious, probing conversations between couples and among groups at dinner parties. (Per the instructions, up to six people can play.) The game contains 250 story cards that ask players to share personal anecdotes or memories ("A text I fantasize about sending is …" or "A rule I secretly love to break is …") and 30 prompt cards that guide the questioner on how to thoughtfully find out more — a bit like Perel would.