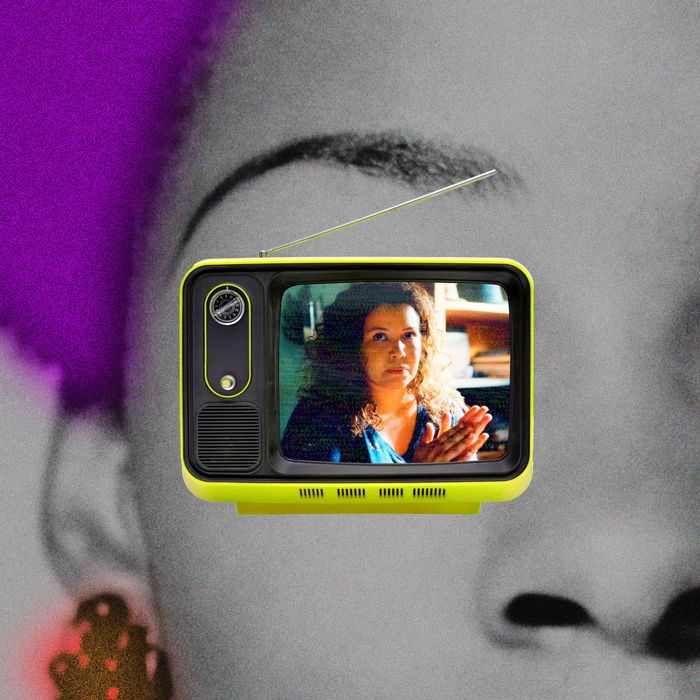 Photo-Illustration: by The Cut; Photo: Courtesy of Prime Video
We get it: There's an overwhelming number of television shows right now. The streaming landscape is an impractical maze, and the good stuff easily gets lost in the shuffle. But most of us can still find one show that cuts through the noise. We call this "appointment viewing" — or the time you carve out in your busy schedule to watch the show you'll want to unpack the next day with your friends while it's still on your mind. Tune in here each month to read what writer Michel Ghanem, a.k.a. @tvscholar, deems worthy of a group-chat deep dive.
Over the last six months of "Appointment Viewing," we've covered HBO's The Last of Us, Apple TV+'s buddy comedy Platonic, and watched some high-quality television coming out of Prime Video with Daisy Jones & the Six, Dead Ringers, and I'm a Virgo. This month we're back with another Prime Video hit, The Horror of Dolores Roach, a fictional podcast adaptation following an ex-convict's reentry into her now-gentrified New York neighborhood.
Wait, there's another show about cannibalism?
Okay, yes, there is more cannibalism on TV this year. But hear me out! The Horror of Dolores Roach is based on a popular fictional podcast created by Aaron Mark for Gimlet Media, which originally premiered in 2018, two years before Yellowjackets and a year before Santa Clarita Diet. Dolores Roach brings to mind the classic 19th-century story of Sweeney Todd, the infamous barber who kills his clients and bakes them into meat pies. Dolores Roach, played by a phenomenal Justina Machado, just happens to bake her victims into empanadas.
After taking the fall for her ex-boyfriend Dominic's illegal weed-dealing business and serving a 16-year prison sentence, Dolores returns to her old neighborhood in Washington Heights but struggles to recognize it after it has been aggressively gentrified in her absence. Dominic used to own the block, she says. Now it's dominated by white millennials who start podcasts and own mopeds.
Luckily, "like a mirage in the desert," she stumbles on Empanada Loca, a mainstay of the old neighborhood that's still open and is run by Luis Batista (a terrific performance by Alejandro Hernandez), the son of the original owner. Luis lets her crash and convinces her to monetize her years of inmate massaging by opening a parlor in the shop's basement. When "Magic Hands" Dolores accidentally murders her first victim mid-massage (a man who won't stop running his mouth about racist Darwinist theories), Luis becomes inspired to start a new line of empanadas with meat that's more, um, locally sourced than those consuming it may realize.
The show is narrated by Dolores in a near future where her crimes have hit the pop-culture Zeitgeist. She is now the mysterious subject of a true-crime podcast hosted by one of her old massage clients, and backstage at a Broadway play inspired by her story, Dolores corners the lead actress to set the record straight. Her narration brings a quality reminiscent of Netflix's You to Dolores Roach (with less stalkerish undertones) and adds nuance to some of her past decisions that might have otherwise seemed one-dimensional. It's easy to empathize with Dolores, who is thrown back out into the world with no safety net or family and desperately just wants to run her new massage business in peace.
Where can I watch it?
All eight episodes of The Horror of Dolores Roach are out on Friday, July 7, via Prime Video. The show is created by the podcast's writer and creator Aaron Mark with the help of Blumhouse Productions (the producer behind M3gan, Get Out, The Invisible Man, and dozens of other popular titles). Gloria Calderón Kellett also executive-produces and has worked with Machado before on One Day at a Time.
Episodes are roughly half an hour in length and make for a fun binge. If you're looking to chop up the season into more appetizing bites, I would recommend two episodes per sitting. You'll definitely want to watch the first two episodes together, which establish Dolores's murder-to-empanada pipeline, and you'll likely want to keep watching after the penultimate episode's cliffhanger. The season flies by with a surprisingly light tone that pokes fun at true crime and gentrification. Keep an eye out for both Machado and Hernandez's Emmy-worthy performances.
Okay, but will it be too graphic for me?
I won't lie: At certain points, Dolores Roach gets gruesome. It's not so much the actual cannibalism — the empanadas look much tastier than the unseasoned human-flesh feasts on Yellowjackets — but my skin crawled during scenes that showcase body parts being strung up in an AC-insulated basement bathroom or chunks of raw meat sliced up for cooking. It's certainly not a show for the squeamish. That said, you might be surprised by the tolerance you've built up from years of watching zombies tear humans apart on The Walking Dead or the violence you've consumed on endless true-crime shows.
The primary reason to tune in to this series is Justina Machado. To me, she's been an underrated television icon ever since she played Vanessa Diaz on Six Feet Under in the early aughts. She has since popped up regularly on the small screen, but Dolores Roach is a hard-earned starring role, finally letting Machado sink her teeth into a character as traumatized and complex as Dolores.
There are also some Easter eggs for those who loved the podcast, like Kita Updike reprising her voice-acting role as Nellie, Empanada Loca's cashier. Cyndi Lauper (cannibals just want to have fun?) also pops up as a private investigator hired by Dolores to look into the disappearance of her ex-boyfriend so that she can exact her revenge.
Deep-fried guts aside, Dolores Roach continues to deepen cannibalism's symbolic possibilities onscreen. Dolores and Luis seek autonomy and freedom in a world that wants to squeeze them out economically. Their new empanadas become the struggling business's lifeline; consumed by the very gentrifiers Dolores is horrified of when she reenters her neighborhood, they offer her the only sense of control she's had since her days before incarceration.
Cannibalism is often viewed as a taboo of the modern world and has been historically weaponized by colonizers like Christopher Columbus to dehumanize and justify genocide. "It is a fascistic way of implementing control," says Chelsea G. Summers about her novel, A Certain Hunger, which tells the story of a food writer who eats men. And in bell hooks's seminal essay, "Eating the Other: Desire and Resistance," she calls the cultural consumer a cannibal who not only displaces the Other, "but denies the significance of that Other's history through a process of decontextualization." For Dolores and Luis, then, offering their victims on a plate becomes their way of reclaiming a narrative of disenfranchisement. But this time, they won't be the Other that's consumed.