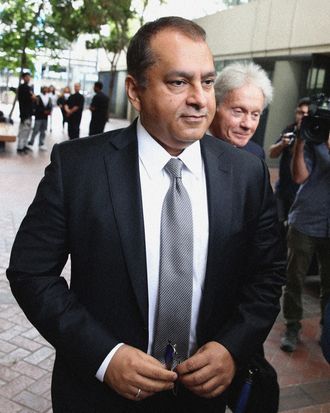 Photo: Justin Sullivan/Getty Images
In November, disgraced Theranos founder Elizabeth Holmes was sentenced to 11 years in prison after a jury found her guilty of fraud for lying to investors about her company's technology, which she claimed could test for hundreds of diseases with a few drops of blood. Ahead of her sentencing, her business partner stood trial for his role in the company's implosion: former Theranos COO and president Ramesh "Sunny" Balwani, who was also Holmes's boyfriend throughout most of the company's run.
While many questions remain about Balwani's role in the Theranos scheme, he definitely wielded a lot of power at the company. Most former Theranos employees and investors didn't seem to know he and Holmes were dating, but they did know him as an overbearing manager with little knowledge of the science behind Theranos's machines. In 2018, Holmes and Balwani were indicted together for wire fraud, though Holmes's lawyers successfully argued to have their cases separated. In her testimony, Holmes claimed that Balwani abused her and manipulated her into lying to her investors, allegations he denies. She was found guilty of four charges, all of them related to defrauding investors. Balwani's trial kicked off in March in San Jose, California. In July 2022, he was convicted on all 12 fraud charges, and nearly a year later he reported to a minimum-security federal prison outside Los Angeles, where his 13-year sentence has already been shaved down to 11. Here's what to know about his relationship with Holmes and involvement in Theranos.
.

Balwani and Holmes met in 2002, and were living together by 2005.
According to Bad Blood: Secrets and Lies in a Silicon Valley Startup by John Carreyrou, Holmes met Balwani on a trip to China when she was 18, shortly before she started her freshman year at Stanford. At the time, Balwani was 37 and enrolled in a master's program at Berkeley. He was married, though his wife, Japanese artist Keiko Fujimoto, filed for divorce that same year. Balwani was also already wealthy, having made $40 million selling his shares of a software development company before the dot-com bubble burst. (He reportedly drove a black Lamborghini that had "Veni Vidi Vici" on the license plate.) Carreyrou reports that their relationship was platonic at first, with Balwani mentoring Holmes after she dropped out of Stanford and started looking for funding to get her company off the ground. It's not clear when things turned romantic, but by 2005 they were living together in an apartment, while Holmes funneled the $6 million she'd raised for her nascent company into research.
Holmes and Balwani kept their relationship under wraps from employees and investors, most of whom seemed to be under the impression that Holmes was single (others have said it was an open secret). Neither of them publicly acknowledged the relationship until 2017, when Holmes admitted to the SEC that she had hidden the fact that they were dating from investors.
Holmes and Balwani broke up in 2016, right around the time things started falling apart at Theranos, following reports that its blood tests were inaccurate. Holmes later testified that a 2016 inspection by the Centers for Medicare and Medicaid Services was the first time she realized her technology didn't work, though witnesses who spoke at her trial suggested she was aware of what was going on much earlier than that. At her trial, Holmes said that when she discovered the technology didn't work, she realized Balwani "wasn't who I thought he was," and they parted ways. She said their personal relationship ended when he left the company, and that she and her brother secretly moved her belongings out of his house while he was in Thailand on business. However, text records show she was still messaging Balwani after he departed, including a text that read, "I adore you."
.

Balwani joined Theranos in 2009 despite having no medical or science experience.
Over the course of his relationship with Holmes, Balwani became increasingly involved in Theranos. When they first started corresponding via e-mail, just after Holmes dropped out of school, he offered business advice. He also helped her financially: In 2009 he floated a $13 million personal loan for her second round of funding. He officially joined the company as its president and COO six months later, despite having no experience working in science or health.
In his new role, Balwani was in charge of the day-to-day company management, while Holmes focused on the bigger picture. Former employees have spoken at length about his management style, which seems to have been intimidating at best. One former employee claims Balwani's nickname around the office was "The Enforcer," and former Theranos vice president Anthony Nugent testified that, under his leadership, "the atmosphere of the place became caustic." Employees recall Balwani frequently misusing technical terms, making it clear that he didn't fully understand the science the employees were working with at the lab.
.

Holmes claims Balwani abused and manipulated her.
During her trial, Holmes's defense painted her as a naïve entrepreneur who was misled into defrauding her investors. That narrative pinned the blame on Balwani, whom Holmes claimed manipulated her into lying about her technology. According to her testimony, their relationship was abusive: Holmes said he controlled her food, clothing, and schedule; separated her from her family; and forced her to have sex with him when she didn't want to. When it came to their business, she claims he constantly undermined her confidence, berated her with insults, and credited himself with her success. "He told me that I didn't know what I was doing in business, that my convictions were wrong, and that if I followed my instincts, I was going to fail," she testified, claiming that an impaired state of mind from his abuse led her to make false claims to investors and patients. "He impacted everything about who I was."
Balwani vehemently denied the allegations, calling them "false and inflammatory" in court documents. Holmes's testimony also wasn't entirely consistent with her reported behavior in the office; many former employees and investors have described her as visibly hands on, present, and in control of her company, with Balwani appearing to defer to her more often than not. Nor are her claims consistent with how she described her own leadership style in the past: In 2017, she told the SEC that she was "the ultimate decision-maker" for Theranos. In the end, the jury found her guilty of four counts of fraud for knowingly lying to her investors.
.

Balwani was convicted on all counts of fraud.
In 2018, the SEC charged both Holmes and Balwani with security fraud, accusing them of raising more than $700 million based on exaggerated or false claims about the company. Holmes settled without admitting wrongdoing and agreed to surrender voting control and obey a ten-year ban from helming a public company. Balwani seems to still be fighting the charges.
A few months later, a federal grand jury charged both of them with nine counts of wire fraud and two counts of conspiracy to commit wire fraud. Holmes's attorneys revealed the abuse allegations and pushed to separate the cases, which the judge approved. After numerous COVID-related delays, jury selection for Balwani's trial began on March 9.
During the trial, Balwani's lawyers put the blame for Theranos's downfall back on Holmes, arguing that she controlled everything at the company and made the decision to falsify data all on her own, while Balwani had faith in their technology. Neither Holmes nor Balwani testified. On July 7, a jury found Balwani guilty of all 12 wire-fraud counts — which, unlike Holmes's verdict, pins him for defrauding patients and doctors as well as investors. On December 7, a few weeks after Holmes's sentencing, he was ordered to serve 155 months in prison. He reported to a facility outside Los Angeles in April, and within two months his release date was moved up to 2034, meaning he'll serve, at most, 11 years of his 13-year sentence.
This post has been updated.