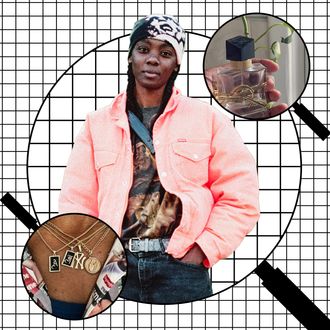 Photo-Illustration: by The Cut; Photos: Vans, Courtesy of Beatrice Domond
For more of the Cut's favorite fashion, beauty, and home finds, sign up for the weekly Cut Shop Newsletter.
The key to any good outfit? Good shoes. That's what pro-skateboarder, Beatrice Domond believes. And it makes sense since Domond shared with the Cut that she dresses from the shoes up. Her sense of style is somewhere between practical and cool and draws inspiration from her mom and her career. Her wardrobe is a mix of skate clothes, vintage finds, and investment pieces from her favorite brands. When it comes to shopping all of the above, Domond prefers to shop in person rather than online. Catch her skimming through the racks of Howard Street and L Train Vintage. However, her shopping ventures aren't limited to the states; she also loves to shop abroad. "Now that I travel so much, I'm really into going to other countries and going shopping and stumbling upon something so I'll have a memory of that instead of a keychain."
Below, see where Domond got the pieces that made it into her curated lifestyle.
Where did you get the inanimate object that brings you the most joy?
My pro-board is from Fucking Awesome. I just turned pro last August, so it will be a year as a professional skateboarder. It means a lot to me! I worked really hard on it. I put my heart and soul into it for ten years. It's one of my prized possessions. I have multiple because they deteriorate over time, but I'll set up one occasionally with my face on it, and it's a really special thing. I'm really, really proud of it.
Where did you get your favorite piece of clothing?
My eagle pants from Supreme and my shirt from Fucking Awesome. The shirt has my face on it. I haven't worn it yet, but I love to see my friends wear it, or I'll someone on the train where it. It just shows my ten years of work. I'm living in the moment, things go by fast these days — whether it's like accomplishments or campaigns, I'm gonna live in the fun for a bit.
When I first got the Supreme, I didn't like them at first; they just sat in my closet. I wore them one summer when I didn't have anything else to wear, and they looked good. I love when I find a pant I can go out in and people compliment them. I can skate in them, and they're comfortable, too. These are the ultimate pants.
Where did you get what's on your nightstand?
My gratitude rock from my mom. I was raised super-spiritual, and my mom was teaching us about the power of manifestation, and with that you have to show gratitude to the universe. It's just something to remind me. When I wake up, I pick up the rock and say what I'm grateful for.
Where did you get the item you wear the most?
My necklaces are from a few places, like The M Jewelers, Mejuri, and Popular on Canal. I have an FA chain, which stands for Fucking Awesome; I got that to remember when I turned pro. I have a Yankee chain, which is for when I got into the New York Times in the fashion section, which was super unreal. I have another with a bird on it. Last year, I had surgery, and it was a really rough time in my life, and I made it out unscathed. I don't get tattoos, so my chains are like tattoos. They all have meaning to them.
Where did you get your signature scent?
YSL Libre. It reminds me of a big change in my life. I had moved from Delancey to the East Village and that was the perfume I had during that era. I was killing skating, and life was really good. It brings back good memories. When I put it on, I can tell how I felt.
Where did you get the item you splurged on the most?
My bag from Maison Margiela. I wanted it to be a skate bag that I could travel with when I'm on my board. I thought the irony would be hilarious to have this really nice bag and pull out trucks, bolts, and dirty wax. It's a really nice bag so that never happened. What I actually keep in my bag is a piece of gum, my Vivienne Westwood wallet that I'm really hyped on, and my pocket knife.
Where did you get your favorite pair of shoes?
My collab with Vans. Vans came to me with a lower silhouette, and I was really into high-top shoes at the time, so we combined two of the shoes, and then we made the Zahba Mid. The color was inspired by a time last year when the leaves and my life were changing. I was recovering from my surgery, so I had a lot of time to just walk around figuring out who I am without my skateboard; the shoe really represents that. I drew the logo, and I felt like it was a good symbol to represent me and myself. It all ties back to me as a person.
It's a walking shoe and a skate shoe, so your feet don't hurt if you're walking all day in New York. I learned pretty quickly that I need comfortable shoes I can also skate in; I don't want to have two pairs of shoes in my backpack.
Where do you get your favorite gifts to give?
Diptyque. I love to gift their candles, and they have these cute little balm tins with designs engraved on them. It's a cute gift and thoughtful. You can never go wrong with these; no one will be bummed they got a candle.