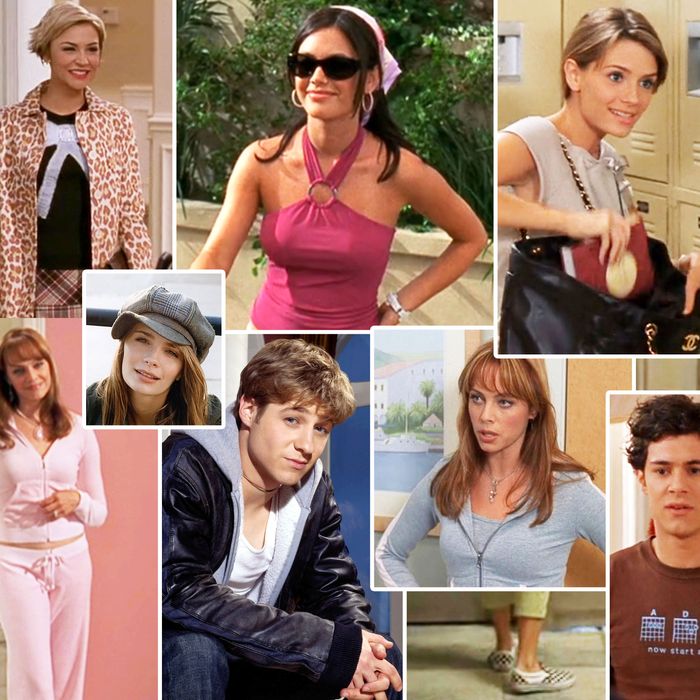 Photo-Illustration: by The Cut; Photos: Everett Collection, Fox/Warner Bros. Television
The O.C., a teen drama set in California, gifted our tween selves with campy characters, soapy storylines, and above all, looks we couldn't afford. When the show premiered in the summer of 2003, we welcomed an eclectic and more-is-more aesthetic, bidding adieu to the minimalism of the '90s. Mischa Barton's portrayal of Marissa Cooper made her the undisputed "It" girl, repping brands like Chanel; Adam Brody, who played Seth Cohen, single-handedly made geek chic; and thanks to Summer Roberts, played by Rachel Bilson, PacSun and Abercrombie & Fitch became household names. Two decades later, to the delight of some and horror of others, many of the same trends are back. We look back to The O.C. as a treasured time capsule of Y2K fashion when Lacoste polos, American Apparel, and (tragically) low-rise jeans were inescapable; Marc Jacobs, Betsey Johnson, and Jimmy Choo ruled supreme and it was all about accessories like scarves for belts, sequin accents, fringe details, and velour anything, really.
"Fashion, in general, runs on a 20-year cycle, so it makes perfect sense that, over the last few years, we've seen noughties fashion making a comeback," says Alexandra Welker, costume designer of season one.
With designers Welker, Karla Stevens Flanigan of season two, and Robin Lewis West of seasons three and four, we revisit some of the many wearables that defined Y2K fashion.
Marissa Cooper's School Uniform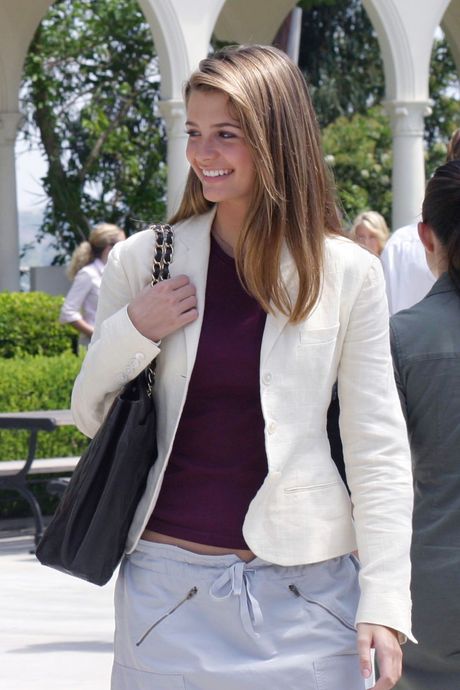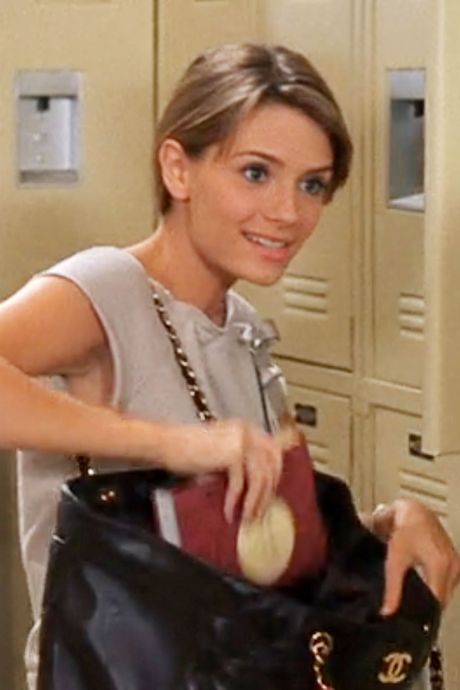 At 16, Marissa carried her lavish lifestyle in the form of a Chanel purse that she so humbly used as a school bag. "We were telling the story of Orange County, and so we're selling that aspirational lifestyle," Welker says. "That was a bag choice that your typical high school girl wouldn't be carrying around, but it said something about her taste, her wealth, and her level of sophistication that some of her peers didn't really have."
Ironically, her oversize shoulder bag, a black quilted Chanel, was actually a dupe due to budget constraints in the first season. "I was relying on some, shall we say, unlicensed vendors of really good knockoffs in the L.A. Fashion District," Welker says. "By the time we were halfway through the first season, [we were] blowing up, and Chanel was loaning me dresses, and we suddenly had real Chanel to work with."
Ryan Atwood's Evergreen Leather Jacket
Ryan's brooding bad-boy uniform, complete with a white tee or tank, gray hoodie, jeans, a rawhide leather choker, and, of course, his angsty leather jacket, is a quintessential Y2K fit. A beacon of the millennial rebel aesthetic, Ryan and his rugged style sparked a craze for leather jackets and distressed denim in modern fashion. It's giving Marlon Brando in The Wild One and John Travolta in Grease.
"It's a great cliché, and it works, but I wanted Ryan to be a little different than that," Welker says. "When I was growing up, there were a couple of boys who were the cool tough guys in school, and honestly, they didn't have very much money, so they wore the same things over and over," Welker says. "But the one thing that each of them had that was their prized possession [was] some really cool jacket that was kind of their armor against the world." Ryan's jacket was more than just practical; it doubled as a shield, protecting him from the world. Eat your heart out, Fonzie!
Summer Roberts's Halter Top
While Marissa may have been the style trailblazer, Summer's commitment to being on-trend is commendable. On an action-packed getaway to Tijuana, she wore an outfit that still slays today: a crisscross fuschia halter top paired with white trousers, white wrist cuffs, a headscarf, hoops, and "big Italian film-star sunglasses." Welker couldn't resist. "I love that idea of L.A. in the sixties, Joan Didion, Valley of the Dolls, so that was Summer's homage to a vacation outfit with a little bit of '60s flavor," she says.
Anna Stern's Punk Looks
This is the epitome of an "if you're dressing up without being super-dressed up" outfit, as Welker so dubs it, and I couldn't agree more. The adorable tulle bow adds a punk-princess twist to the ever-popular sparkly embellished tee trend. The quirky pairing of a plaid mini and a leopard corduroy jacket exudes an East Coast vibes that is true to her Pittsburgh girly charm. "I love leopard because it can be worn equally by wealthy old ladies in their 80s, and, like, punk rockers," Welker says.
Julie Cooper's Juicy Tracksuits
Juicy Couture tracksuits reigned as the ultimate suburban status symbol in the early aughts, and Julie (portrayed by Melinda Clarke) was a devoted fan. "I lived at the Juicy Couture boutique in Malibu," Stevens recalls. "We would call them her 'sweat-sedos' because it made it feel so much fancier."
According to Welker, Juicy peaked and lost some of its allure among trendsetters during the show's run. But those entrenched in Californian suburbia continued to covet these velour tracksuits. "You would see women of wealth and leisure shopping on Robertson Boulevard — or wherever the chic boutiques were at the time in L.A. — in their Juicy colorful sweat suits, with really expensive handbags, and amazing manicures and pedicures, and perfectly coiffed hair," she says. "It had to be part of Julie Cooper's presentation to the world that she would have like five or ten."
Kirsten Cohen's Soft-Power Suit
This charcoal gray pantsuit, adorned with subtle details, was a masterclass in soft-power dressing. The slim boot-flared pants and collared blazer, elevated with black lining and a tassel closure, proved that sophistication can be anything but boring. "I absolutely loved dressing her because [Kelly Rowan] was very specific, tailored, classic, and we did all the taupes and creams and whites that have come back tenfold," Stevens says. Often wearing well-fitting Theory suits, she paved the way for tailored and neutral-toned ensembles. As Welker points out, "Kirsten would never be caught in a Juicy tracksuit."
Alex Kelly's Pleated Denim Mini
In a mere 13 episodes, Alex (played by Olivia Wilde) broke new ground as the show's first openly bisexual character and defied the fashion norms of O.C. in the 2000s — or what Stevens calls "beach chic." Channeling the edgy, rock-and-roll spirit of Gwen Stefani, Alex's fashion choices transcended the typical nylon bikinis and butterfly clips. "I was obsessed with Gwen Stefani, so she was probably one of the inspirations for me, and also, my best friend in high school was punk rock, so I knew the style instinctually," Stevens shares. "We wanted her to feel likable but also give her a different look than all the other characters on the show."
The pleated-denim mini, possibly from 7 For All Mankind or Frankie B, is the centerpiece of Olivia Wilde's debut ensemble. The accessories were her secret weapons — an arsenal of bracelet cuffs, a statement necklace, and a studded belt layered over the skirt. Hair-wise it was all about the updo pouf and bold purple streak.
Marissa's Couture Prom Dress
At prom, Marissa wore a camellia dress from Chanel's spring 2006 collection — a strapless midi-length babydoll cream-colored gown embellished with intricate textured floral crinkles. "We found that dress and thought, 'Oh, it's perfect. We don't need to look anywhere else'," West says. "We had to take it apart a little bit and put some alterations in it and then put it back to its original state." (There were just two available in the U.S., and six more in other parts of the world.) Her choice of flats was no coincidence; a strategic decision to maintain balance, both in height and style.
Seth Cohen's Retro Tees
Seth's curated collection of graphic tees served as an ode to his love of indie music and subculture. Among Welker's personal favorites is a chocolate-brown Paul Frank tee, featuring guitar chords — A, D, and G — and inscribed with the cheeky words "now start a band." "It was really on the money and wonderfully tongue-in-cheek," Welker says, who affectionately describes Seth as "a self-identified old Jewish man." She added: "This was a time where you couldn't just waltz into Urban Outfitters. They didn't have the wall of funny, ironic, snug-fitting T-shirts."
These tailored tees, frequently paired with Levi's slim jeans or 517 corduroys, diverged from the prevailing oversize teenage attire. "Adam Brody had the most opinions about his look," West says. Reflecting on 2005, she recalls the difficulty in shopping for slim-fitting options for Brody, but Seth's unwavering style propelled a movement towards a sleeker silhouette.
Marisa's Tweed Cap
Stevens admits that Marissa's outfit may have been too bold, even by The O.C.'s standards. But that's what rendered it so unforgettable. Likely sourced from what Stevens refers to as "the big three" — Saks Fifth Avenue, Neiman Marcus, or Barney's New York. "I wanted it to feel elevated," she says. "We took some chances that weren't always taken to. When I did the tweed cap on Mischa, I think I got a note that [Josh Schwartz] was not a fan of that, and he didn't really say much about the fashion. As a general rule, he really trusted us to do our jobs."
As for the brooch, Stevens says it's quite possibly a find from BCBG: "I had a great relationship with them, so I would often go downtown and shop right out of their manufacturing plant, so we always used their brooches. Brooches were really in, and I was putting brooches on everything."