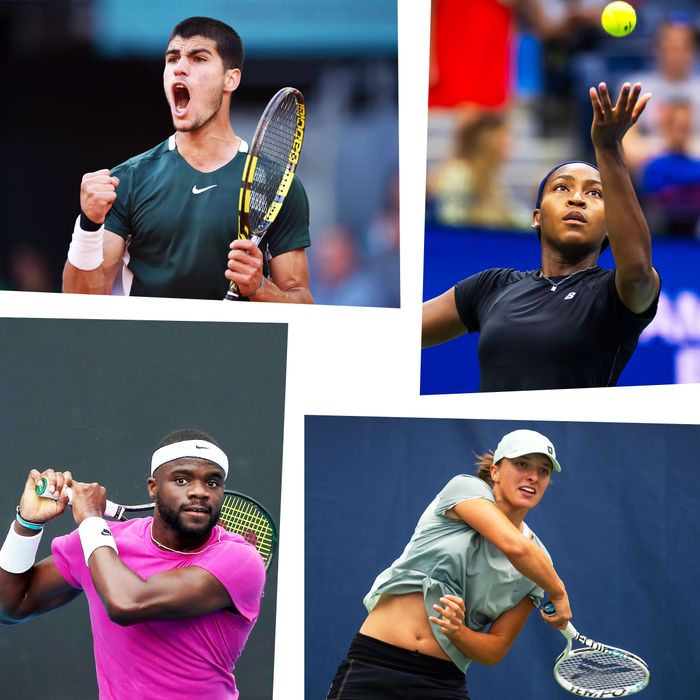 Clockwise from top left
: Carlos Alcaraz, Coco Gauff, Iga Swiatek, and Frances Tiafoe.
Photo-Illustration: by The Cut; Photos: Getty Images
Over the past week, the biggest names in tennis descended on New York City to compete in the final Grand Slam of the season: the U.S. Open. After several years of the same few people dominating the sport, 2023 has been especially fun for fans because of the variety of players breaking into the quarters, semis, and finals. While mainstays like Rafael Nadal, Nick Kyrgios, Naomi Osaka, and Emma Raducanu won't be playing during this tournament, there will still be plenty of exciting matches to tune into.
Whether you're a lifelong tennis lover who follows every match, a new fan who's become invested in the sport since watching Netflix's Break Point, or just a person who hasn't kept up since Venus and Serena were the biggest names in the game, we've got you covered. Here's a guide to the players you should follow on (and off) the court over the next two weeks.
Coco Gauff
Cori "Coco" Gauff might be only 19, but she's been one to watch on the court for several years. She's coming into the U.S. Open on a hot streak: After she was surprisingly knocked out of Wimbledon in the first round this summer, Gauff won the Mubadala Citi D.C. Open and became the first teen to win the Cincinnati Open in 19 years.
Though she grew up in Atlanta, Gauff was born in Delray Beach, Florida, a 20-minute walk away from Pompey Park, where Venus and Serena Williams — who inspired her to play — frequently hit the courts. The tennis star is also fond of wearing extra-long nails, which some haters say are causing her forehand to suffer. She, however, would like everyone to know that her forehand is doing just fine, whether her nails are short or long.
Carlos Alcaraz
At just 20 years old, Alcaraz has a very bright future in tennis ahead of him. When he was 19, the Spaniard earned the distinction of being the youngest man to ever be ranked No. 1. And after he beat Novak Djokovic to win Wimbledon this year, his opponent described him as being the perfect mix of the three best male players we've seen over the past two decades — Roger Federer, Rafael Nadal, and Djokovic himself — which is pretty high praise!
Alcaraz also has a fun sense of style, bringing his personality to the court with patterned and brightly colored tees. He's embraced luxury fashion as a self-professed Virgil Abloh fan and a newly minted Louis Vuitton ambassador — plus, he'll likely wear a great rotation of Nike Vapors throughout the tournament.
Iga Swiatek
Swiatek, the world No. 1 from Poland, has had a great year with a French Open win and enters the tournament a clear favorite. Thanks in part to her, men and women are now competing at the U.S. Open with the same tennis balls: At last year's tournament, the 22-year-old called out the "pretty bad" lighter balls reserved for women, saying she didn't get why they were different. Regardless, she won the tournament. Off the court, we love that Swiatek created a very relaxed book club to meet her 2023 resolution to read more. Relatable!
Frances Tiafoe
Tiafoe made a lot of fans happy last year when he became the first American man to make it to the U.S. Open semifinals in 16 years (the last person to do it was Andy Roddick, a.k.a Brooklyn Decker's husband). The 25-year-old has been putting in work since then and is now ranked No. 10. While Tiafoe got knocked out of Wimbledon before the fourth round earlier this year, he was refreshingly direct in telling ESPN that he knew he "played god-awful," so the U.S. Open could be a big comeback moment for him.
Even though Tiafoe mostly uses social media to share tennis updates, he's also known to let his followers in on his travels and date nights with his girlfriend, tennis player Ayan Broomfield. (He and Broomfield love to hype each other up on Instagram.) He's also a big basketball fan who played in the NBA All-Star Celebrity Game earlier this year.
Ons Jabeur
Jabeur, a 28-year-old Tunisian player who's currently ranked No. 5 in the world, has been making history in the tennis world for years. She is the first North African woman and the first Arab woman to make it to a Grand Slam final. Last year, she made it to the final round of the U.S. Open (she lost to Swiatek), and this year, she went all the way to the Wimbledon final. Maybe you saw a clip of her being comforted by Princess Kate after losing to Marketa Vondrousova earlier this summer? Known for her chill demeanor (her fans call her the "minister of happiness"), Jabeur mostly sticks to posting about tennis on social media, although she occasionally shares snaps of the "Yalla Habibi" tees she designed.
Jannik Sinner
Sinner, the No. 6 player in the world, is one of the most exciting to watch largely because he seems to never run out of stamina. The Italian has played more hours-long matches than any other tennis pro we can think of: He lost to 79th-ranked Daniel Altmaier in a five-hour match at the French Open, and to Alcaraz in last year's U.S. Open in another five-hour showdown. In both cases, the crowd went wild. There's a good chance we'll see another Sinner-Alcaraz showdown this time around in the quarterfinals. 
As an ambassador for Gucci, the 22-year-old is also part of the shifting focus onto men's fashion in tennis. During Wimbledon, he walked onto the court with a custom Gucci bag draped around his shoulder, a surprising choice for the notoriously conservative tournament.
Chris Eubanks
Eubanks, a 27-year-old from Atlanta, won tennis fans' hearts during his improbable Wimbledon run this summer. Despite it being Eubanks's first time competing in the tournament's main draw, he made it to the quarterfinals; after each round, he seemed surprised to still be hanging in there, but the crowd cheered him on loudly. Eubanks started the year ranked at No. 123 and is now No. 28, making the U.S. Open the first time he's seeded at a Grand Slam. All eyes will be on Eubanks to see if he can replicate his Wimbledon success there — and go even further. Here's hoping his "very, very close friend" Jamie Foxx will be in the stands supporting him.