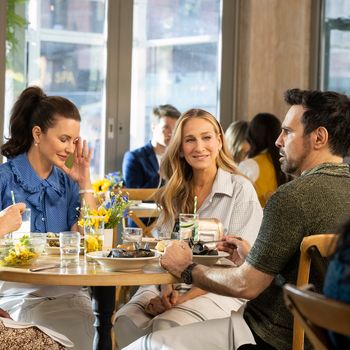 Just a coupla gals, gabbing about dustballs over brunch.
Photo: Craig Blankenhorn/Max
It's not often that I find myself seeking the expertise of a urologist twice in the span of two weeks. And yet I felt the urge to do just that after watching back-to-back episodes of And Just Like That …'s second season. Episode four, "ALIVE!", featured a scene-stealing B-plot revolving around Harry's penis, which is suddenly afflicted with a case of retrograde ejaculation, a condition that causes semen to reroute into the bladder (much to Charlotte's chagrin). This was followed, like a phallic one-two punch, by "Trick or Treat," an episode in which Seema hooks up with a guy who uses a penis pump — twice.
Other, smaller moments that see a male member take over the conversation are sprinkled throughout the season: LTW's daughter accidentally squishes her dad's balls while jumping on the bed, the camera focuses on the crotch outline of Anthony's Italian Hot Fellas employee as he strolls onto daytime TV, and even Anthony himself laments an inconvenient workplace erection. The initial appeal — and controversy — of Sex and the City was that it gave women space to speak openly about their sex lives. And yet there sure are a lot of penis-centric dilemmas unfolding in the reboot.
At first, I found AJLT's fixation on aging men and their semi-functional sex organs off-putting, and again, diametrically opposed to what made Sex and the City feel radical in the first place. This was a show that wanted us to see women on the screen talking about sex that was, in turns, fun, bad, incredible, surprising, strange, gross, and everything in between. But the more I think about it, the more I find myself enjoying being privy to these trials and tribulations on such a clinical level. Sure, it's more information on the middle-aged penis than I care to absorb in my late 20s. But for every predickament (sorry) that arises (really, so sorry), there's ample time devoted to exploring how it affects these guys' sexual partners, most of whom are women. Harry's Great Cum Shortage gave us one of the most vintage SATC scenes this reboot has produced: a bunch of girls (and one gay) discussing the pros and cons of being jizzed on over brunch. Somewhere across the Atlantic, Samantha is beaming.
It also feels as if And Just Like That …, for all its confused musings on gender politics, is pushing back against a conventionally masculine taboo around discussing one's own bedroom issues. Are men supposed to suffer in silence if they're feeling weird about a move their wife tried, or if they're curious about anal play? Maybe if some of SATC's boyfriends had their own weekly brunches to discuss, I don't know, premature ejaculation or the taste of their cum, they wouldn't have been such assholes.
There's another advantage to this show dwelling so much on men's sexual health: It takes the emphasis off the already well-documented decline of women's sexual organs as we coast into the later decades of our lives, making it more of a human issue to experience performance issues, and less something that is only associated with a particular gender. The women of And Just Like That … talked about menopause last season, but why leave it there? Hugh Hefner was out here making everyone think men can fuck without a hitch right up to the day die. Not only did an elderly Hef make an appearance on the original SATC, I can think of at least two other older gents off the top of my head whose sexual prowess was never questioned on the show. Sure, pharmaceutical ads have been shoving men's anxieties around bedroom performance down our throats for decades. But weaving those concerns, coming from the men themselves, into a show that treats women's sex lives with compassion, humor, and frankness feels far more productive than using them to market a pill.
And Just Like That … makes the valid point that, actually, all our sex lives change with age, and anyone who's sexually active in their 50s and beyond is going to be dealing with that at least a little bit. And, as is often the case in the SATC universe, you're going to see it happen — whether you like it or not.
For more, join us for the And Just Like That Club …, our subscriber-exclusive newsletter dissecting and obsessing over all the minutiae of the new season. Existing subscribers can visit this page to sign up. If you're not a subscriber yet, click here to get started.