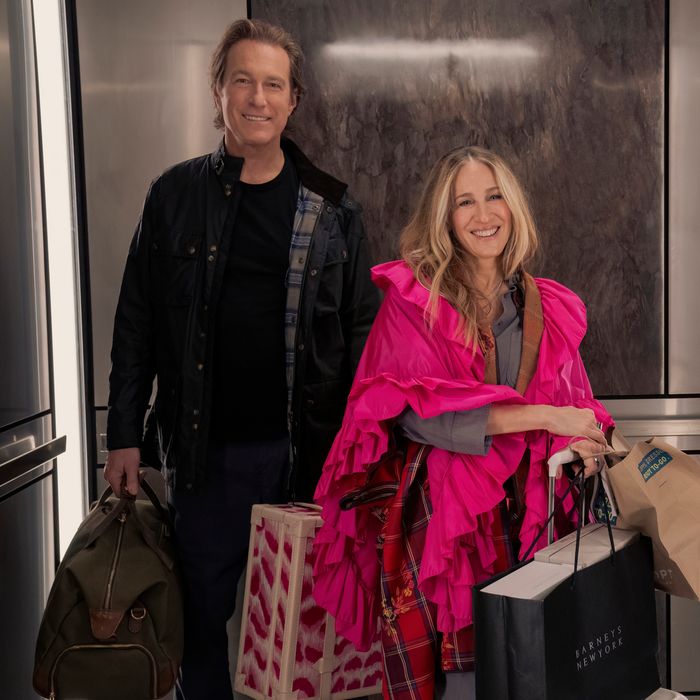 Photo: Craig Blankenhorn/Max
While many things have changed from the original Sex and the City days — Carrie's natural curls are out, blowouts are in; Big was out, then in, then out, then in, and finally very, extremely out — one element remains the same on And Just Like That …: These women will turn a look if it's the last thing they do. Luckily for you, you no longer need to hate or gawk at or gush over the costuming all by your lonesome. We'll do it together right here. Every. Single. Week.
Some episodes of And Just Like That … giveth and others … don't. This week's episode had me thirsting for Pat Field's touch in the least creepy, most fashion-forward way possible.
I keep seeing hints of the real essence of these characters in the way they dress: Why was Carrie in a robe outside? Because she's Carrie! Aidan is back in plaid, naturally, and Miranda has put on her best business casual. It feels good to see some glimpses of their spirits of yore, yet the costuming always comes up short.
We are missing a lived-in factor in these outfits. Something always feels faux or off about nearly every single look, and not in a "Carrie's wearing a white button-down shirt with a belt as a dress; is it a miss or is it iconic?" way. Rather, it feels too manufactured, like a television show's idea of what these people would dress like. Yes, I know, this is a television show that has not always felt relatable, but the original series presented characters with style that did feel real. We got to know the Sex and the City characters on a deeper level based on what they wore and how they presented themselves. I can recall specific outfit pairings from SATC as if I'm recalling my own childhood memories! Remember when Carrie was trying so desperately to be perfect for Big and decided to wear her hair straight for the first half of season two? That told you everything you needed to know about this woman. There was Samantha's own version of the naked dress, with the Dior fanny pack, when she chucks a drink in Richard's face and says, "Dirty martini? Dirty bastard." That one skinny belt Carrie wore on her exposed midriff for absolutely no reason, the bandeau top–cowboy hat combo she wore to the Hamptons Hoedown. I even remember that one gray suit Miranda loved and wore twice during her second breakup era with Steve, and the simple spaghetti-strap dress on Charlotte when she found the shoe-store employee with the foot fetish.
But in And Just Like That … the outfits try so hard to stand out that they all just jumble together in my memory, making it hard for me to remember anything actually unique about what my faves were wearing. While I'll admit the clothes are still fun (and sometimes funny) to look at, there's been a lack of sincerity that makes each outfit feel too much like a contrived costume. Nonetheless, I've found some garments from episode eight for us to gawk at together.
I Couldn't Help But Stare …
Carrie's floor-length, incredibly thick cardigan duster is something I would admittedly live in during the winter. Who needs a weighted blanket when you've got this gargantuan guy? This would be my in-between coat for any of the following occasions: going to the grocery store, getting my hair done, going on a casual fourth date, running out the door and rushing my cat to the vet (again) because she broke into the trash and ate six Q-tips when I had my back turned (again). Big might have been a "big mistake," whatever Carrie meant by that, but this piece of knitwear is not.
Honorable Mentions:
• Carrie's sleeveless-yet-sleeved sweater. Perfect for 65-degree days and 65-degree days only.
• Charlotte's little lad collar — frilly and topped with a bow.
• Lisa Todd Wexley giving "I love you, you love me" while shopping with Charlotte, with a green fanny pack situated exactly where Barney's green tummy would be.
• Carrie's ruffled pink coat.
• A big episode for robes: Carrie's opening coat seems to be at the very least robelike, and the fussy Hollywood client foisted on Seema appears to also be wearing a robe?
• That same client's ascot!
• Charlotte's pink belt and the show's half-hearted attempt at body positivity. Just get rid of the belt, Char! Bone-broth diets are not meant for fashion; clothes should just fit you however they fit you, you don't need to force yourself to fit your clothes!
• Aidan's plaids and flannels.
• Giuseppe's old-timey leather riding gloves. Bring these back.
• The gallerist in the bomber jacket with the vampire shoulder pads paired with the Margiela tabi boots. Thank you.
For more, join us for the And Just Like That Club …, our subscriber-exclusive newsletter dissecting and obsessing over all the minutiae of the new season. Existing subscribers can visit this page to sign up. If you're not a subscriber yet, click here to get started.