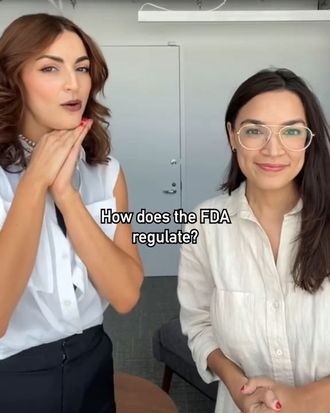 Photo: @aocinthehouse/TikTok
Not-so-fun fact: The United States hasn't gotten a new UV filter in sunscreen since 1999. Just to put that into context: Beyoncé was still part of Destiny's Child, the impeachment trial of President Bill Clinton came to a conclusion, and music-streaming service Napster was released. Compared to Europe and Asia, where sunscreens are more advanced, the U.S. is behind. It makes sense why every French pharmacy-influencer haul includes piles of sunscreens, but not everyone has the means to purchase a flight to Paris or Seoul to get decent sunscreen. Representative Alexandria Ocasio-Cortez wants to change that and is calling on us to reach out to Congress to do so.
AOC recently posted a video with Charlotte Palermino, licensed aesthetician and co-founder of Dieux Skin, discussing how far behind the U.S. is when it comes to sunscreen: "I was in South Korea earlier this year, and it is so clear how far advanced the rest of the world is on sunscreen," AOC said. "We deserve better here in the U.S."
Why Is the U.S. Behind Other Countries When It Comes to Sunscreen?
The answer is simple and complicated: Strict FDA regulations about sunscreen create bureaucracy that slows down the process. "Our FDA is different than the rest of the world in that we regulate sunscreen as a drug instead of a cosmetic. Since it's regulated as a drug, it has far more stringent standards, far more testing, far more scientific and clinical trials that are required," AOC describes in the video. While excessive testing and trials can be beneficial and safe, they can also be costly and prevent the U.S. from getting sunscreen filters, leaving us far behind countries that have more ingredients allowing them to have a wider range of products and better ones on the market. A 2017 Sloan Kettering study found that only half of U.S. sunscreens met European protection standards.
Why Should We Care About Sunscreen?
We don't have to defend sunscreen in this house: It protects our skin from the sun, lowers risks of skin cancer, has anti-aging effects, and is effective for hyperpigmentation and dark spots. This year, the American Cancer Society reported that about 3.3 million Americans were diagnosed with skin cancer. And each year, that number is increasing.
What Can We Do About Sunscreen?
AOC says that there is a way to change these FDA regulations, and it is by reaching out to our Congress members: "If your member of Congress sits on the Energy and Commerce committee, they have jurisdiction over the FDA. However, any member of Congress can develop attention and draw attention to this issue," she says. "It's not too corny; please contact your member of Congress." Having access to the best sunscreen doesn't sound corny at all, so please, listen to AOC and contact your Congress members. We deserve better sunscreen. Here's your script of what to ask: "Please break through the regulatory barriers of the FDA and fund public research so that we all enjoy the sunscreen filters that develop out of the scientific process." Palermino says we just need to make some noise about it. So, let the noise begin.