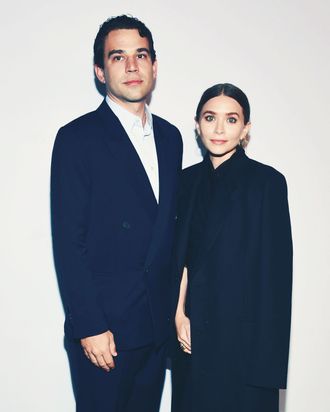 Photo: Lisa O'Connor/AFP via Getty Images
You have to give it to Ashley Olsen: Even after three decades in the spotlight, she knows how to keep things mysterious. The fashion designer and her husband, Louis Eisner, reportedly welcomed a son, Otto, at some point in the past few months — yes, months — according to TMZ. Otto is the couple's first child, and in typical Olsen style, absolutely no information about his arrival, like when or where he was born, has been released.
Olsen and Eisner (an artist and the son of jewelry designer Lisa Eisner) began dating sometime in 2017 and got married last December at a private home in Bel Air. Very few details about the ceremony, other than the fact that it happened, have become public knowledge, which feels in line with their union overall: The couple has never commented on their relationship, though we have gotten the occasional glimpse of them on the red carpet for charity events, out on a dinner date, and enjoying the outdoors. Who can forget the image of Olsen hiking with a beer in one hand and a giant machete in the other?
For anyone holding their breath for photos of baby Otto, might we suggest you don't? If there's one thing we all know about Olsen, it's that she values her privacy. We don't expect to be seeing any baby pics or getting any additional intel about her child — and good for her! Congrats to the new parents.