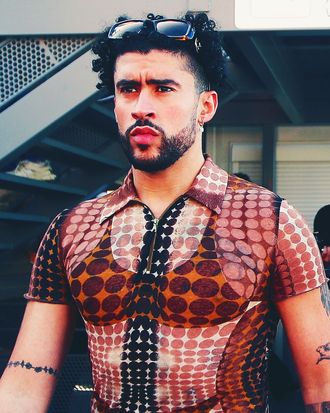 Photo: Eric Alonso/Getty Images
While some artists were dropping either end-of-summer tracks (Selena, Addison, Miley) or each other (et tu, Pete?) or Scooter Braun (basically everyone else), Bad Bunny dropped, um, something else over the weekend. On Sunday, he posted a photo-video dump (at least 57 snaps, to be exact) of what appear to be his recent adventures to Instagram Stories. Including a nude selfie.
Though the photo doesn't reveal everything, it leaves very little to the imagination. Standing in an indoor-outdoor shower, the image cuts off just above his penis, but just below his pubes, which meant "Benito" trended on Twitter for much of the day. Of course, this isn't Benito's first time uploading risqué pics to the 'gram, but it is probably his most explicit, and based on the rest of his IG Story, he's been spending a lot of time in the gym, so who can blame him for wanting to show off a little?
The rapper seemed to also have a little message for those who might still be in denial about whether or not he's really dating Kendall Jenner, sharing a video where he's rocking a necklace with the letter "K" and a photo of two cocktails with a bottle of Jenner's 818 Tequila in the frame. If that weren't enough evidence, he also shared a video from a hike with a woman whose voice is veeeeery similar to Jenner's where, worried about mosquitoes, he tells her to "be careful, Mami." MAMI.