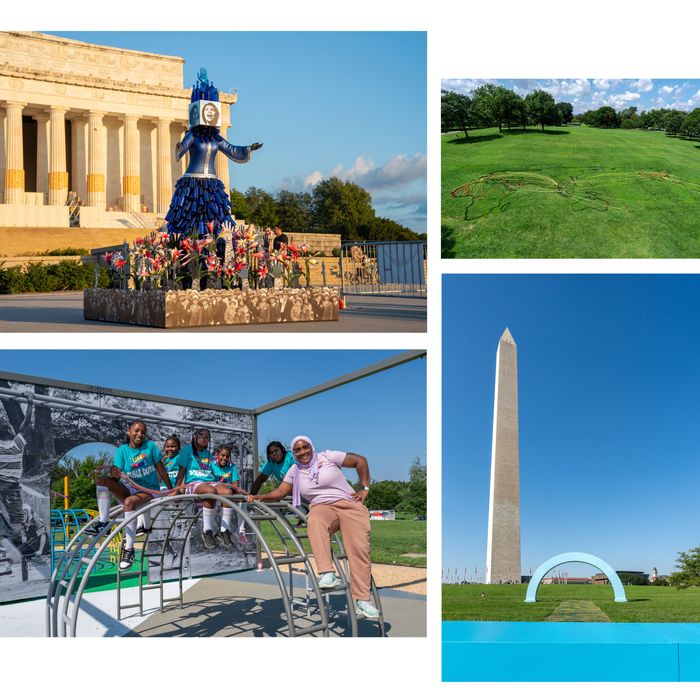 Photo: AJ Mitchell/ AJ Mitchell Photography
On Easter Sunday in 1939, an audience of 75,000 gathered to see the legendary contralto Marian Anderson perform on the steps of the Lincoln Memorial. The Daughters of the American Revolution had barred Anderson from performing at Washington, D.C.'s Constitution Hall because she was Black, and so she made musical history on the National Mall instead. Activist and educator Mary McLeod Bethune later described the concert as telling "a story of hope for tomorrow — a story of triumph — a story of pulling together, a story of splendor and real democracy."
Beyond Granite: Pulling Together, the first-ever curated outdoor exhibition on the National Mall, takes its name from Bethune's review. The exhibition, on display through September 18, features the work of six artists tasked with telling stories that had yet to be commemorated in the heart of our nation's capital. "A lot of monuments have been created to tell a particular story of American unity at the expense of our very difficult history of segregation, of colonization, of LGBTQ discrimination, and of slavery," says Salamishah Tillet, one of the exhibit's curators who is also a professor of African American studies and creative writing at Rutgers University and a Pulitzer Prize–winning contributing critic for the New York Times.
Tillet and Paul Farber, the exhibition's co-curator and director of Monument Lab, a public-art and history nonprofit, were inspired by events that are ingrained in our national memory but haven't been permanently honored on the Mall: the displaying of the AIDS quilt in 1987, Martin Luther King Jr.'s 1963 March on Washington for Jobs and Freedom, Anderson's Easter Sunday performance. "Those events are as important as what's in granite on the Mall," Tillet said.
She and Farber wanted to work with artists who could strike a balance between democracy and dissent. The resulting works stand out from the sea of granite, marble, and limestone fixtures across Washington thanks to their creators' use of nontraditional materials, including musical compositions, glass, and landscape edging tools. "Monuments can be impressive, but they can also be cold and disinviting," Farber says. "These monuments intervene with color in the landscape, with layered stories. You are encouraged to touch them, engage with them, be around them, and activate them."
Below, see how the six featured artists chose to celebrate those history-making names and events not already etched in stone on the Mall.
Tiffany Chung, For the Living


Chung is known for her cartographic drawings, sculptures, and videos, and her contribution to the exhibit is a world map criss-crossed with hundreds of lines of colored rope that represent the routes Vietnamese and other Southeast Asian refugees took when they were forced to leave home following the end of the Vietnam War. For the Living is fixed to the ground near the Vietnam Veterans Memorial, which Chung said she finds beautiful but problematic because it only commemorates death, and the deaths of Americans at that. "We have almost 2 million deaths in Vietnam from both sides — North and South — not even counting Laotians and Cambodians, and this exhibition is the opportunity to go in and try to insert a piece of our history," she says.
Chung also saw participating in the exhibition as an opportunity to commemorate those who survived the war, many of whom languished in refugee camps in the conflict's wake. "Growing up in Vietnam after the war, I never saw, at least during my youth, any monuments that really commemorated the people that had to live through this," she says.
Wendy Red Star, The Soil You See …
Red Star's monument — a seven-foot-tall red glass thumbprint, located in Constitution Gardens — represents her Apsáalooke (Crow) ancestors who went to Washington and negotiated with the government to keep their community and culture alive. Etched in the thumbprint are the names of the 50 Apsáalooke chiefs who signed treaties between 1825 and 1880. "If they had not fought and did what they could do, my experience would be completely different," she says. Red Star had grown up on a reservation in Montana and wanted to see more Indigenous stories around D.C. "Aside from the National Museum of the American Indian, there really isn't any Indigenous representation anywhere else on the Mall, and so I wanted to take up that challenge," she says.
Ashon T. Crawley, HOMEGOING
Crawley's HOMEGOING, located on the south ground of the Washington Monument, is a three-part musical composition that honors Black queer musicians who died after living with AIDS. The work is made up of several stages laid out across the grass with speakers underneath. The composition includes choral music backed by a Hammond organ and features a reading of the first names of some of the deceased. "As a young person, I was noticing the disappearance of so many musicians, singers, and choir directors, and yet no one was really remarking within the religious context about the loss other than to say that people are dying of AIDS and AIDS is deserved because of their sinfulness," Crawley says. "There wasn't really an occasion to really honor them." The musician and professor of religious studies and African American and African studies at the University of Virginia said he hopes those who interact with the work walk away understanding the importance of addressing grief and loss.
vanessa german, Of Thee We Sing


When german set out to create a monument that celebrated Black women who haven't been honored in American history, she couldn't stop thinking about Anderson's performance. "Something that really stuck in my heart was what she said in her speech thanking people coming to see her perform, which was, 'Please try to imagine all the things I cannot say.' That was central to this," german says.
The artist, who is known for her sculptures, immersive installations, and performances, created a towering sculpture of Anderson singing with an "open heart and open arms." "It is three dimensional," german says. "People will have to walk around it. They will have to move their body in a circle." She created Anderson's skirt from blue glass bottles, which the Gullah Geechee, descendants of enslaved Africans, use to trap evil spirits. German also wrote the notes of one of the songs Anderson sang at the concert, "Nobody Knows the Trouble I've Seen," along the trim of Anderson's blouse. The sculpture's base is a black-and-white image of the crowd that came to support the singer, and from that base, Namibian sandhof lilies grow. The lilies only bloom every few years under perfect conditions — a reminder of a rare moment when Americans of different races were brought together in celebration despite their differences.
Derrick Adams, America's Playground


Baltimore-born artist Derrick Adams, whose work focuses on Blackness in America, dug into local archives to bring his monument to life. He used a black-and-white photo of one of the first desegregated playgrounds in the district as an anchor to create a life-size playground on the east side of Constitution Gardens. Half of the playground is painted gray, while the other half is colorful; bridging the two sides is an archway displaying a blown-up version of the photo. The bifurcated playground represents a moment when the country was filled with hope and possibility, Adams says. "Kids will have an opportunity to engage with the structure and take from it what they can digest," he says. "But the adults who accompany the kids will understand the politics and the history surrounding the image."
Paul Ramirez Jonas, Let Freedom Ring


Bells are typically hung high in towers, out of reach, or else they're displayed on the ground, filled with cement and not meant to be rung. Ramirez Jonas, whose work often calls on viewers to participate, wanted to change that with Let Freedom Ring, located by the Smithsonian Metro on 12th Street. The work mimics a bell tower and has an automated carillon that plays 41 of the 42 notes in "My Country Tis of Thee," which Anderson also sang during her Easter Sunday performance. Visitors can ring the bell at the sculpture's base to play the patriotic tune's last note. "I hope people will say, 'Well, what does that mean? This song is not complete without me, just like the promise of our country is incomplete without my participation,'" Ramirez Jonas says.