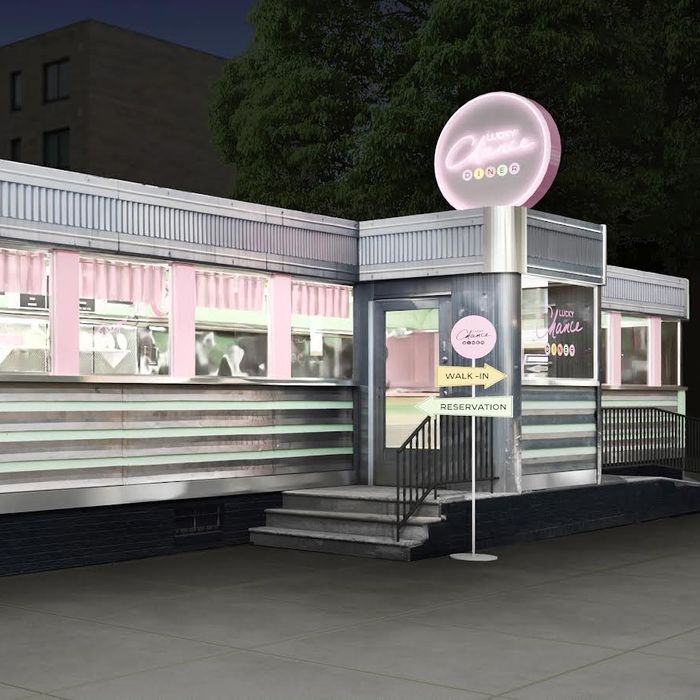 The outside of the Chanel diner.
Photo: Chanel
There's nothing quite like moseying into a New York City diner for a juicy burger and crisp French fries, but have you ever been to a diner and been served … fragrance? Probably not. Chanel is taking over a diner in Williamsburg — 225 Wythe Avenue — to celebrate its nostalgic Chance fragrance. (Remember those round bottles and crisp floral smell from the early 2000s?) The brand will deck the space out with a pink- and green-adorned interior, flood it with Chance bottles, and create photo-worthy opps with things like a double-C pink clock to a napkin-holder alongside the dining bar with Chanel's signature logo. Here are all the details. (The Cut readers get first access to the sign up, so sign up here for your Lucky Chance experience.)
What Does the Lucky Chance Experience Entail?
When you arrive at the diner it appears to be a traditional diner experience — a host stand, dining booths, and countertop seatings, but once you enter the bubblegum-pink space, you'll notice the menu isn't full of food options — instead, it will be the start of your fragrance discovery experience. Your interactive booth time will be dedicated to finding the Chance fragrance that is perfect for you. How will that be determined? That's a bit of a surprise. Following the fragrance experience, you'll be invited to the back room of the diner where you can win customizable takeaway gifts within the vending machine. There will be even more games in the courtyard of the diner, as well as an outdoor pick up window where you can pick up your Chance fragrance. Of course, there will be a handful of Instagrammable photo moments, so come with your cameras ready and your Chanel-inspired outfits.
Is There Food?
There will be complimentary soft-serve ice cream, small bites, and beverages. Unfortunately no French fries, which is what we always go to diners for.
How Do I Sign Up for the Chanel-Themed Diner?
Right this way. The diner will be open to the public for three days: September 8 to 10 from 11 a.m. to 7 p.m. Reservations are not required, but are encouraged since reservations include the seated experience portion of the diner.