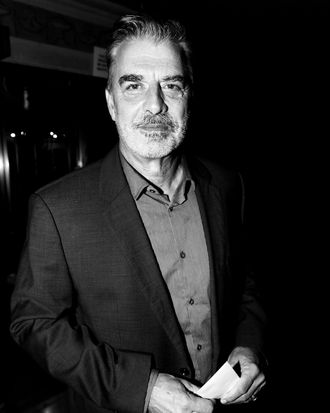 Photo: Bruce Glikas/Wire Image/Getty Images
Four women came forward accusing former Sex and the City star Chris Noth of sexual assault after the 2021 premiere of And Just Like That … The actor vigorously denied any wrongdoing in a statement at the time, saying that "no means no" and "that is a line I did not cross" while questioning the timing of the allegations. Now, in his first interview since the allegations surfaced, Noth again denied having any nonconsensual encounters and told USA Today that the professional fallout he's experienced over the past year and a half is like "being slimed."
Noth's final scene was reportedly cut from the And Just Like That … finale as the show's female stars publicly stood behind his accusers. He was subsequently fired from his other show, CBS' The Equalizer; dropped by his agency, A3 Artists; cut from a Peloton campaign; and lost a $12 million deal for his tequila brand. Now, he's doing promotion for a bespoke suit company called Samuelsohn, which was supposedly the context for the USA Today interview. Instead, Noth appears to have dedicated a lot of time discussing the "tidal wave" (of what, he did not specify) launched against him following the allegations.
Abiding by his previous statements, Noth reiterated his claim that he had consensual sexual encounters with some of the women accusing him of assault. "I strayed on my wife," he told USA Today. "And it's devastating to her and not a very pretty picture. What it isn't is a crime." He elaborated on his adulterous mindset before addressing the impact the allegations have had on his public image. "There's nothing I can say to change anyone's mind," Noth said. "It sounds defensive. I'm not. There's no criminal court. There's no criminal trial. There's nothing for me to get out on the stand about and get my story out, get witnesses."
He went on:
There's [sic] even more absurd add-ons that are completely ridiculous, that have absolutely no basis in fact. And I don't like talking about it because as soon as I do, you'll get the Daily Mail or someone grabbing a part of it and doing it, and I don't want my kids seeing that.
It's unclear what Noth is referring to by "add-ons that are completely ridiculous." But when Lisa Gentile, a singer-songwriter who claims to have known Noth for several years, alleged to the Daily Beast that he pushed her up against a countertop and kissed and groped her in 2002, his publicist responded that Noth "denies this as ever happening and has no idea who this woman is." The accounts of several of Noth's other accusers were corroborated by multiple sources whom they told after the alleged assaults occurred.
Noth has not faced any criminal charges to date. When asked whether he's concerned about the possibility of civil lawsuits, he responded, "That's a money train for a lot of people." USA Today contacted Gloria Allred, who's representing some of the women accusing Noth and who declined to comment for the story.
As for Noth's career, he claimed in the interview that he had enough money "to let a year drift" job-wise. He is attempting to "get back into the club" and start working again, but he said that "corporations are frightened" of hiring him after the allegations. He concluded, "I'm not going to lay down and just say it's over. It's a salacious story, but it's just not a true one."