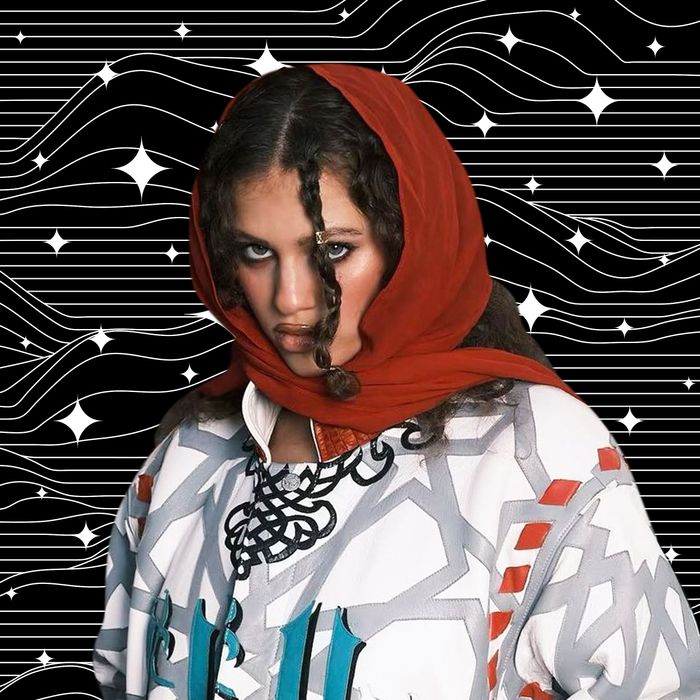 Photo-Illustration: by The Cut; Photo: Provided
In April 2023, New York Magazine celebrated "It" girls: who anointed them, what it was like to be them, and where they are now. Follow along as we continue that celebration by interviewing musicians across genres who we think have "It."
Earlier this year, Elyanna, the Nazareth-born, New Wave Arabic pop musician, became the first artist to perform a full set in Arabic at Coachella. The moment was a turning point both for Elyanna, who was born Elian Marjieh, and for Arab Americans — like a new path had been forged between Arabic culture and folk music and Western pop culture. Clips from the performance began circulating on social media, some showing concertgoers tearing up in the audience. At the end of her set, the Palestinian Chilean singer waved a keffiyeh, a traditional black-and-white patterned scarf that has come to serve as a symbol of Palestinian pride and solidarity.
When Elyanna greets me, there is no mistaking her voice — it sounds like honey drizzled on velvet — and her signature mane of blonde curls is slicked back into a bun, two massive hoops dangling from her ears. Since her Coachella performance, Elyanna has solidified her status as a global phenomenon by becoming the second-ever Arabic musician to reach over 20 million streams on Spotify, a milestone also held by fellow pop icon Nancy Ajram. Her music blends the lyrical yearning and vocal runs native to traditional Arabic music with more modern beats and percussion, creating a unique sound that walks the line between classical and contemporary. At just 21 years old, she is carrying the weight of representing the future of the global music industry, but she's taking it all in stride.
What was your upbringing like?
I grew up in Nazareth until I was 15. I always for some reason felt so unstoppable, but it felt like there's really no opportunities back home and there isn't much you can do to grow your talent, but I always had that drive. I always tell my mom that I actually don't know where I got this attitude from, but I guess it's from her because she is, to me, an "It" girl. She is a real woman and she raised a family and she was able to make sure all our talents were growing. To me, that's the definition of an "It" girl — you do it all and there's nothing that stops you.
I have three siblings. We're like a team. Like my brother, he would just spend hours next to me while I sing. He'd push me to go to shows in Nazareth and do covers. I mean, he's the one that pushed me to do all these things. My sister was always into fashion. She would always dress me for all these events. We always felt like we had a purpose to achieve together. So I believe that I could not do this without them.
What was it like growing up in Nazareth?
Nazareth is beautiful. Growing up there, this is home, so going back there makes me so emotional. You grow up with people from kindergarten to senior year, so they're like your family. When we would finish school, I would go back home and a lot of times I would see my mom with her friends, they would make Arabic coffee and I would sit with them and listen to their stories.
Then I would go inside and I would dress up and I would go sing to everybody with the loudest mic ever. Sometimes I would sing until four in the morning with my dad.
What is your earliest memory of music?
I remember being at home and in my mom's room when I was 7. My parents had a big mirror and I remember that I was just singing the whole time in front of it, but I was so shy. My siblings and my mom used to sneak and listen to me.
When you first started to make music, did you know that you were going to be as successful as you are now?
I always had this belief of "something is gonna happen." When I started making music, it felt like taking a risk. I was 16. And I didn't even want to sing in Arabic. I don't know what I'm doing, but I'm doing it because it's a gut feeling. And I will always say, follow that gut feeling. I'm grateful for everything that I've achieved, of course, but I feel like there's so much more to come and there's so much more to do.
What made you want to stick with singing in Arabic?
It didn't feel right [to not sing in Arabic]. I tried different styles that I didn't feel like I connected to and I wanted to do something that was never claimed. I live in L.A. and I sing in Arabic and a lot of people don't really get it at all. Some people get it, and now I feel like we're at a place where people are understanding the point and the vision behind it and why I'm doing this.
Would you consider yourself an "It" girl?
My definition of an "It" girl is someone who's a hustler. Someone that doesn't stop and doesn't take no for an answer. I would say that all girls are "It" girls because we're all powerful. A lot of us don't know our power yet. But one day if you keep looking, you'll find it. That's what I want to tell all the girls. I would say my sister is an "It" girl. I'm an "It" girl. My mom is an "It" girl. You're an "It" girl. I'm an "It" girl because I have this attitude where, if something makes me doubt myself or someone makes me doubt myself, I don't get sad, I get angry. When I'm angry, you will get the best out of me. You'll get the Elyanna you're looking for. All "It" girls feel sometimes sad, but I always say allow yourself to feel a little weak sometimes because it's fine, but no more than a week. Then get back and hustle again.
Are there any musicians that you look at as "It" girls?
Of course, an "It" girl and someone I always looked up to was Fairuz, Umm Kulthum, they get it. Even artists from now, Nancy Ajram, Haifa is an "It" girl. Beyoncé is someone who's always inspired me. Lana Del Rey.
Are there artists who have inspired your sound and the way that you make music?
A lot of my inspiration, even visually, comes from Lana. I am very inspired by her. She's someone that I've been listening to since I was like 10 years old. Even with melodies and production too, there's something, it's about that darkness in the music that like you feel, it makes you feel something. I always listened to jazz, and I was so inspired by Etta James and Aretha Franklin, the way they sing, their vocals. I think M.I.A. is such a good inspiration for me, and Shakira — she embraced the culture. I want to thank all of these women. Growing up, there's a lot of things that I didn't think were capable of doing, but they were able to do it. If I didn't have an example of Shakira, being Latin and Arab and being able to be that international, maybe I wouldn't think that I'd be able to do that.
How do you feel like your culture influences your music and the way that you present yourself?
My culture, it's really who I am. It's every little, little detail that is being an Arab, being a Palestinian girl from Nazareth. When I came here, I was so much more attached to my culture, because when you feel like you're away from something, you see things differently. I started to dig deep into the culture and the art of it. And there's so much out there that's hidden and there's so much mystery in it, which reexcites me. You're always searching for things. My culture is just who I am, I represent it and I try to represent it in the best way possible.
A lot of inspirations come from Palestinian weddings, which is random, but I love them. The energy there is crazy. Like everyone's just genuinely having fun. It's heartwarming, honestly, because people are just really vibing. And the music is lit. In the studio with my brother, we would think of that, dabke, and the Arabic scents and even all these like instruments that they use, all these things that I really now use in my music. I remember going to weddings in Palestine and my grandpa, he's a zajal, would sing. A zajal is when you're freestyling and there's two men and they're amazing singers and they would freestyle to each other. This is what's so fun about Palestinian weddings; they're simply raw.
Do you ever feel more pressure because you are the first to do this? Because you're Palestinian, because you're Arab, because you're singing Arabic music in the U.S.?
I feel free. I don't have an example to look to. No one put up any boundaries, just free land. I don't feel like I'm limited at all. But I will say that it's a lot of pressure. Because I want to do it right.
What do you like to do for fun? When you're not recording or when you're not playing Coachella. 
I love girls' nights. This is the best time. It's so much fun being with the girlies. I also love painting a lot. It brings me so much comfort. I love ceramics. I would study a little bit, I try my best. A lot of times, I just make Arabic coffee and just cook with my mom and we would just sit and talk about life. I play PlayStation, Call of Duty. I'm good. Me and my sister, we team up and we're crazy.
You have an amazing sense of style. You said your sister has always been interested in fashion. Where are the places that you like to shop and get your clothes?
We create a lot of our things and we thrift a lot. I don't like to see things that I see all the time. We try to find unique pieces, something with an Arabic touch, something with a lot of coins, embroidery, but in the most cool way possible. My sister really got me into it because when I was 12, I was a Tomboy. When I became an artist, I feel like I really learned so much about myself and about my alter ego.
What is something that people don't know about you that you wish they did?
A lot of times when I'm singing, it's aggressive. Even on-camera like you see, it's a different person. But at the end of day, like, I go home and I'm the most chill person. I'm good. I'm peaceful. You know, I don't want any problems. I love from my heart and I'm honest. I'm so picky. No seafood. It's crazy. Everybody hates me for it, but I don't like mujadara at all. I don't like some textures.
Ten years from now, where do you see yourself not just in your career, but in your personal life?
These are the years where you really work so hard. And these are the years where you should like hustle, hustle, hustle. But in ten years, I would like to chill a little bit and just be on a boat with someone I love and have the best time ever, really. Of course I still want to make music. What I'm doing is not something that has been really done here in America, so I know that it's gonna take time and I'm okay with it because I'm enjoying the ride. I stress a lot day and night, I think about my career, I think about what can I do next. At some point, I would like to take a little step back and look at things and enjoy them.
Even this album that I'm gonna release, even the single I released. I know that it's ahead of a lot of things. People don't understand it yet. I'm okay with it. But I know in ten years, they'll look at it and they'll be like, "Oh, okay, that's fire." In 20 years, I want to be an inspiration to other people, and I'm gonna be working every day to make sure that that's where it's gonna go.