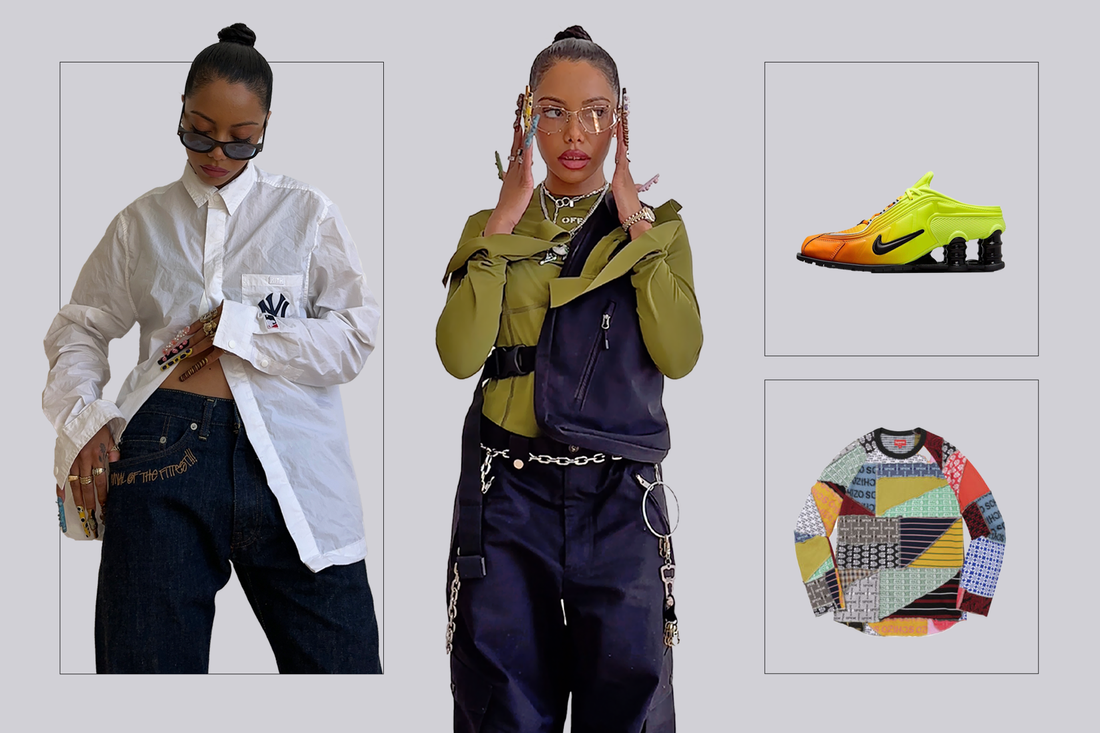 Photo-Illustration: Mia Coleman; Photos: Alani Noelle Figueroa and eBay
There's nobody on the internet with style quite like Alani Noelle Figueroa. The creative director is known for her bold, eccentric, and undeniably cool street style; pattern mixing, proportion play, colorful combinations — Figueroa's willing to try anything. One of her (nearly half a million) Instagram followers put it best when they commented, "These textures and colors are everything. You have such a great eye."
It's Figueroa's discerning eye we're constantly trying to emulate. Her outfits are about more than just the textures or colors — anybody can throw together some colorful pieces and call it a look. Her approach is more nuanced. "I love playing with layering elements and accessories like statement vests, blazers, jackets, hats, scarves, gloves, and socks," she says. "Layering can make an outfit look that much more intricate, interesting, and fun." The layering is key, but it's also the intentional contrast she creates between the oversized and the shrunken, for example, or the slouchy and the refined. Every outfit tells a compelling story. And let's not forget the standout streetwear pieces she's always wearing from eBay.
We might not be able to replicate Figueroa's authentic style to perfection, but we can follow her lead for sourcing the coolest streetwear and freshest kicks. "The marketplace on eBay is so vast and diverse; you can find just about anything," she shares. "The selection definitely sets it apart from other resale and shopping platforms when it comes to tracking down the most unique looks — you can find anything from vintage 2000s BAPE jeans to a 2020 Supreme velvet chore coat. And now, with the addition of its Authenticity Guarantee service, you can also be sure you're getting the real deal."
With the change of season and the chance to get back to routine this fall, Figueroa is excited to incorporate even more layers and interesting streetwear items, like sneakers, coats, and jeans, into her daily looks. And, to help us hone our own authentic style, she lent her covetable eye to curate some of the most compelling streetwear picks from eBay right now. "The combination of changing weather, a chance to refresh your wardrobe, and the excitement of having a purpose to dress up like the first day of school makes the act of getting dressed even more enjoyable," she notes. "It's fun to select an outfit when you know you'll be in diverse settings and around different people."
Supreme Patchwork Jacquard Top
"I love the patchwork concept on this piece. It makes it stand out. I would wear it with simple bottoms and sneakers."
Supreme Nike Arc Crewneck Sweatshirt
"I love crewnecks. Heather gray is also such a cozy color for the fall. I'd wear this with sweats and sneakers."
Supreme Velvet Chore Coat
"Statement outerwear pieces are a must for the fall. I think this piece is fun and I love the material. I'd combine it with brown or cream pants and sneakers."
Vintage A BATHING APE Busy Works Jeans
"I've been a fan of vintage BAPE for some time and, overall, I love a good pair of vintage denim. I'd wear it with a cardigan and BAPE STAs."
A BATHING APE x Stüssy Jeans
"A Stüssy and BAPE collab makes so much sense. Another vintage denim need. I'd style these with a button down and sneakers."
Martine Rose x Nike Shox Mule MR 4
"The square toe and slip on mule adjustment to the Nike Shox was such an innovative design that was so well executed. I'm a huge fan of the colorway on these as well. I'd probably do an all-black outfit here to keep the focus on the shoes."
This advertising content was produced in collaboration between Vox Creative and our sponsor, without involvement from Vox Media editorial staff.