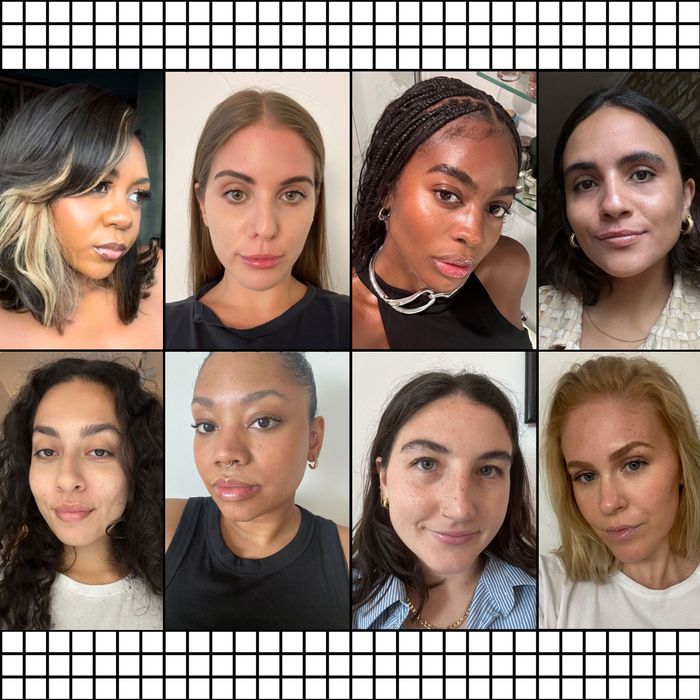 Photo-Illustration: by The Cut
For more of the Cut's favorite fashion, beauty, and home finds, sign up for the weekly Cut Shop Newsletter.
Hailey Bieber launched her skin-care brand, Rhode, in June 2022 with the promise of "glazed donut skin" for everyone. (Her words, not ours — we'd actually like for people to stop referring to skin as food, but we digress.) The lip treatment — available in scents like vanilla cake, passionfruit jelly, salted caramel, watermelon slice, and unscented — was an instant TikTok favorite. While some users complained about the smell (and some said their product was gritty), others liked the nostalgic fragrance and high-gloss look of it.
Today, Bieber launched her latest scent: strawberry glaze, inspired by a Krispy Kreme donut. (She also has a smoothie at the luxury health-food store Erewhon by the same name, which we made at home.) "I feel like there is something really nostalgic and fun about scent in a lip product," she said. We agree.
So we tested the formula — which includes peptides and shea butter, along with other ingredients said to hydrate your lips — on seven different people to see if this product lives up to the hype.
Maya Allen, Beauty Director-at-Large
Tried It: Strawberry Glaze
Would You Buy This: Yes
With new lip products launching every left and right, it's safe to say the world of beauty is fully in a lip balm era and I'm not mad at it. The competition is high! But here's the thing, just because I see a product blow up on TikTok does not automatically make me a believer — I'm an editor, can't help it. But now I know exactly why I've been seeing Rhode's peptide lip treatment all over social. One swipe imparts a kissable glaze onto your lips that feels equal parts nourishing and long-lasting. The strawberry scent isn't too overpowering, and the blend of shea butter and peptides hug your lips with moisture while leaving behind a selfie-worthy sheen. Growing up, I was a MAC Lipglass lover, so I've always been partial to a high-gloss finish. This formula over-delivers without that sticky side effect. I've been applying it throughout the day as a moisturizer and on top of a brown lip liner and nude lipstick as a finishing touch.
Joanna Nikas, Deputy Style Editor
Tried It: Strawberry glaze
Would you buy this? Yes
I have to admit I don't usually love the fragrant Rhode lip peptides (I stick to the non fragrance one,) but this new strawberry glaze flavor might be my favorite. What's different? Unlike the other Rhode lip peptides, this scent is nostalgic and not overpowering. Basically a grown-and-sexy lip smacker, which I am very into. The texture is glossy, but not sticky, and leaves my lips feeling more hydrated.
Asia Milia Ware, Fashion and Beauty Writer
Tried It: Strawberry Glaze
Would you buy this? Immediately, yes.
I'll preface this review with a disclosure: I'm an avid Rhode peptide lip treatment wearer. I have one for my gym bag, my work bag, my weekend purse, and one for my nightstand. The formula is everything I've always wanted in a lip product: plumping, without a burning sensation; glossy, but not sticky; nourishing and long-lasting. Finding all of those features in one product is hard, but this treatment got it right. One of my favorite ways to wear it is with a brown liner, the OG MAC Chestnut shade. Placing this directly in the middle of my lips gives it the perfect glossy finish and the liner helps to define the plump even more. Trying the strawberry glaze was a nostalgic moment for me. With the first whiff of the scent, I was reminded of the fruity beauty-supply glosses I used to buy as a kid. The scent was powerful enough to evoke emotion, but not too strong to the point where I could smell it all day.
Danya Issawi, Fashion Writer
Tried It: Strawberry Glaze/Vanilla
Would You Buy This: Yes and No
I'm an absolute freak about textures on my skin, i.e., I do not like being sticky when I'm not supposed to be (I'm not sure if there is an appropriate time to be sticky). This product definitely goes on thick and a little gooey (your hair will become one with your lips if it's long like mine), which took a little getting used to. I will say, it was worth it given how incredibly shiny and hydrated my lips look with this on. I even drank a bottle of Topo Chico while wearing it and the gloss remained glossy, which really surprised me. The vanilla one ended up pilling on my lips. Every time I put it on, no matter the situation, it turned grainy. So I definitely would not buy that flavor. And warning: The passion-fruit scent made my boyfriend literally gag in the middle of Tompkins Square Park, which might just be a personal problem for him, but I would be remiss not to mention it to you all.
Chinea Rodriguez, Shopping Writer
Tried It: Vanilla
Would You Buy This: Yes
The texture is somewhere between my go-to Aquaphor lip ointment and my Dior lip oil. I have very, very dry lips and this has kept them moisturized. I also really love the packaging and how cute it looks on my bathroom counter. I would buy it mostly because it costs half as much as the Dior lip oil.
Hanna Flanagan, Shopping Writer/Editor
Tried it: Salted Caramel
Would you buy this? Yes.
I'm a longtime fan of the watermelon version of Rhode's peptide lip treatment, and the salted-caramel flavor is just as good. It's sweet like candy, whereas the watermelon scent is light and fresh — they're both worth the hype, it's just a matter of personal preference. The formula itself is a true two-in-one. It has the high-shine look of a lip gloss with the long-lasting moisturizing powers of an overnight lip mask. As someone who simply cannot stand the feeling of dry, chapped lips, I reach for it more than any traditional gloss in my makeup collection (even when I'm wearing liner and lipstick). I'll absolutely repurchase when my current tube runs out.
Bianca Nieves, Senior Shopping Editor
Tried It: Watermelon Slice
Would you buy this? Yes.
I have sensitive skin, so I'm basically a walking litmus test for any product. Because of that I usually stay away from scent. But I was a big watermelon lip-smacker girlie growing up so I wanted to give it a go. I can report that the scent is subtle and didn't irritate my lips. @BIAIt's everything I loved about the watermelon lip-smacker without the intrusive in-your-face (literally) scent. It definitely achieves the glossy and nourishing benefits the product promises. All that to say, I'd purchase to throw in another bag and always be relieved when I find it at the bottom when needed.
Brooke LaMantia, Shopping Writer
Tried It: Strawberry Glaze
Would You Buy This: Yes
Unlike other balms on the market, the texture of the Rhode peptide treatment is what ultimately grabbed my attention: It's thick when applied but goes onto the lips smooth, leaving them looking glossy. The strawberry-glaze scent is light and fragrant. For someone who is picky about how their lip products feel, it's a product I'd happily wear every day (and plan to from here on out).