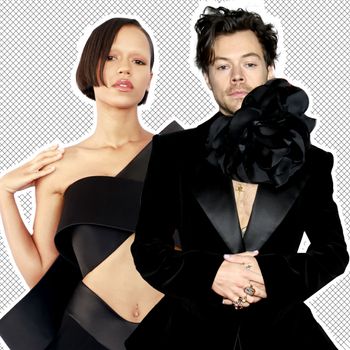 Photo-Illustration: The Cut; Photos: Getty Images
When The Effect, the new play starring Taylor Russell, opened at London's National Theater on Wednesday, one audience member caught people's eye: Harry Styles. After the show, Styles and Russell were spotted cozying up to each other at a party, fueling rumors that they are a couple.
The evidence of this supposed relationship? When Styles's two-year Love on Tour show ended in July, Russell was seen holding hands with Glenne Azoff — wife of Styles's friend-slash-manager, Jeff Azoff — in the crowd. Earlier in the summer, Russell was spotted in Vienna at another Love on Tour show — not just in the crowd but backstage, standing in an area that looks like a sound-mixing station or control center, per TMZ's photos. The next day, Russell was seen walking around the city with a tall, skinny white man in a baseball cap whom some online observers (and Pop Crave) believe to be Styles. Weeks earlier, Styles was photographed leaving a museum in London with an unidentified woman and appeared to be holding her hand. The photos were taken from a distance, making a definitive ID difficult. Still, the woman has Russell's signature bob, while Styles's navy jacket looks not unlike the one worn by Russell's Austrian companion. See:
As for their dating histories, Styles was spotted making out with Emily Ratajkowski in the streets of Tokyo in March after breaking up with Olivia Wilde months earlier. Russell's personal life is much more private, though she was rumored to have dated her Bones and All co-star Timothée Chalamet late last year. As expected, neither Russell nor Styles has acknowledged the rumors, but that hasn't stopped wild and hopeful speculation among fans. While for us normal people, a stroll is just a nice way to get some air and a little exercise, when two celebrities go for a walk, it can be a much flirtier proposition. Remember the pap walks Ben Affleck and Ana de Armas used to take? Or the famed coffee runs Shawn Mendes and Camila Cabello would go on? Or the horny outdoor courtship of Justin and Hailey Bieber? Whatever's going on, with no tour to occupy his time, Styles's schedule just opened up for more strolls. Stay tuned.
This article has been updated.